close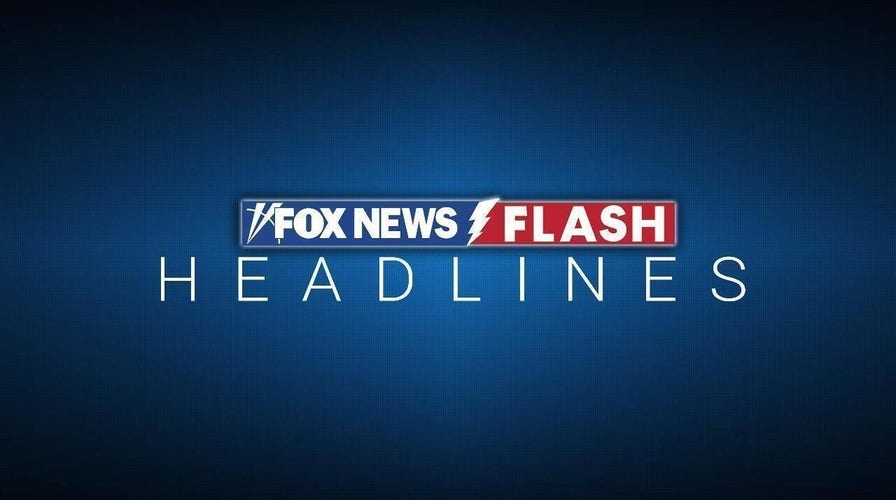 Video
Fox News Flash top headlines for September 21
Fox News Flash top headlines are here. Check out what's clicking on Foxnews.com.
The Armenian population in the contested Nagorno-Karabakh region have agreed to Azerbaijan's cease-fire proposal, but talks remain ongoing amid fears of continued repression and possible genocide.
"Realizing the unsustainable nature of their military losses as well as the futility of their attempts to use the Armenian residents as human shields, illegal junta leaders have conveyed their willingness to surrender a few hours after the start of the counter-terror measures," the Azerbaijan Foreign Ministry told Fox News Digital.
The ethnic Armenians in Nagorno-Karabakh, who call themselves the "Republic of Artsakh," surrendered after Azeri forces broke through their lines and seized a number of strategic points, seemingly putting an end to a decadeslong conflict with Azerbaijan.
A statement from the Republic of Artsakh following the surrender slammed much of the world for "inadequate" action and failing to protect the 120,000 Christians in the region from what Armenia and its supporters have alleged amounted to the start of a genocide.
BRET BAIER INTERVIEWS SAUDI PRINCE: ISRAEL PEACE, 9/11 TIES, IRAN NUKE FEARS: 'CANNOT SEE ANOTHER HIROSHIMA'
"Considering all this, the authorities of the Republic of Artsakh accept the proposal of the command of the Russian peacekeeping contingent to cease-fire," Artsakh's statement said, adding that the cease-fire would take effect at 1 p.m. local time on Wednesday.
The Karabakh forces agreed to disband and disarm, and Azerbaijan confirmed the ceasefire and surrender. All ammunition and heavy military equipment would be handed over, and Russia's peacekeeping contingent stationed in the area would help coordinate the cease-fire details.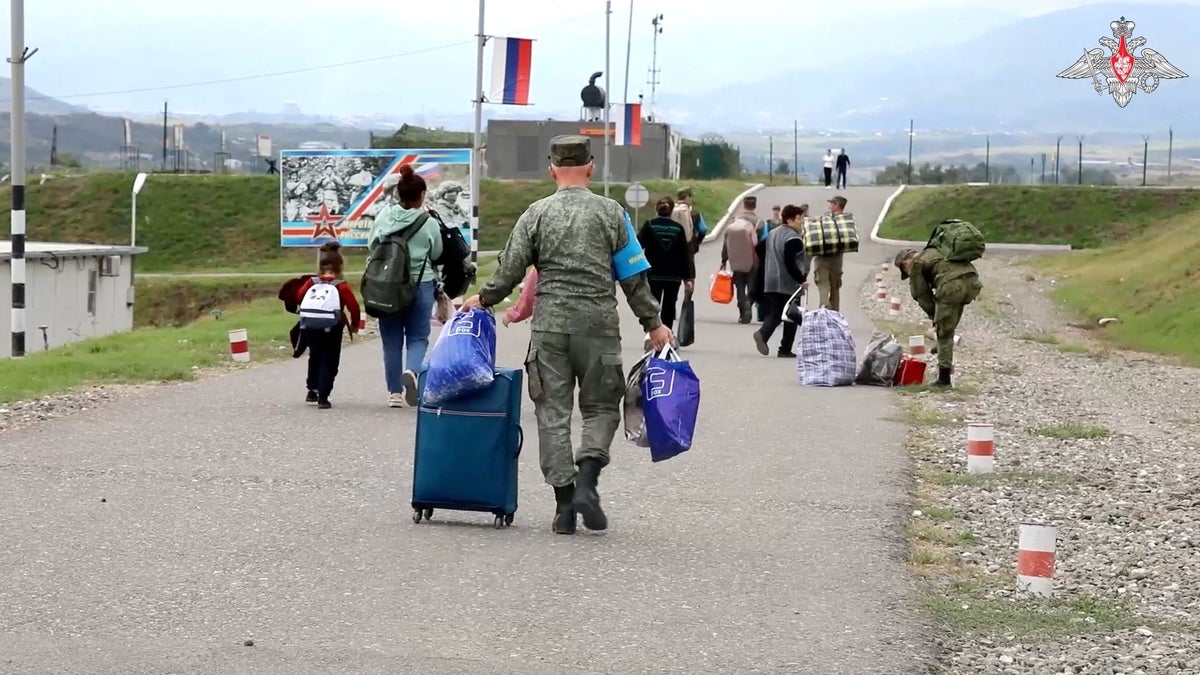 Russian peacekeepers evacuate civilians following Azerbaijani armed forces' offensive operation in Nagorno-Karabakh, a region inhabited by ethnic Armenians, in an unknown location, in this still image from video published Sept. 21, 2023. (Russian Defence Ministry/Handout via Reuters)
David Babayan, an adviser to Nagorno-Karabakh's breakaway ethnic Armenian leader Samvel Shahramanyan, told Reuters that talks remain ongoing, and the ethnic Armenian population requires guarantees on certain conditions before agreeing to a final deal. When asked about giving up weapons, Babayan said his people could not be left to die, so security guarantees were needed first.
"A whole host of questions still needs to be resolved," he said. "At any moment they could destroy us, engage in genocide against us."
LEBANON INVESTIGATES SHOOTING OUTSIDE US EMBASSY
Armenia retained control of the region since 1994 following the fall of the Soviet Union, but Azerbaijan regained control in 2020 after six weeks of brutal fighting between the two countries. Russia helped brokered the initial peace deal then claimed to have agreed on further peace deals on two occasions – most recently in March of this year – following a deadly weekend clash.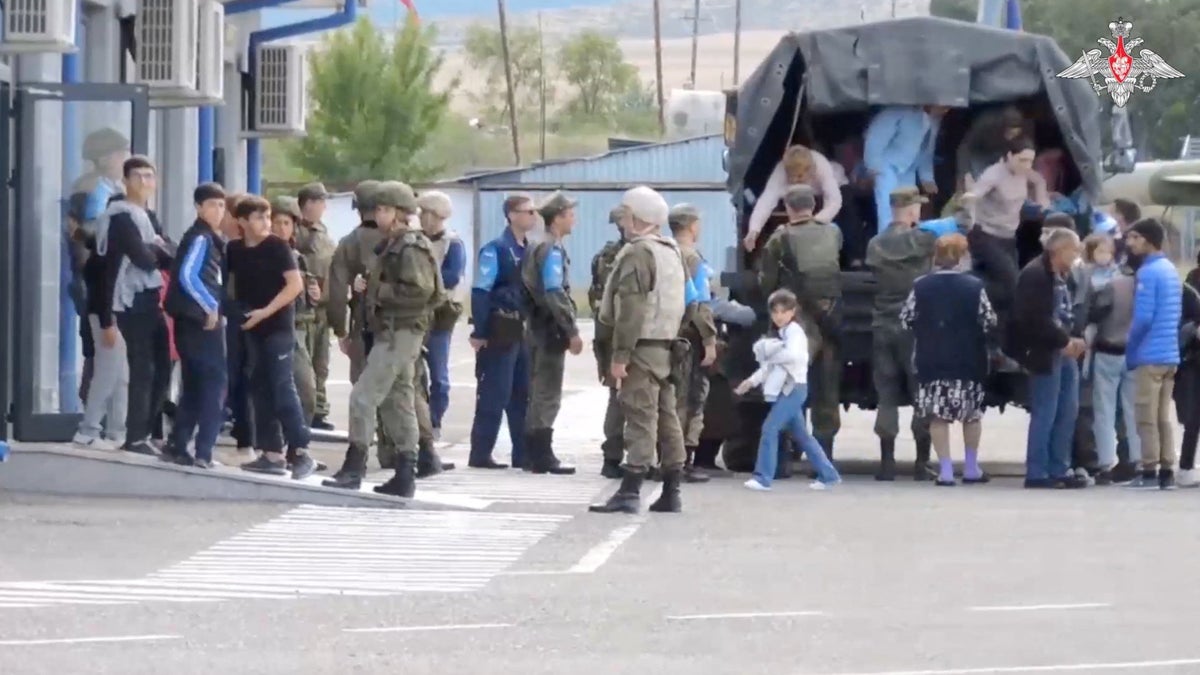 Russian peacekeepers evacuate civilians following Azerbaijani armed forces' offensive operation in Nagorno-Karabakh, a region inhabited by ethnic Armenians, in this still image from video published Sept. 21, 2023. (Russian Defence Ministry/Handout via Reuters)
Much of the recent tensions have resulted from Azerbaijan's blockade of the region, starving Nagorno-Karabakh of necessary resources in a manner that Armenia and its supporters.
Rep. Chris Smith, R-N.J., sent a letter to the Biden White House imploring it to speak out on the issue, and former International Criminal Court chief prosecutor Luis Moreno Ocampo argued there was "reasonable basis" to believe the blockade amounted to genocide.
Azerbaijan's defense minister insisted that Tuesday's assault, which the government continually referred to as a "counter-terrorism operation," targeted "legitimate military targets and military infrastructure," The Wall Street Journal reported.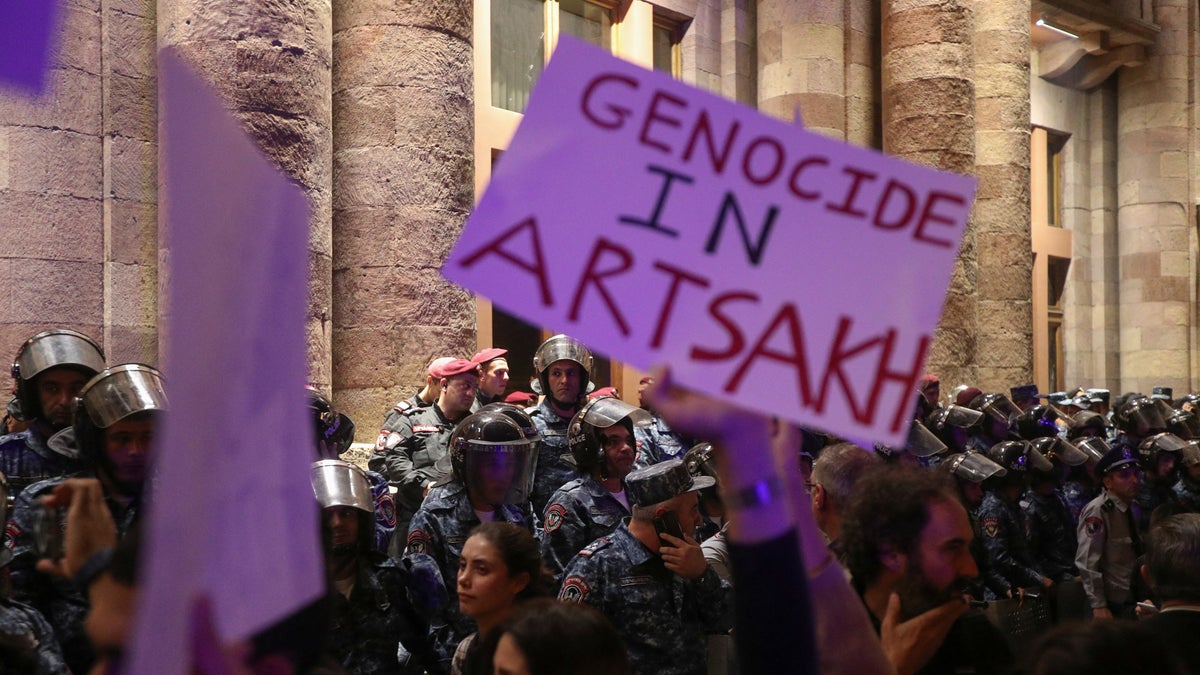 Protesters gather near the government building to support ethnic Armenians in Nagorno-Karabakh following Azerbaijani armed forces' offensive operation executed in the region, during a rally in Yerevan, Armenia, Sept. 20, 2023. (Reuters/Irakli Gedenidze)
Azerbaijan claims that the assault resulted in the loss of 60 combat posts, 20 combat vehicles, more than 40 pieces of heavy artillery, 30 mortars, six "modern electronic warfare systems" and two anti-aircraft missile systems in what amounted to a total rout of the enemy forces.
ISRAEL ACCUSES IRAN-BACKED HEZBOLLAH OF BUILDING AIRPORT DESIGNED FOR ATTACK, AMID BIDEN $6B SWAP DEAL
The Azerbaijani government also claimed that the number of alleged weapons and reinforced positions indicated that Armenia had maintained "illegal militarization" in the region "in a clear violation of its commitments to withdraw its armed forces from the territory of Azerbaijan."
The Azerbaijani Foreign Ministry told Fox News Digital that it would commence "meaningful and peaceful dialogue" with the residents of Nagorno-Karabakh regarding reintegration into the "legal and political framework of Azerbaijan," including "real representatives of the local Armenian population … without the ever-present and looming threat of military provocations."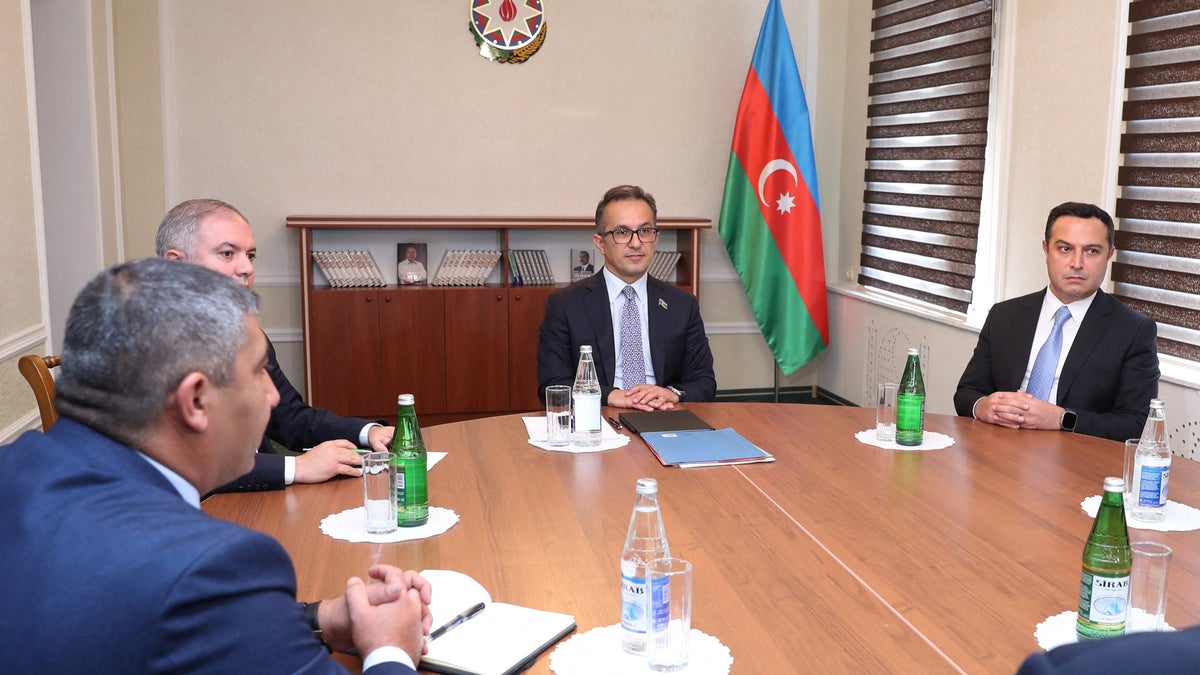 Azerbaijani representatives Ramin Mammadov, Bashir Hajiyev and Ilkin Sultanov attend the talks with members of the delegation of ethnic Armenians from Nagorno-Karabakh in the town of Yevlakh, Azerbaijan Sept. 21, 2023.  (Reuters/Stringer  )
However, the foreign ministry insisted that the process could not start until certain conditions regarding Armenia's alleged involvement had been met. Azerbaijan continually referred to Nagorno-Karabakh as a "puppet regime" for Armenia and accused Armenia of maintaining an illegal armed presence in the region.
"It must be highlighted that with the elimination of the risks and threats associated with the illegal presence of the Armenian armed forces in its territory, Azerbaijan is fully committed to provide its Armenian residents with rights and freedoms the citizens of Azerbaijan are fully entitled to according to national and international legislation, including on the rights of persons belonging to national minorities," the foreign ministry said.
UN SPECIAL ENVOY FOR SUDAN RESIGNS, WARNS OF POTENTIAL 'FULL-SCALE CIVIL WAR'
Armenian Prime Minister Nikol Pashinyan has insisted that Armenia was not involved in the discussions and acceptance of the ceasefire, and he further alleged that the fact Azerbaijan mentioned Armenia in its statements served as proof that the goal was to drag his country into armed conflict.
"Mentioning the name of Republic of Armenia in a text which has basically nothing to do with the Republic of Armenia justifies my hypothesis, approach and assessment made yesterday that one of the goals of the attack against Nagorno-Karabakh is to drag the Republic of Armenia into military actions," Pashinyan said on Wednesday in a press release.
CLICK HERE TO GET THE FOX NEWS APP
"Of course, I have one assessment, that if it were possible to drag Armenia into military operations, the deep target of that would have been the independence and sovereignty of Armenia," Pashinyan said, adding that his government would continue to monitor the situation as evacuations for those desiring to leave the region get underway.
Kremlin spokesperson Dmitry Peskov said the timing of a phone call between President Vladimir Putin and Armenia's Pashinyan was still being determined.
Reuters contributed to this report.
Peter Aitken is a Fox News Digital reporter with a focus on national and global news.