close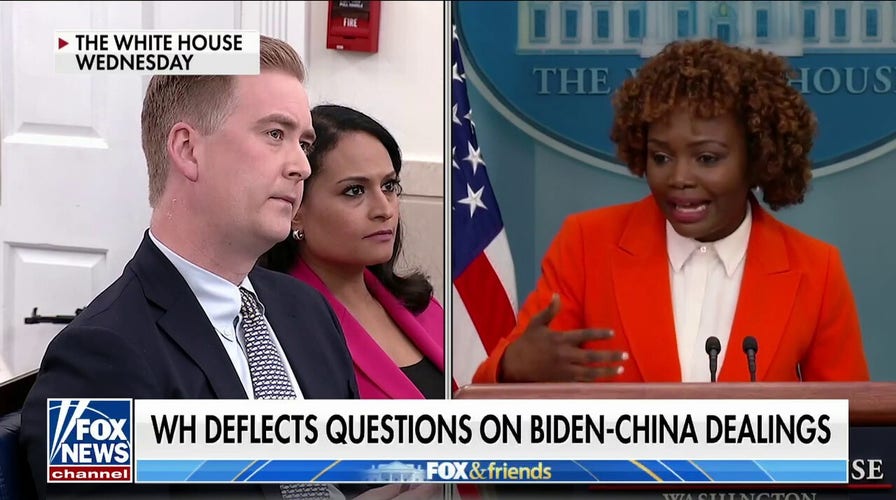 Video
Peter Doocy challenges Karine Jean-Pierre on China-linked payments to Bidens
Fox News' Mark Meredith provides details on emails that claim to show a close relationship between Obama-era officials and Hunter Biden's business associates. 'Fox & Friends' co-hosts react.  
A Chinese Ministry of Foreign Affairs official gave a terse correction to a Western reporter on Thursday, rebuking their question about the "Taiwanese president."
Foreign Ministry spokesman Wang Wenbin fielded questions from journalists Thursday at a press conference in Beijing.
A reporter with United Kingdom-based outlet Reuters asked Wang, "Taiwanese officials have said that a potential meeting between Taiwanese president Tsai Ing-wen and House Speaker Kevin McCarthy is still being arranged. What's China's response?"
US DENIES THAT CHINA EXPELLED AMERICAN WARSHIP FROM NEAR DISPUTED ISLANDS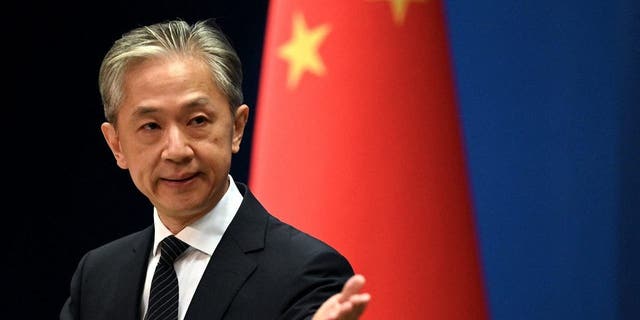 Chinese Foreign Ministry spokesman Wang Wenbin gestures during a press conference at the Ministry of Foreign Affairs in Beijing. (NOEL CELIS/AFP via Getty Images)
Wang pushed back on the question, responding, "I need to correct you first. Taiwan is an inalienable part of China and there is no such thing as 'Taiwanese president.'"
Taiwan split from China in 1949 after a civil war. The only connection between the two nations is billions of dollars in trade and investment.
Mainland China does not recognize Taiwan independence and wants it to formally unite with the mainland.
CHINA INSISTS IT IS IMPARTIAL ON RUSSIA-UKRAINE, QUESTIONS US 'POURING WEAPONS INTO THE CONFLICT'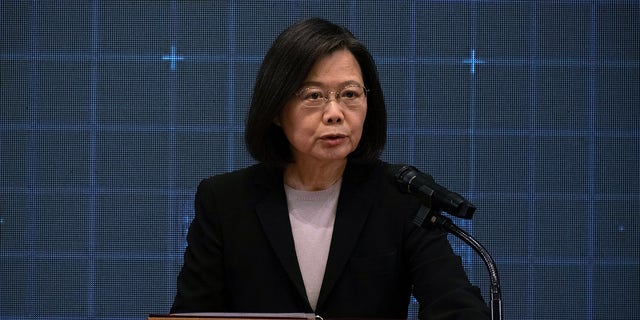 Taiwanese President Tsai Ing-wen speaks at a news conference at the Presidential Palace in Taipei, Taiwan. ( Lam Yik Fei/Bloomberg via Getty Images)
Taiwanese President Tsai Ing-wen is expected to visit the United States in the coming weeks during a multinational trip.
Taiwan's Office of the President confirmed Tuesday that the visit is currently scheduled for March 30.
After the US, Tsai is expected to visit Guatemala and Belize. Finally, on April 5, she is expected to stop again in the US and visit Los Angeles before returning to Taiwan.
CHINA SAYS IT'S READY TO WORK WITH US FOR UKRAINIAN PEACE: 'ASK THE US SIDE'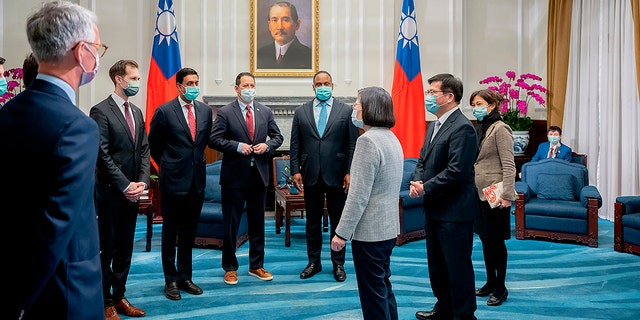 In this photo released by the Taiwan Presidential Office, Taiwan's President Tsai Ing-wen, center, meet with a U.S. delegation led by California Rep. Ro Khanna, third from left during a meeting at the Presidential Office in Taipei, Taiwan on Tuesday, Feb. 21, 2023. (Taiwan Presidential Office via AP)
After correcting the reporter, Wang addressed the diplomatic trip, saying, "We would like to reiterate that we strongly oppose any form of official interaction between the US and Taiwan, strongly oppose any US visit by the leader of the Taiwan authorities regardless of the rationale or pretext, and strongly oppose all forms of US contact with the Taiwan authorities, which violates the one-China principle. China has made strong démarches to the US side on this matter."
Tsai previously transited through the United States six times between 2016 and 2019 before slowing international travel with the coronavirus pandemic. In reaction to those visits, China rhetorically lashed out against the U.S. and Taiwan.
"The reported trip is not so much a 'transit,' but an attempt to seek breakthroughs and propagate 'Taiwan independence,'" Wang continued.
CLICK HERE TO GET THE FOX NEWS APP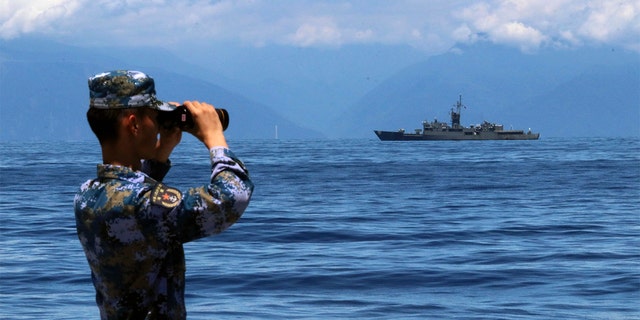 A People's Liberation Army member looks through binoculars during military exercises as Taiwan's frigate Lan Yang is seen at the rear. (Lin Jian/Xinhua via AP)
He concluded, "We urge the US to abide by the one-China principle and the three China-US joint communiqués, earnestly deliver on its leaders' commitment of not supporting 'Taiwan independence' or 'two Chinas' or 'one China, one Taiwan', stop all forms of official interaction with Taiwan, stop upgrading its substantive exchanges with the region, and stop fudging and hollowing out the one-China principle."
Timothy Nerozzi is a writer for Fox News Digital. You can follow him on Twitter @timothynerozzi and can email him at [email protected]