close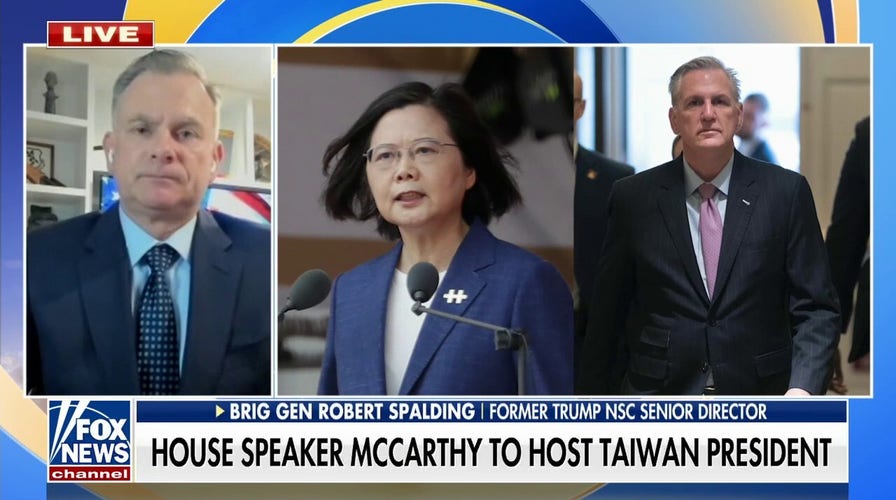 Video
China will 'absolutely' retaliate over Kevin McCarthy's meeting with president of Taiwan: Robert Spalding
Retired Air Force Brigadier General Robert Spalding joined 'Fox & Friends First' to discuss new details on the Chinese spy flight and House Speaker Kevin McCarthy's upcoming meeting with President Tsai Ing-wen.
A Chinese official repeated government claims Tuesday that the spy balloons shot down in U.S. airspace are privately owned but would not offer further information.
Chinese Ministry of Foreign Affairs spokeswoman Mao Ning addressed the balloon issue during a press conference in Beijing. Mao was asked by foreign press for comment on U.S. reports that the balloons were gathering intelligence during their flight.
Mao responded, "We have made it clear time and again that the unmanned Chinese civilian airship drifting over the US was a purely unexpected and isolated event caused by force majeure. China firmly rejects distortion, hyping up and political manipulation of this unexpected and isolated event."
DEMOCRATIC SENATOR SAYS HE WILL HOLD BIDEN ADMIN 'ACCOUNTABLE' FOR CHINA GATHERING INTEL IN SPY BALLOON FLIGHT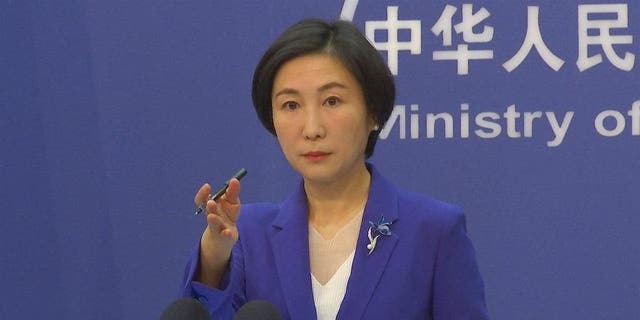 Chinese Foreign Ministry spokesperson Mao Ning gestures during a press conference in Beijing. (AP Photo/Liu Zheng, File)
The spokeswoman was pushed by the press for a follow-up, asking for information on the ownership of the balloons – now more than two months out from the initial incidents.
"China has made it clear multiple times that the unmanned airship is a civilian airship used for meteorological and other research purposes," Mao replied.
A final follow-up was asked, directly requesting the name of the company responsible for the balloon.
PENTAGON RELEASES U-2 PHOTO OF CHINESE SPY BALLOON IN FLIGHT BEFORE IT WAS SHOT DOWN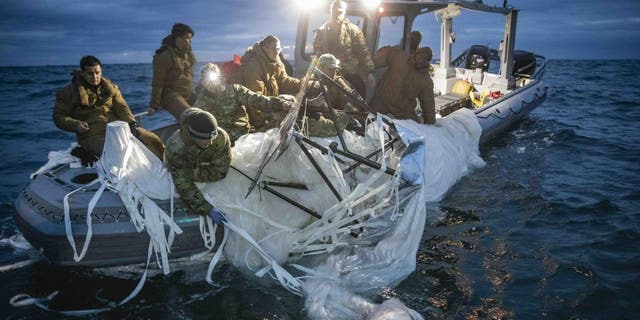 U.S. forces haul debris from China's surveillance balloon onto a boat off the coast of South Carolina. (US Fleet Forces)
"I have nothing more to add," Mao concluded.
A Democratic senator said on Monday that China intended to invade the airspace over the U.S. when a balloon traversed over the country for days in February, and he plans to hold the Biden administration accountable.
Sen. Jon Tester, D-Mont., made the comments via social media on Monday after reading reports that said the Chinese spy balloon collected intelligence from multiple military sites in the U.S., even though the Biden administration attempted to stop it from doing so, citing two senior U.S. officials and a senior administration official.
JAPANESE STARTUP ANNOUNCES PLANS TO LAUNCH COMMERCIAL SPACE VIEWING BALLOON FLIGHTS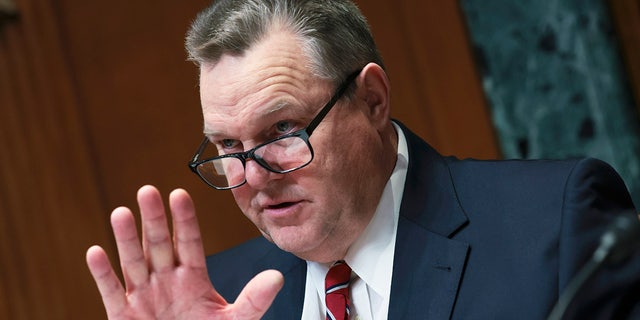 Sen. Jon Tester questions members of a panel testifying before the Senate Appropriations Subcommittee on Defense on China's balloon surveillance efforts against the U.S.. (Win McNamee/Getty Images)
"We knew all along that China's invasion of our airspace was no accident," Tester said. "There's nothing more important than keeping America safe, and I'll keep holding the Biden Administration accountable to ensure Montanans' freedom and privacy are protected."
Deputy Pentagon press secretary Sabrina Singh was questioned extensively about the Chinese balloon during a press briefing on Monday.
She reiterated comments made early on that the balloon could hover and be maneuvered so it purposely followed along a specific track.
CLICK HERE TO GET THE FOX NEWS APP
Pentagon deputy spokesperson Sabrina Singh holds a press briefing at the Pentagon in Arlington, Virginia. (Kevin Dietsch/Getty Images)
"What we did do is take precautionary steps to limit the intelligence value that it would be able to collect," Singh said. "…we took steps to protect our own military installations from foreign intelligence collection."
Fox News' Greg Wehner contributed to this report.
Timothy Nerozzi is a writer for Fox News Digital. You can follow him on Twitter @timothynerozzi and can email him at [email protected]