close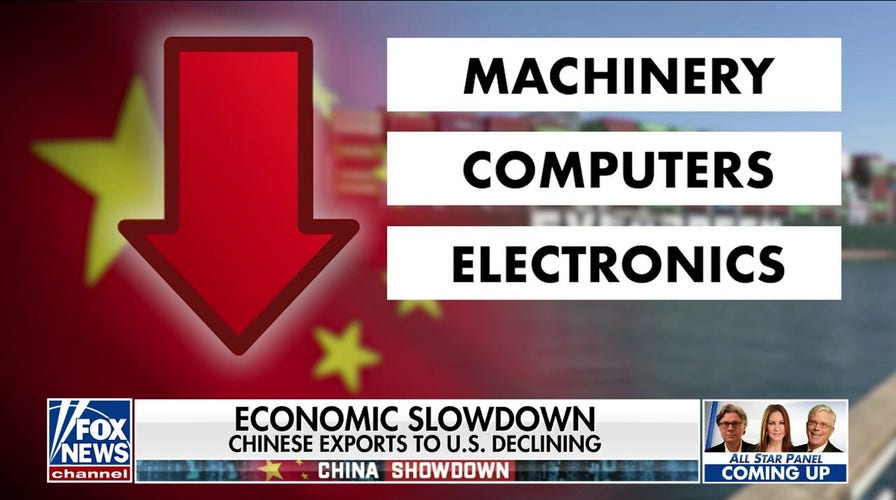 Video
U.S. tries to shed dependency on China
 Fox News senior national correspondent Rich Edson has the latest on the threat of China on Special Report.
Chinese leaders in the town of Xian sent a text message to residents with an encouraging message about "sweet love, marriage and childbirth."
The message by the city's family planning authorities was sent in a text and shared by Chinese media, wishing residents "good fertility" ahead of the country's Valentine's Day on August 22, according to a report from Reuters.
The message was shared on the Weibo page of China Newsweek, noting that marriage and childbearing should be done at the "right age."
CHINA NOW BRAINSTORMING WAYS TO BOOST ITS LOW BIRTH RATE AFTER ISSUING DECADES-LONG ONE-CHILD POLICY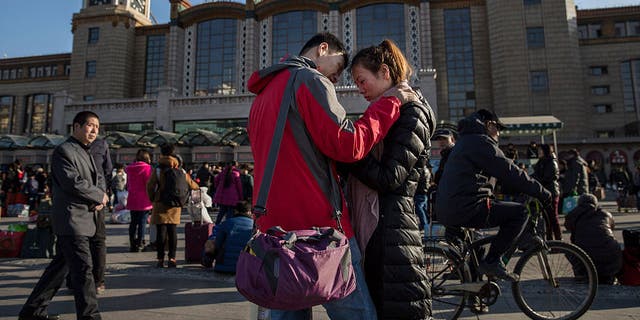 A Chinese couple say goodbye before leaving to visit their respective families for the Spring Festival at a local railway station in Beijing. (Photo by Kevin Frayer/Getty Images)
"Continue the blood of China and share the important task of rejuvenation," the post said.
The encouraging text comes as Chinese authorities become increasingly concerned about the country's fertility rates, with China facing an aging population that has experienced an overall drop for the first time in six decades.
According to a United Nations analysis, China's population is expected to decline from 1.426 billion to 1.313 billion by 2050. By the next century, the country's population is expected to decline to below 800 million.
China's fertility rate is also down from earlier decades, according to numbers compiled by the Pew Research Center, which estimated the rate to be 1.18 children per woman, well below the "replacement" rate of 2.1 children per woman.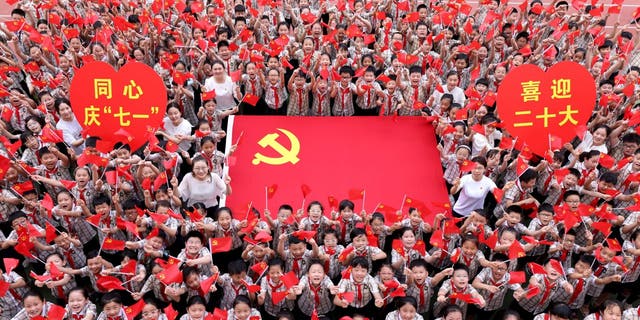 Teachers and students sing together to celebrate the founding day of the Communist Party of China (CPC) at Wenhua Road Primary School in Zaozhuang, East Chinas Shandong Province. (CFOTO/Future Publishing via Getty Images)
CHINA'S XI 'IN A PANIC' OVER COMING POPULATION CRISIS, WILL BE 'MORE PROVOCATIVE, MORE BELLIGERENT': CHANG
That drop comes despite China relaxing its one-child policy that was introduced in 1980 to a two-child policy in 2016. The policy was amended once again in 2021 to allow for three children.
According to the Reuters report, women in China have cited the high cost of childbearing and the obstacles it causes to their careers as key factors in avoiding having children.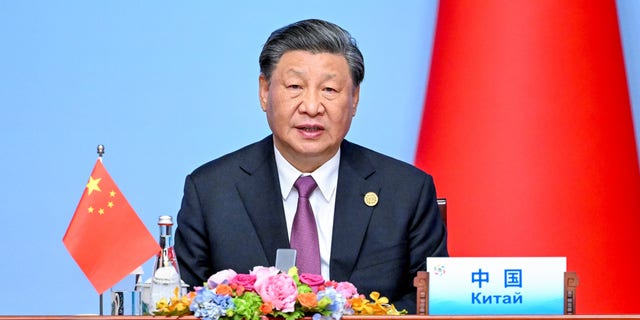 Chinese President Xi Jinping. (Photo by Li Xueren/Xinhua via Getty Images)
CLICK HERE TO GET THE FOX NEWS APP
Women have also cited not wanting to get married as another factor in their decision, an especially difficult obstacle in some provinces that have laws against women having children out of wedlock. But some of those rules have changed in recent years, with the Sichuan province in the southwest of the country liberalizing those rules last year in a bid to improve fertility rates.
Michael Lee is a writer at Fox News. Follow him on Twitter @UAMichaelLee