close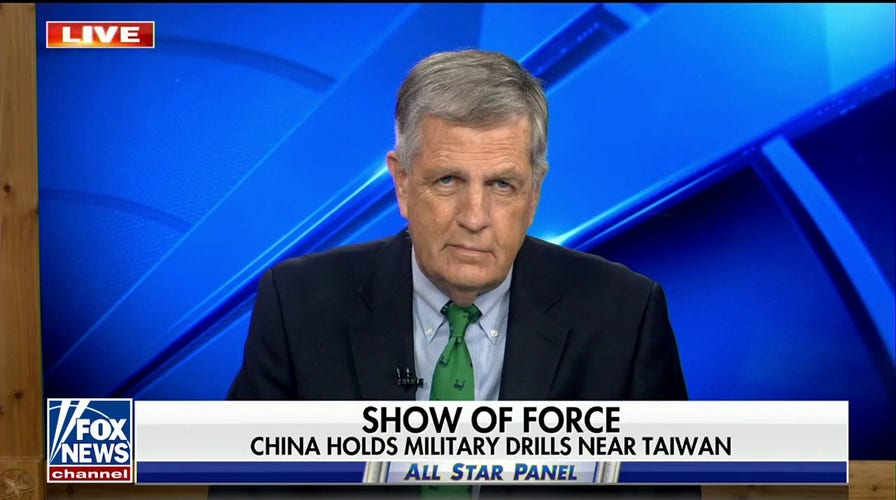 Video
China's reaction to US-Taiwan delegation is one of insecurity: Brit Hume
'Special Report' panelists Brit Hume, Trey Gowdy and Mara Liasson discuss China holding military drills near Taiwan in response to House Speaker Kevin McCarthy meeting with the president of Taiwan. 
Planes and ships belonging to China's military are still lingering around Taiwan Tuesday, despite Beijing announcing last night that its three days of drills were over, a report says.
Taiwan's defense ministry said this morning it observed nine Chinese ships and 26 aircraft, including J-16 and Su-30 fighters, conducting combat readiness patrols around the island, according to Reuters.
In response, Taiwan's air force, navy and land-based missile crews are monitoring the situation, it added.
China began the military exercises on Saturday, which included at one point "simulated joint precision strikes on key targets on Taiwan island and the surrounding sea areas," Reuters has reported, citing Chinese state television.
US VERY 'CONFIDENT' IT CAN PROTECT INTEREST IN SOUTH CHINA SEA AS CHINA SURROUNDS TAIWAN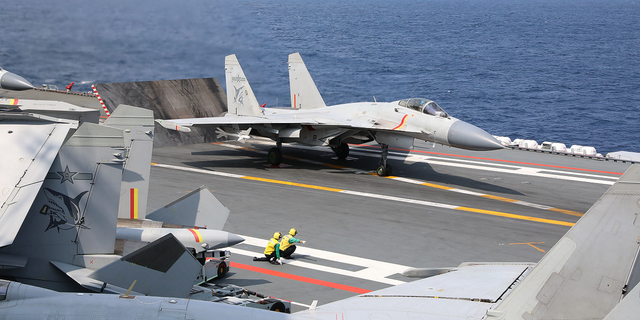 A J-15 fighter is seen ready to take off from aircraft carrier Shandong on April 9 during the combat readiness patrol and military exercises around the Taiwan Island carried out by the Eastern Theater Command of the Chinese People's Liberation Army. (An Ni/Xinhua via Getty Images)
The drills started up as Taiwan President Tsai Ing-wen returned from a trip to the United States, where she met with House Speaker Kevin McCarthy, R-Calif., and other lawmakers.
Tsai, in a Facebook post Monday, described China's military actions as irresponsible.
"As President, I represent my country to the world. Whether I visit friendly countries, stop in the United States, or communicate with international friends, it is not only a long-term practice, but also the common expectation of the people of Taiwan," she said.
"However, China uses this to launch military exercises, causing instability in Taiwan and the region," she added. "This is not the responsible attitude of a major country in the region."
In a joint statement, Taiwan's ruling and opposition parties said the "people and government of Taiwan have the right to conduct normal exchanges with other countries and contribute to the international community through international participation.
"The Chinese authorities have no right to obstruct and cannot change the strong will of the Taiwanese people to go out into the world," Reuters quoted the statement as saying.
CHINA'S MILITARY SAYS IT'S 'READY TO FIGHT' AFTER AIRCRAFT CARRIER SIMULATES 'SEALING OFF' TAIWAN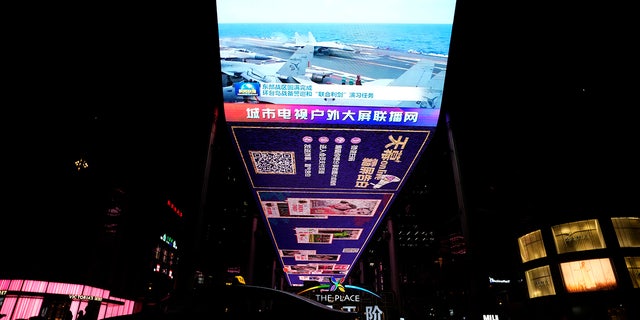 The evening news broadcast shows Chinese fighter jets on an aircraft carrier with the Chinese subtitles "Eastern Battle District successfully concludes the patrol exercise around the Taiwan island and Joint Sword exercise" on an outdoor screen in Beijing, on Monday, April 10. (AP Photo/Ng Han Guan)
Japanese defense minister Yasukazu Hamada also said Tuesday that the Chinese military activity near Taiwan is "intimidating training" aimed at seizing control of the air and sea around the island, according to Reuters.
He said the drills demonstrate how China has an "uncompromising attitude" towards Taiwan.
The White House, meanwhile, believes it is very confident it can protect American interests in the Indo-Pacific as the Chinese military surrounds Taiwan.
National Security Council spokesperson John Kirby offered the assessment to reporters during a Monday briefing.
CLICK HERE TO GET THE FOX NEWS APP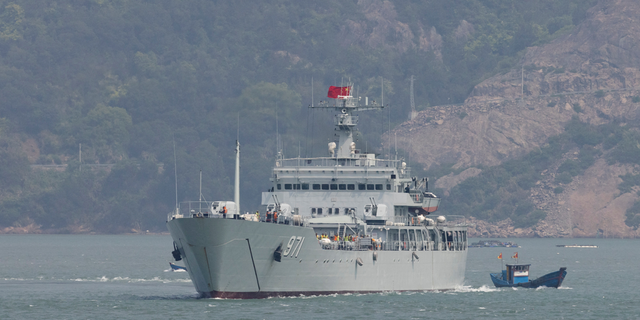 A Chinese warship sails during a military drill near the Taiwan-controlled Matsu Islands that are close to the Chinese coast, on April 8. (Reuters)
"We're monitoring the exercises closely, as you might imagine," Kirby said, adding that the drills were a needless reaction to Tsai's recent visit to the U.S. that sparked angry warnings from China.
"We're very comfortable and confident that we have in place, in the region, sufficient resources and capabilities to protect our national security interests in the Indo-Pacific," he continued. "I would add… there's no reason for tensions across the Taiwan Strait to devolve into any kind of conflict."
Fox News' Paul Best and Anders Hagstrom contributed to this report.