close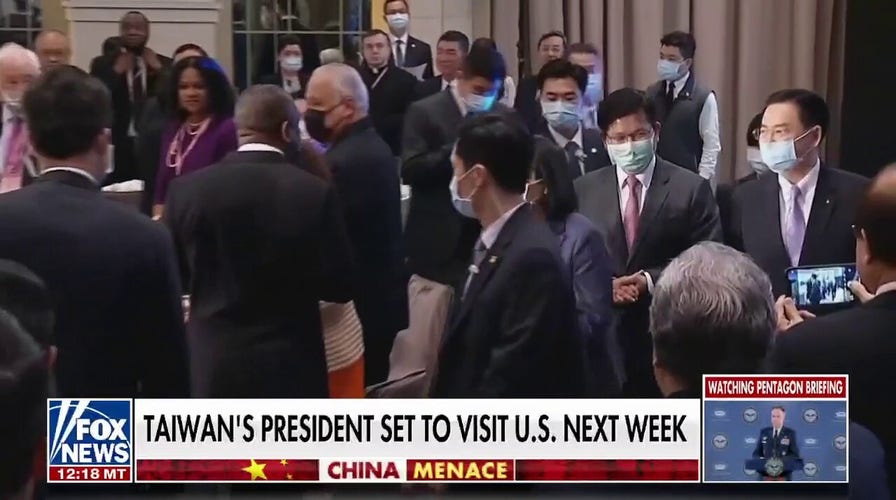 Video
Taiwan's president set to visit US as China tensions escalate
Greg Palkot reports on China's opposition to Taiwan 'sneaking off' to the U.S.
China has threatened to retaliate against the United States and Taiwan over a planned meeting between Taiwanese President Tsai Ing-wen and House Speaker Kevin McCarthy.
Beijing has repeatedly alleged the U.S. and Taiwan are acting in secret to push for Taiwan's independence and threatened "resolute countermeasures" should the two leaders meet.
Tsai is scheduled to meet McCarthy on Wednesday, April 5, when the head of the self-governing island democracy visits Los Angeles, California.
"We firmly oppose this and will take resolute countermeasures," Zhu Fenglian, the spokesperson for the Cabinet's Taiwan Affairs Office, said during a press conference on Wednesday.
CHINA WANTS TAIWAN FOR MORE THAN 'HISTORICAL VALUE,' COULD DISRUPT GLOBAL POWER DYNAMIC: EXPERTS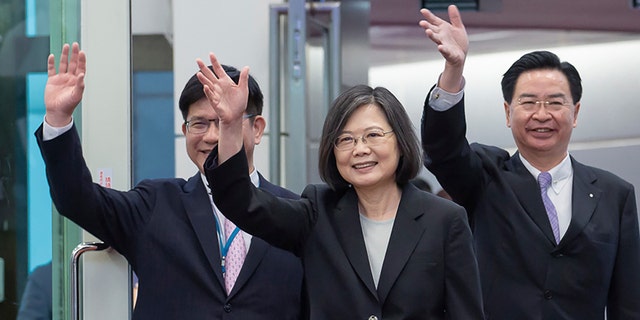 Taiwan's Presidential office secretary general Lin Chia-lung, left, President Tsai Ing-wen, center, and Foreign Minister Joseph Wu depart on an overseas trip at Taoyuan International Airport in Taipei, Taiwan, Wednesday, March 29, 2023.  (Taiwan Presidential Office via AP)
The official cautioned the U.S. to "refrain from arranging Tsai Ing-wen's transit visits and even contact with American officials." It also urged Washington to "take concrete actions to fulfill its solemn commitment not to support Taiwan independence."
Tsai's itinerary includes a brief stop in New York on Thursday, March 30, before she heads to Guatemala and Belize for several days. She will return to the U.S. in the middle of the week to stay in Los Angeles, where the meeting with McCarthy is scheduled to take place.
She will then head back to Taiwan.
BIDEN SAYS CHINA-RUSSIA PARTNERSHIP IS 'VASTLY EXAGGERATED' DURING CANADA VISIT
In recent weeks, China has ramped up diplomatic pressure on Taiwan, which governs independently as a democracy, and has mobilized its military forces over the island. The Communist-ruled Chinese mainland has also cautioned regional countries and the West, including the U.S., not to interfere in how it decides to rule over Taiwan.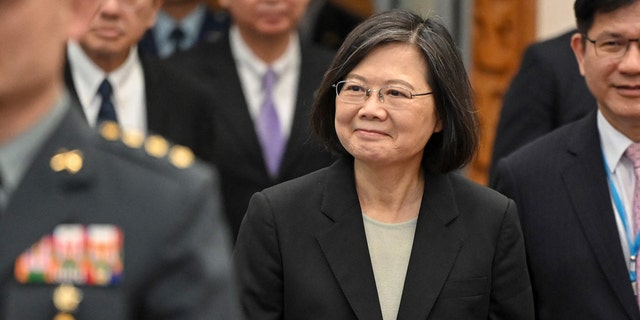 Taiwan President Tsai Ing-wen arrives at the boarding gate of the international airport in Taoyuan on March 29, 2023.  (SAM YEH/AFP via Getty Images)
Beijing has made similar threats to any country that could push for Taiwan's independence.
Although the U.S. officially recognizes the One-China policy that observes China has sovereignty over Taiwan, China has repeatedly alleged the U.S. is undermining this rule.
China has sent military fighter jets near or over the island of Taiwan almost daily.
CHINESE 'SPY BALLOON FIASCO' REQUIRES FULL REVIEW OF US AIR DEFENSES, DAINES SAYS AT MALMSTROM AFB VISIT
Tsai left Taiwan Wednesday afternoon to begin her 10-day tour of the Americas.
Taiwan's President Tsai Ing-wen prepares to depart on an overseas trip at Taoyuan International Airport in Taipei, Taiwan, Wednesday, March 29, 2023.  (Taiwan Presidential Office via AP)
She has described the trip as a chance to show Taiwan's commitment to democratic values.
"I want to tell the whole world democratic Taiwan will resolutely safeguard the values of freedom and democracy, and will continue to be a force for good in the world, continuing a cycle of goodness, strengthening the resilience of democracy in the world," she told reporters before she boarded the plane. "External pressure will not obstruct our resolution to engage with the world."
CLICK HERE TO GET THE FOX NEWS APP
Tsai has met with members of Congress, including former House Speaker Nancy Pelosi, who visited her in Taiwan over the summer. China was critical of Pelosi's visit.
The Associated Press contributed to this report.