close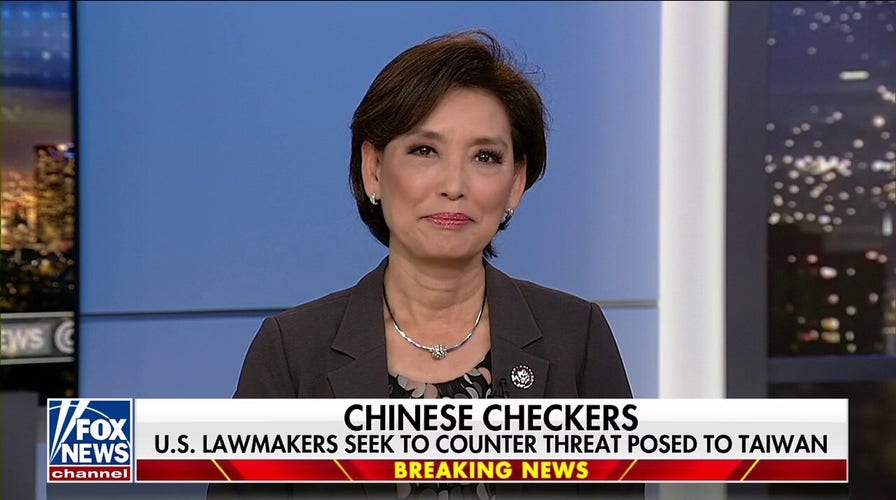 Video
US lawmakers seek to counter threat posed to Taiwan
Rep. Young Kim, R-Calif., shares how U.S. lawmakers are looking to prepare to counter China in the event they invade Taiwan on 'Fox News @ Night.'
Chinese military drills held around Taiwan should be viewed as a warning to the self-governing island, a government spokesperson said Wednesday.
The Chinese military held three days of large-scale air and sea exercises it dubbed "Joint Sword" that ended Monday, and comes after U.S. House Speaker Kevin McCarthy held a meeting with Taiwanese President Tsai Ing-wen.
China warned of serious consequences if the meeting took place.
Zhu Fenglian, a spokesperson for the Cabinet's Taiwan Affairs Office, made the remarks during a news conference Wednesday morning.
CHINA CONDUCTS SECOND DAY OF MILITARY DRILLS AROUND TAIWAN, SIMULATES STRIKES ON THE ISLAND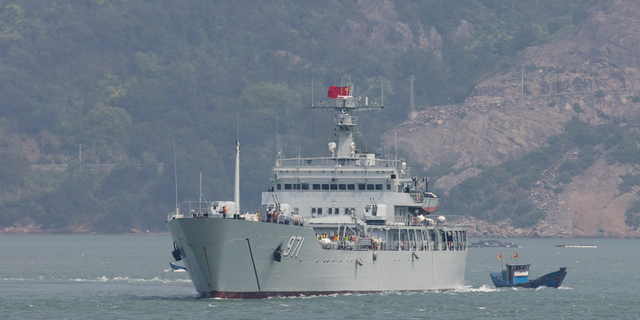 A Chinese warship sails during a military drill near the Taiwan-controlled Matsu Islands that are close to the Chinese coast, on April 8. (Reuters/Thomas Peter)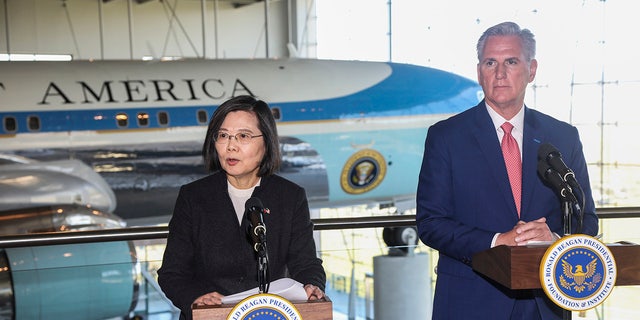 House Speaker Kevin McCarthy, R-Calif., right, and Taiwanese President Tsai Ing-wen deliver statements to the press after a Bipartisan Leadership Meeting at the Ronald Reagan Presidential Library in Simi Valley, Calif., Wednesday, April 5, 2023.  (AP Photo/Ringo H.W. Chiu, File)
"The People's Liberation Army recently organized and conducted a series of countermeasures in the Taiwan Strait and surrounding waters, which is a serious warning against the collusion and provocation of Taiwan independence separatist forces and external forces," Fenglian said. "It is a necessary action to defend national sovereignty and territorial integrity."
As part of the military drills, the Chinese military sent 71 aircraft and nine navy vessels around Taiwan on Sunday.
While China claims that the military drills are over, it's still sending aircraft and navy vessels around Taiwan.
TAIWAN RESIDENTS AGREE US WILL NOT COME TO THEIR AID IF CHINA INVADES, ARE DIVIDED ON THREAT LEVEL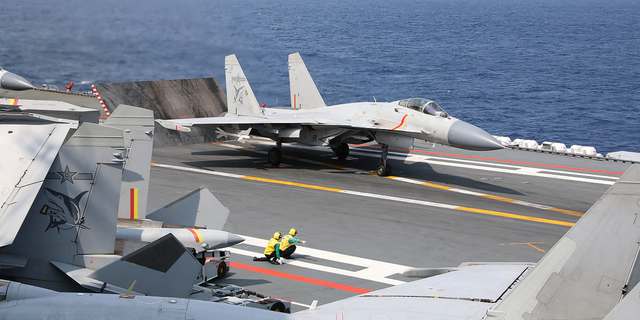 A J-15 fighter is seen ready to take off from aircraft carrier Shandong on April 9 during the combat readiness patrol and military exercises around the Taiwan Island carried out by the Eastern Theater Command of the Chinese People's Liberation Army. (An Ni/Xinhua via Getty Images)
Taiwan's Ministry of National Defense said Wednesday it tracked 35 flights flown by the People's Liberation Army within the past 24 hours along with eight navy vessels in the area surrounding the island.
Taiwan's Ministry of Transportation said it received a notice from China's Civil Aviation Administration, stating that it's setting up a control zone to "restrict flights" in some parts of northern Taiwan, April 16-18.
"On their own, they set up a warning area to control flights within our country's jurisdiction's Taipei Aviation Information Region, using the excuse of aerospace activities," the statement from Taiwan's transportation ministry read.
CLICK HERE TO GET THE FOX NEWS APP
An outdoor screen depicts a Chinese fighter jet pilot giving a thumbs up in the recently concluded Joint Sword exercise around Taiwan during the evening news broadcast in Beijing, April 10, 2023. (AP Photo/Ng Han Guan)
Taiwan strongly objected to the notice and got China to reduce the control zone to 27 minutes, down from three days, on April 16.
The Associated Press and Fox News' Paul Best contributed to this report.