close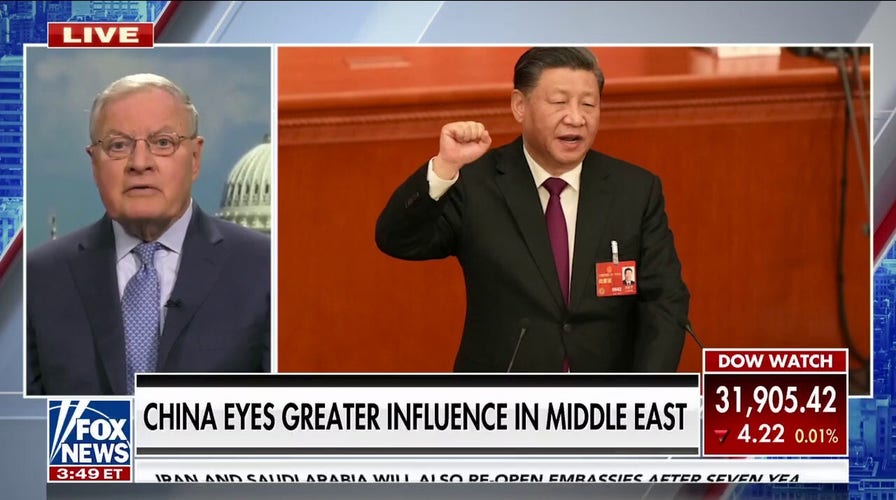 Video
China is an adversary, not a competitor: Lt. Gen. Keith Kellogg
Retired Lt. Gen. Keith Kellogg says Xi Jinping's move to broker an Iran-Saudi pact sidelines the U.S.
U.S. rivals China, Russia and Iran will conduct joint naval drills in the Gulf of Oman this week, off the southern coast of Iran, China's Defense Ministry announced.
Other unnamed countries will participate in the so-called "Security Bond-2023" military exercises, the People's Republic of China said Tuesday. Iran, Pakistan, Oman, and the United Arab Emirates each have coastline that touches the gulf, which lies at the mouth of the strategic Persian Gulf.
"This exercise will help deepen practical cooperation between the participating countries' navies … and inject positive energy into regional peace and stability," the ministry statement said.
CHINA DENIES HIDDEN MOTIVES AFTER BROKERING TALKS BETWEEN SAUDI ARABIA, IRAN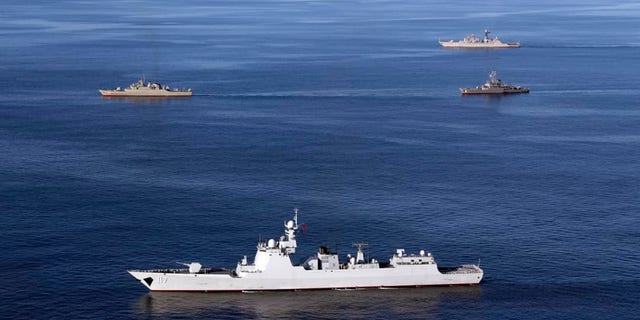 In this file photo provided by the Iranian Army, warships sail in the Sea of Oman during the second day of joint Iran, Russia and China naval war games on Dec. 28 2019.  (Iranian Army via AP, File)
The exercises will begin Wednesday and continue through March 19. They come as U.S. relations with each nation have deteriorated — Russia has provoked sanctions from the U.S. and its allies by invading Ukraine, China has refused to criticize Moscow and is aiding the Russian economy in defiance of the west, and in Iran's case there is no relationship to speak of. The U.S. and Iran have been adversaries since the founding of the Islamic Republic in 1979 and the taking of U.S. hostages.
China has dispatched the guided missile destroyer Nanning to take part in the drills centered on search and rescue at sea and other non-combat missions.
JOHN BOLTON WARNS US 'SITTING STILL' AS CHINA, RUSSIA 'SHORE UP THEIR RELATIONS'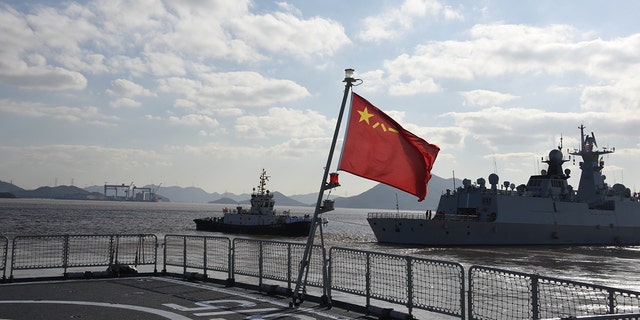 Naval forces from China, Iran and Russia — all countries at varying degrees of odds with the United States — are staging joint drills in the Gulf of Oman this week, China's Defense Ministry has announced. Other countries are also taking part in the "Security Bond-2023" exercises, the ministry said Tuesday, March 14, 2023, without giving details. (LiLi Yun/Xinhua via Getty Images Yun/Xinhua via Getty Images)
The three countries held similar military exercises last year and in 2019, as China has sought to strengthen its ties to nations at odds with the U.S. and expand its influence in the Middle East to gain access to energy and hydrocarbons from the region.
China brokered a deal made Friday between Iran and Saudi Arabia to end years of hostility and re-engage in diplomatic relations, following previously undisclosed meetings in Beijing between top security officials from the rival powers.
BLINKEN TRAVELS TO AFRICA AS NEW REPORT SHOWS CHINA, RUSSIA ECLIPSING US ARMS SALES TO CONTINENT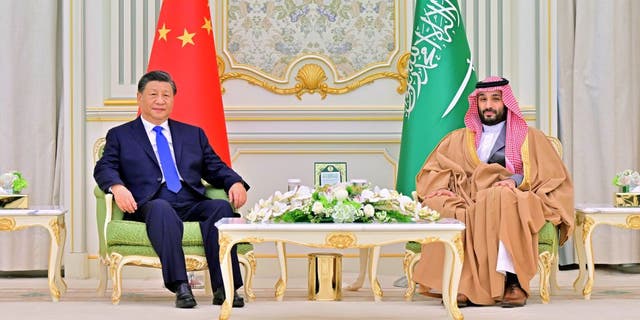 Chinese President Xi Jinping holds talks with Saudi Crown Prince and Prime Minister Mohammed bin Salman Al Saud at the royal palace in Riyadh, Saudi Arabia, Dec. 8, 2022.  (Yue Yuewei/Xinhua via Getty Images)
CLICK HERE TO DOWNLOAD THE FOX NEWS APP
While the U.S. and Saudi Arabia have long-standing military and political ties, relations have frayed over the 2018 killing of U.S.-based journalist Jamal Khashoggi, a critic of the kingdom's leadership and cuts in production by the OPEC+ oil cartel that the administration said was helping Russia.
Fox News' Peter Aitken and the Associated Press contributed to this report.
Chris Pandolfo is a writer for Fox News Digital. Send tips to c[email protected] and follow him on Twitter @ChrisCPandolfo.