close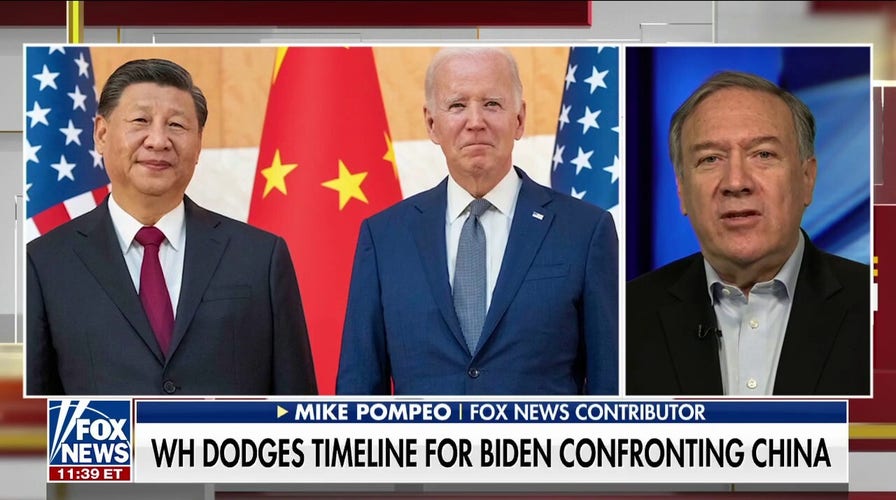 Video
China is at economic war with the US, already 'inside the gates': Mike Pompeo
Former Secretary of State Mike Pompeo and Fox News contributor says China likely does not want to go to a military war with the U.S., but says Biden must address China's economic aggression.
China is looking to expand its presence in Antarctica by resuming construction on the country's fifth station in the region.
"While the station can provide tracking and communications for China's growing array of scientific polar observation satellites, its equipment can concurrently be used for intercepting other nations' satellite communications," the Center for Strategic and International Studies (CSIS) said in a new report.
The CSIS collected satellite images that captured construction on the site for the first time since 2018. The report had aimed to identify new construction in January, finding support facilities, temporary buildings, a helicopter pad and foundations for a 53,820-square-foot station.
Construction on these new facilities could finish as early as 2024, the CSIS told Reuters.
FBI SAYS CHINA, IRAN USING NEW TACTICS TO TARGET CRITICS IN THE US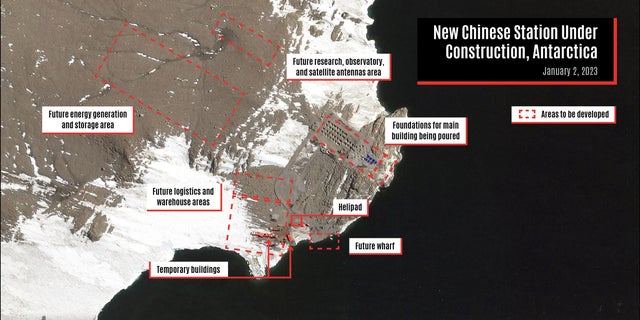 A satellite view with overlays shows areas to be developed at the new Chinese station under construction, on Inexpressible Island, Antarctica, January 2, 2023.   (Center for Strategic and International Studies (CSIS)/Hidden Reach/Maxar Technologies 2023/Handout via Reuters)
The report noted that China aims to expand its presence at both the North and South Poles, undertaking "ambitious expeditions" and developing world-class research facilities.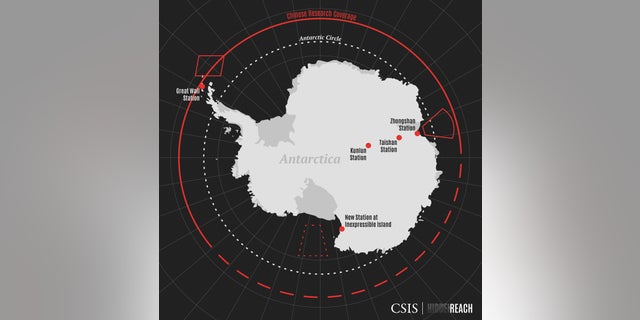 A map shows the locations of existing Chinese Antarctic stations and the Inexpressible Island site of a new station in this handout image.  (Center for Strategic and International Studies (CSIS)/Hidden Reach/Handout via Reuters)
The base on Antarctica could provide China with great strategic value, too, according to CSIS: The think tank speculated that the station's position could enable China to "collect signals intelligence from U.S.-allied Australia and New Zealand."
SENATORS LAUNCH EFFORT TO HELP TAIWAN DEFEND AGAINST ONGOING CHINESE CYBERATTACKS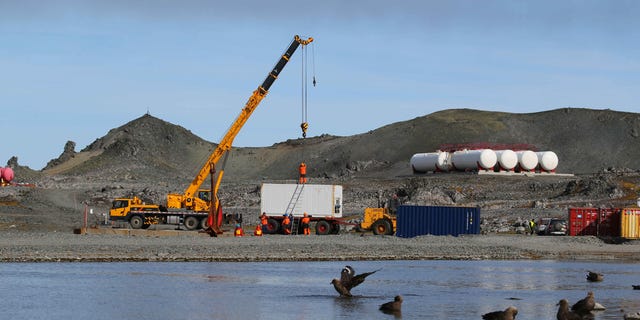 Skua birds are seen on a lake near the Great Wall station in Antarctica, Feb. 9, 2020. Members of China's 36th Antarctic expedition aboard China's polar icebreaker Xuelong 2, or Snow Dragon 2, started unloading supplies recently at the Great Wall station. (Xinhua/Liu Shiping via Getty Images)
Such measurements could include telemetry data (such as radio, ultrasonic or infrared systems) and data on rockets launching from newly established space facilities in both countries.
Beijing rejected claims that such stations would provide espionage benefits and said that they would serve a purely scientific ambition, the Independent reported.
BEIJING CASH: BUSINESSMAN FACES CHARGES AFTER ALLEGEDLY TRYING TO MAKE 'QUICK BUCK' SPYING FOR CHINA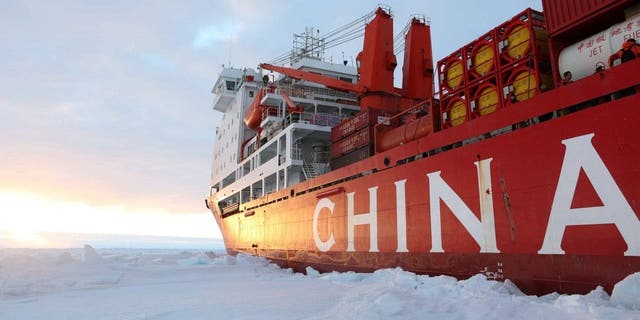 China's research icebreaker Xuelong arrives at the roadstead off the Zhongshan station in Antarctica, Dec. 1, 2018. The research team has carried out unloading work by using the helicopter. Xuelong carrying a research team set sail from Shanghai on Nov. 2, beginning the country's 35th Antarctic expedition. (Xinhua/Liu Shiping) (Xinhua/Liu Shiping via Getty Images) (Xinhua/Liu Shiping via Getty Images)
China started construction on its first Antarctic research facility in 1985, known as the Great Wall Station. The country may also look to expand some of its other, current facilities, such as the Zhongshan Station.
"China's growing scientific presence in Antarctica aligns with its broader political objectives," the report said. "In 1981, China was denied accession to the Antarctic Treaty due to insufficient scientific activities on the continent. Since then, China has worked to increase its contribution to Antarctic science."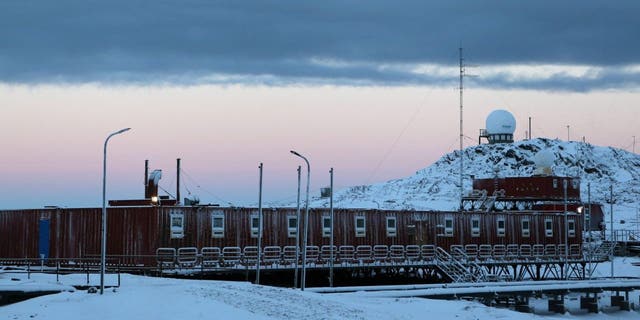 A main building of the Zhongshan Station, a Chinese research base in Antarctica. Over the past 30 years, the Zhongshan Station has grown into a modern "scientific town" in Antarctica. It can provide logistical services for fixed-wing aircraft, according to the Chinese expedition team. (Xinhua/Liu Shiping) (Xinhua/ via Getty Images) (Xinhua/ via Getty Images)
CLICK TO GET THE FOX NEWS APP
"These efforts may open the door for China to help shape the continent's future when a provision of the treaty regarding resource extraction is renegotiated in 2048."
Under the 1959 Antarctic Treaty, activities on the continent are restricted to "peaceful purposes." Military personnel are allowed to conduct scientific research, but they are banned from setting up bases, carrying out maneuvers or testing weapons.
Reuters contributed to this report.
Peter Aitken is a Fox News Digital reporter with a focus on national and global news.