close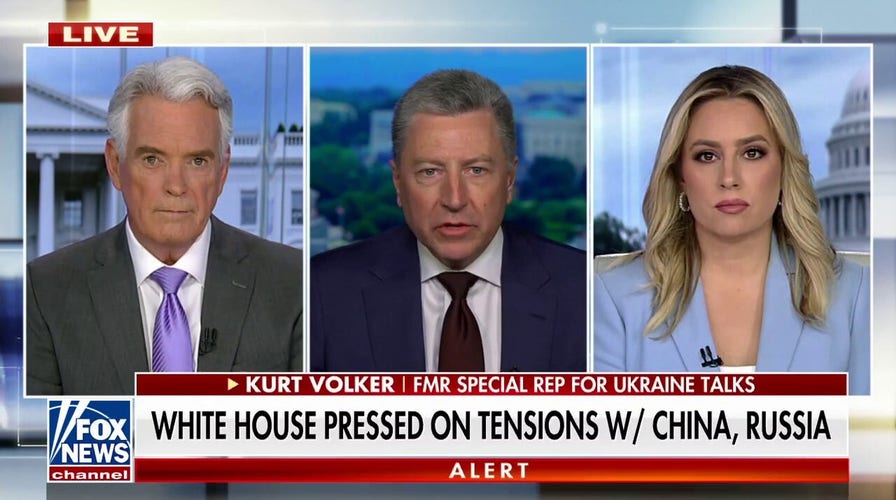 Video
Kurt Volker: China wants to establish itself as a 'great power'
Kurt Volker, former US ambassador to NATO, says China's ambitions with Taiwan will keep them from aiding Russia in its war with Ukraine.
The People's Republic of China has called for a cease-fire between Russia and Ukraine, releasing a 12-point "peace plan" on the one-year anniversary of the invasion.
China's position paper calls for an immediate end of violence in Ukraine and a return to dialogues with the aim of ending the conflict through diplomacy.
"All parties must stay rational and exercise restraint, avoid fanning the flames and aggravating tensions, and prevent the crisis from deteriorating further or even spiraling out of control," the peace plan states. "All parties should support Russia and Ukraine in working in the same direction and resuming direct dialogue as quickly as possible, so as to gradually deescalate the situation and ultimately reach a comprehensive ceasefire."
CHINA TIGHTENS TIES WITH RUSSIA, CLAIMING BOTH PROMOTE 'WORLD PEACE' DESPITE UKRAINE WAR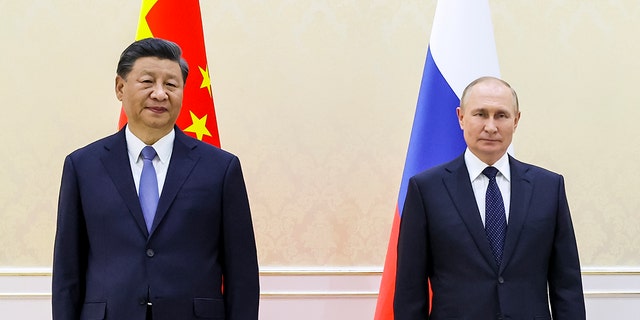 Chinese President Xi Jinping, left, and Russian President Vladimir Putin pose for a photo on the sidelines of the Shanghai Cooperation Organization summit in Samarkand, Uzbekistan, Thursday, Sept. 15, 2022.  (Alexandr Demyanchuk, Sputnik, Kremlin Pool Photo via AP)
China's plan for peace, outlined in 12 points, consists of the following: Respecting the sovereignty of all countries; Abandoning the Cold War mentality; Ceasing hostilities; Resuming peace talks; Resolving the humanitarian crisis; Protecting civilians and prisoners of war; Keeping nuclear power plants safe; Reducing strategic risks; Facilitating grain exports; Stopping unilateral sanctions; Keeping industrial and supply chains stable; Promoting post-conflict reconstruction.
A key complaint of the position paper is the increasing influence of military blocs across the globe, which China asserts pits nations against each other — China has historically expressed contempt for the North Atlantic Treaty Organization.
"The security of a country should not be pursued at the expense of others. The security of a region should not be achieved by strengthening or expanding military blocs," the paper stated. "The legitimate security interests and concerns of all countries must be taken seriously and addressed properly. There is no simple solution to a complex issue."
SIX COUNTRIES JOIN RUSSIA IN OPPOSING UN'S RESOLUTION FOR PEACE IN UKRAINE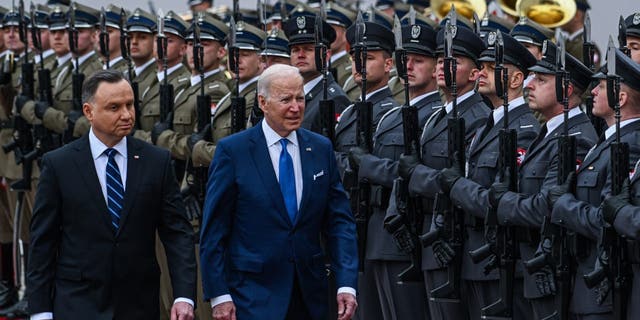 Polish President Andrzej Duda, left, and President Joe Biden inspect the Polish guard at the presidential Palace in Warsaw, Poland. Biden visited Poland and met with the Polish president as well as U.S. troops stationed near the Ukrainian border, bolstering NATO's eastern flank. (Photo by Omar Marques/Getty Images)
"The international community should stay committed to the right approach of promoting talks for peace, help parties to the conflict open the door to a political settlement as soon as possible, and create conditions and platforms for the resumption of negotiation."
China promised to play a "constructive role" in peace negotiations.
CHINA FURIOUS AFTER US WARNS AGAINST ARMING RUSSIA: 'THE US IS IN NO POSITION TO TELL CHINA WHAT TO DO'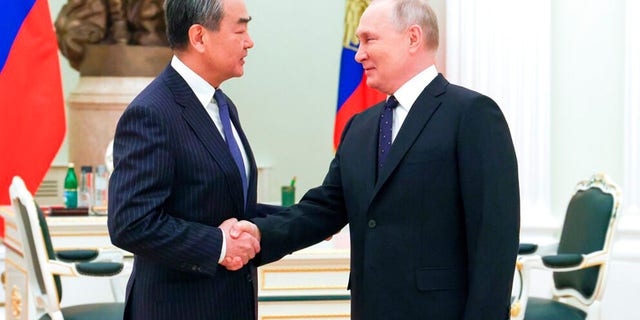 Russian President Vladimir Putin, right, greets Chinese Communist Party's foreign policy chief Wang Yi during their meeting at the Kremlin in Moscow on Wednesday, Feb. 22, 2023. (Anton Novoderezhkin, Sputnik, Kremlin Pool Photo via AP)
Putin has hailed China as a key ally on the world stage, saying that "cooperation between the People's Republic of China and the Russian Federation on the global arena is particularly important for stabilizing the international situation."
Chinese officials have maintained a vague public attitude toward the Russian invasion of Ukraine — both attesting to their continued friendship with Russia and refusing to elaborate on what forms of aid it is willing to provide to its ally.
CLICK HERE TO GET THE FOX NEWS APP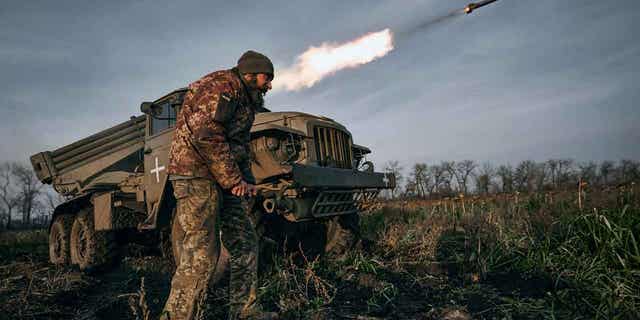 Ukrainian military's Grad multiple rocket launcher fires rockets at Russian positions in the frontline near Bakhmut, Donetsk region, Ukraine. China has called for an immediate cease-fire between Russia and Ukraine in order to facilitate peace negotiations. (AP Photo/LIBKOS, File)
Putin said Wednesday that China has "agreed" to a meeting in Moscow between him and Chinese President Xi Jinping.
Such an encounter between the two world leaders could happen as early as April, The Wall Street Journal reports, citing people familiar with the plan.
"We await a visit of the President of the People's Republic of China to Russia, we have agreed on this," Putin told top Chinese diplomat Wang Yi on Wednesday during their meeting at the Kremlin, according to Reuters. "Everything is progressing, developing. We are reaching new frontiers."
Timothy Nerozzi is a writer for Fox News Digital. You can follow him on Twitter @timothynerozzi and can email him at [email protected]