close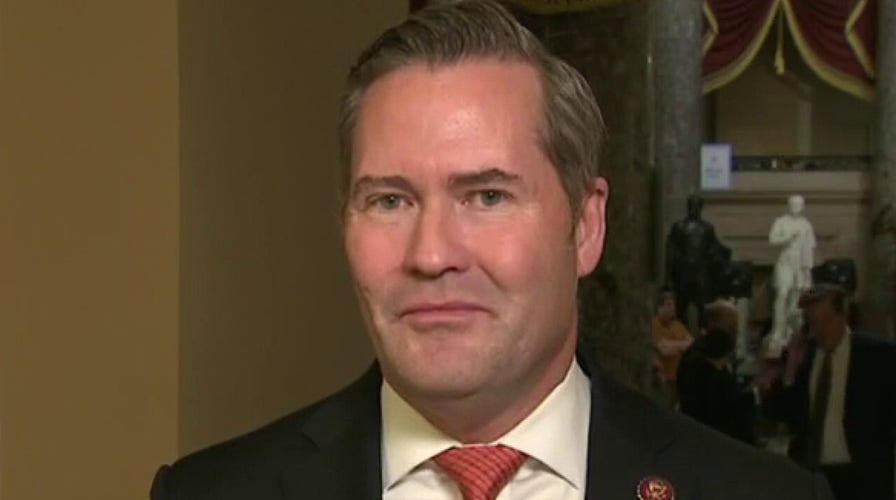 Video
China is 'most serious adversary' US has ever faced: Rep. Mike Waltz
House Armed Services Committee member Rep. Mike Waltz reacts to the Pentagon saying China outpaces the U.S. in missile launchers, telling 'America Reports' this is a 'new cold war.'
The Pentagon sought out a phone call between Secretary of Defense Lloyd Austin and his Chinese counterpart on Saturday after shooting down the Chinese spy balloon, but the offer was rebuffed, officials said Tuesday.
"Lines between our militaries are particularly important in moments like this. Unfortunately, the PRC has declined our request. Our commitment to open lines of communication will continue," Pentagon press secretary Brig. Gen. Pat Ryder said in a statement.
An F-22 shot down the 200-foot tall Chinese surveillance balloon off the coast of South Carolina on Saturday afternoon, about a week after it was detected over Alaska's Aleutian Islands.

next
Image 1 of 2

In this photo provided by Chad Fish, a large balloon drifts above the Atlantic Ocean, just off the coast of South Carolina, with a fighter jet and its contrail seen below it, on Saturday, Feb. 4. (Chad Fish via AP)


prev
Image 2 of 2

The suspected Chinese spy balloon drifts to the ocean after being shot down off the coast in Surfside Beach, South Carolina, U.S. February 4, 2023.  (REUTERS/Randall Hill  )
China was initially conciliatory about the balloon, saying on Feb. 3 before it was shot down that the "Chinese side regrets the unintended entry of the airship into US airspace due to force majeure."
AIR FORCE WARNS CHINESE COMPANY'S NORTH DAKOTA MILL WOULD BE 'SIGNIFICANT' NATIONAL SECURITY THREAT
After the balloon was destroyed by a Sidewinder missile on Saturday, Chinese officials took a more aggressive stance.
"The U.S. should have properly handled such incidents in a calm and professional manner not involving the use of force, yet they decided to do otherwise, which is a clear overreaction," Chinese Foreign Ministry spokesperson Mao Ning said on Tuesday.
"The airship does not belong to the U.S. It belongs to China."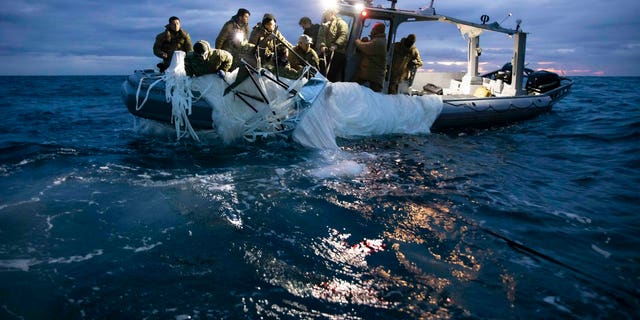 US forces recover debris from a shot-down Chinese surveillance balloon. (US Fleet Forces)
The balloon, which weighed 2,000 pounds and had a payload roughly the size of a jet airliner, created a debris field in shallow waters that is about 1,500 meters by 1,500 meters.
CLICK HERE TO GET THE FOX NEWS APP
U.S. Navy and Coast Guard vessels have been collecting and categorizing the debris before shipping it to an FBI processing lab in Quantico, Virginia, to be analyzed.
China's embassy in the U.S. did not respond to a request for comment on Tuesday.
Paul Best is a breaking news reporter for Fox News Digital and Fox Business. Story tips and ideas can be sent to [email protected] and on Twitter: @KincaidBest.