close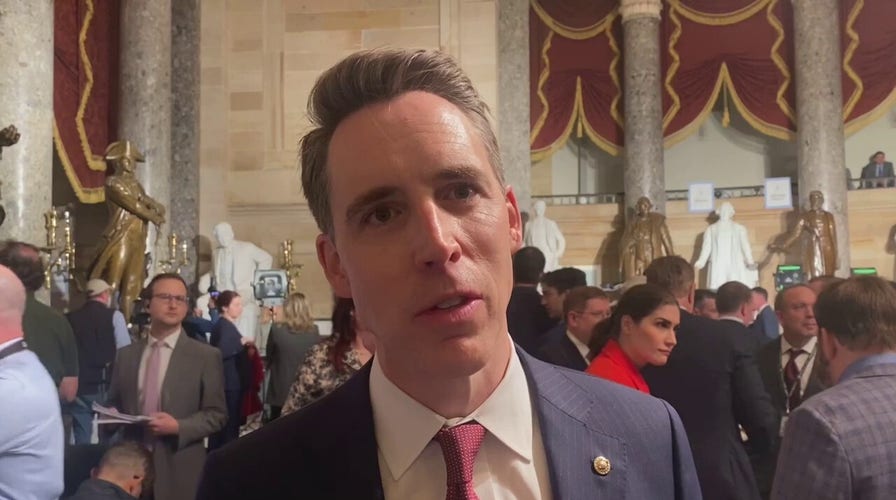 Video
Sen. Hawley responds to Biden's comments on China during State of the Union address
Sen. Josh Hawley, R-Mo., said President Joe Biden has not done enough to push back on China, following his State of the Union address on Feb. 7, 2023. (Tyler Olson/Fox News)
The People's Republic of China lodged a "stern protest" to the United States over shooting down the unmanned surveillance aircraft that floated across the country last week.
Chinese Ministry of Foreign Affairs spokeswoman Mao Ning fielded questions Wednesday, when she was asked about the ongoing controversy surrounding the surveillance aircraft, parts of which have been recovered by U.S. investigators.
US MILITARY SHOOTS DOWN CHINESE SPY BALLOON OVER ATLANTIC OCEAN
"The Chinese side has repeatedly shared information on the unintended entry of the unmanned Chinese civilian airship into U.S. airspace. I would like to stress that the U.S.'s downing of the unmanned Chinese civilian airship by force is unacceptable and irresponsible. The Chinese side has lodged a stern protest," said Mao.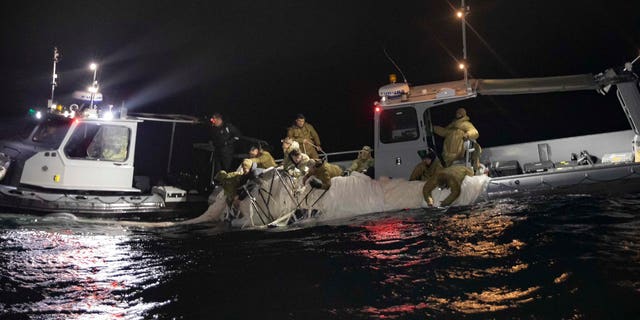 Sailors assigned to Explosive Ordnance Disposal Group 2 recover a high-altitude surveillance balloon off the coast of Myrtle Beach, South Carolina, Feb. 5, 2023. (U.S. Navy Photo by Mass Communication Specialist 1st Class Tyler Thompson)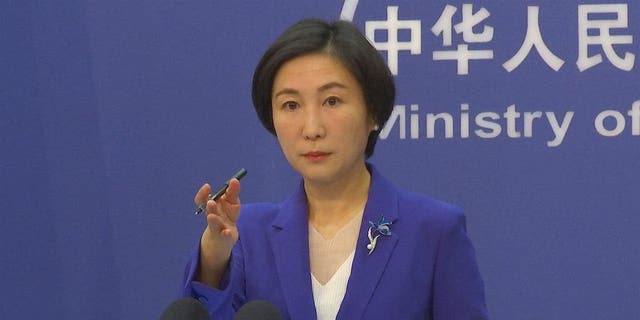 Chinese Foreign Ministry spokesperson Mao Ning gestures during a press conference at the Ministry of Foreign Affairs in Beijing, Thursday, Oct 13, 2022. (AP Photo/Liu Zheng, File)
The balloon was shot down off the coast of South Carolina by U.S. military fighter jets on Saturday afternoon. A senior U.S. military official said that an F-22 was used to bring down the balloon at 58,000 feet with a single A9X missile.
CHINA MAINTAINS SPY BALLOON IS CIVILIAN, CLAIMS SOME IN US 'HAVE HYPED IT UP TO ATTACK AND SMEAR CHINA'
Mao voiced concern that media reports characterizing the balloon as a Chinese "threat" are deteriorating already strained U.S.-Chinese relations.
"I would also like to stress that exaggerating or hyping up the 'China threat' narrative is not conducive to building trust or improving ties between our two countries, nor can it make the U.S. safer," said Mao.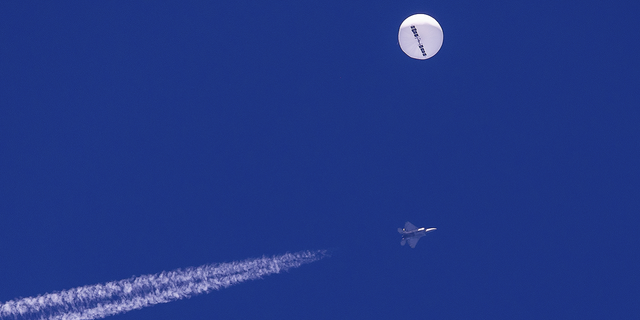 A large balloon drifts above the Atlantic Ocean, just off the coast of South Carolina, with a fighter jet and its contrail seen below it, on Saturday, Feb. 4. (Chad Fish via AP)
SPY BALLOON LIKELY SENT EXTENSIVE INTELLIGENCE TO CHINA, EXPERTS SAY
Pressed for comment on recent U.S. communications briefing other nations on the balloon situation, she added, "It is hoped that the U.S. will communicate with other countries based on facts."
Secretary of Defense Lloyd J. Austin III said in a statement after the balloon was shot down that "President Biden gave his authorization to take down the surveillance balloon as soon as the mission could be accomplished without undue risk to American lives under the balloon's path."
RUBIO SAYS BIDEN WAITING TO TELL AMERICAN PUBLIC ABOUT CHINESE BALLOON A 'DERELICTION OF DUTY'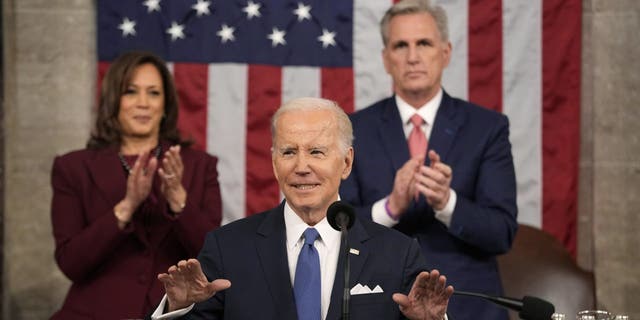 President Biden speaks during a State of the Union address with Vice President Kamala Harris, left, and House Speaker Kevin McCarthy, a Republican from California, right, at the US Capitol in Washington, D.C., on Tuesday, Feb. 7, 2023. (Jacquelyn Martin/AP/Bloomberg via Getty Images)
Mao also reacted to comments made about China in President Biden's State of the Union address. In the speech, Biden described his hope for "competition" with the People's Republic of China, but warned that "if China threatens our sovereignty, we will act to protect our country."
"A healthy and stable China-US relationship is in the fundamental interest of both peoples, and meets the shared expectation of the international community," Mao said. "On China's part, we will handle China-U.S. relations in accordance with the three principles of mutual respect, peaceful coexistence and win-win cooperation proposed by President Xi Jinping."
CLICK HERE TO GET THE FOX NEWS APP
Chinese President Xi Jinping attends the opening ceremony of the 20th National Congress of the Communist Party of China, at the Great Hall of the People in Beijing, Oct. 16, 2022. (REUTERS/Thomas Peter)
She added, "At the same time, we will firmly defend our sovereignty, security and development interests. The U.S. needs to view China in an objective and rational light, follow a positive and practical China policy, and work with China to bring China-U.S. relations back to the track of sound and steady development."
Fox News' Adam Sabes, Jacqui Heinrich, and Jennifer Griffin contributed to this report.
Timothy Nerozzi is a writer for Fox News Digital. You can follow him on Twitter @timothynerozzi and can email him at [email protected]