close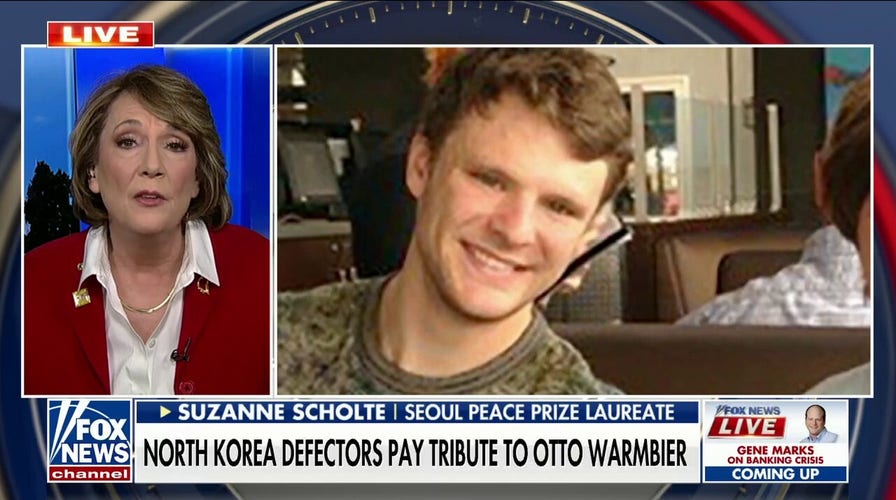 Video
North Korean defectors honor Otto Warmbier, Kim Jong Un's victims

'The North Korean Freedom Foundation' chair Suzanne Scholte joins 'Fox News Live' to discuss the protests in front of North Korea's mission to the United Nations.
The People's Republic of China has assigned a new ambassador to North Korea.
Ambassador Wang Yajun reportedly arrived in North Korea on Monday to begin his term of office in Pyongyang.
China is among a small group of North Korean allies with fully functioning foreign missions in the country.
SOUTH KOREAN PRESIDENT: 'I WILL MAKE SURE NORTH KOREA PAYS THE PRICE FOR ITS RECKLESS PROVOCATIONS'
"As agreed between China and the DPRK, the new Chinese Ambassador to the DPRK Wang Yajun arrived in the DPRK on March 27 to assume office," said Ministry of Foreign Affairs spokeswoman Mao Ning.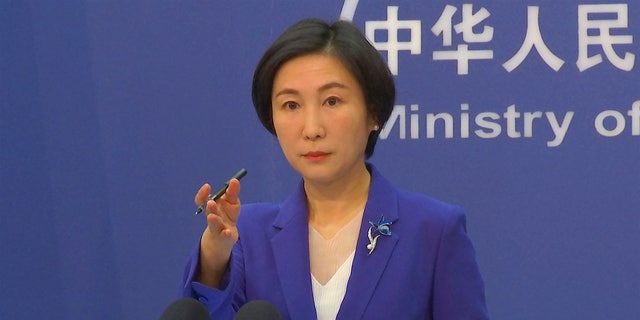 Chinese Foreign Ministry spokesperson Mao Ning gestures during a press conference at the Ministry of Foreign Affairs in Beijing, Oct 13, 2022. (AP Photo/Liu Zheng, File)
She made the remarks at a Tuesday press conference in Beijing.
Mao emphasized the "friendly" relationship between the two communist countries – few other nations have autonomous embassies or consulates within North Korea.
FORCING NORTH KOREA TO 'DISMANTLE ITS NUKES' WOULD BE A 'DECLARATION OF WAR'
"China and the DPRK are friendly neighbors linked by mountains and rivers," Mao said. "In recent years, under the strategic guidance of the top leaders of the two parties and the two countries, China-DPRK relations have entered a new historical period and kept making new progress."
China is often cited as North Korea's strongest ally and a key protector of the controversial, increasingly nuclear-capable nation.
US AND ITS PARTNERS STAGE WARFARE DRILLS AS JAPAN, SOUTH KOREA STRENGTHEN ALLIANCE AGAINST CHINA, NORTH KOREA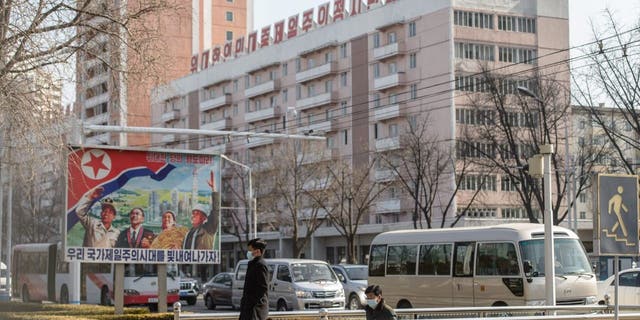 Pedestrians walk up a stairway in Pyongyang. (Kim Won Jin/AFP via Getty Images)
"We believe that with his assumption of office, Ambassador Wang Yajun will play an important role in advancing the traditional friendship and cooperation between China and the DPRK," Mao concluded.
China's friendship will most likely prove valuable as North Korea faces escalating tensions with South Korea and the United States.
South Korean President Yoon Suk Yeol promised last week to punish North Korea for the communist nation's recent series of "provocations."
US-SOUTH KOREA DRILLS DETER NORTH KOREA, PENTAGON CLAIMS HOURS AFTER NORTH KOREA LAUNCHES ICBM
"North Korea is advancing its nuclear weapons day by day and conducting missile provocations with unprecedented intensity," said Yoon.
Pedestrians walk in Kim Il Sung Square in Pyongyang (Kim Won Jin/AFP via Getty Images)
He continued, "The South Korean government and military will drastically strengthen our three-axis system in the face of North Korea's nuclear and missile advancements and provocations, and will further solidify security cooperation with the United States and also trilaterally with the United States and Japan."
CLICK HERE TO GET THE FOX NEWS APP
Yoon's comments came just hours after North Korea claimed to have successfully simulated cruise missile attacks and an underwater nuclear drone launch.
Timothy Nerozzi is a writer for Fox News Digital. You can follow him on Twitter @timothynerozzi and can email him at [email protected]