close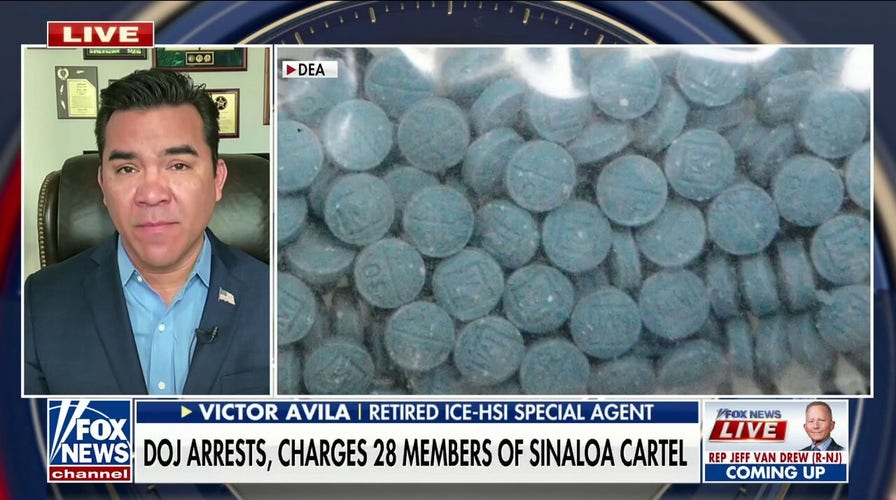 Video
US needs to 'step up' in order to curb fentanyl crisis: Victor Avila
Retired ICE-HIS Special Agent Victor Avila detailed possible solutions to the fentanyl crisis during 'Fox News Live' as the border surge continues.
China on Monday is pushing back against American sanctions targeting two Chinese companies and four nationals that the Treasury Department alleges are "supplying precursor chemicals to drug cartels in Mexico for the production of illicit fentanyl intended for U.S. markets."
The Treasury Department said Friday that the sanctions against Wuhan Shuokang Biological Technology Co., Ltd., Suzhou Xiaoli Pharmatech Co., Ltd., Yao Huatao, Wu Yaqin, Wu Yonghao and Wang Hongfei are "part of a whole-of-government effort to counter the global threat posed by the trafficking of illicit drugs into the United States that is causing the deaths of tens of thousands of Americans annually, as well as countless more non-fatal overdoses."
"China, in the spirit of humanitarianism, has been trying to help the U.S. as best it can," Chinese Foreign Ministry spokesperson Wang Wenbin said during a news briefing, arguing that moves from the U.S. to impose sanctions "seriously undermines" bilateral cooperation between the two countries over drug control, according to Reuters.
He reportedly added that China has lodged a complaint with Washington over the sanctions.
ATTORNEY GENERAL GARLAND ANNOUNCES INDICTMENTS AGAINST EL CHAPO'S SONS, BLASTS CHINA FOR FENTANYL EPIDEMIC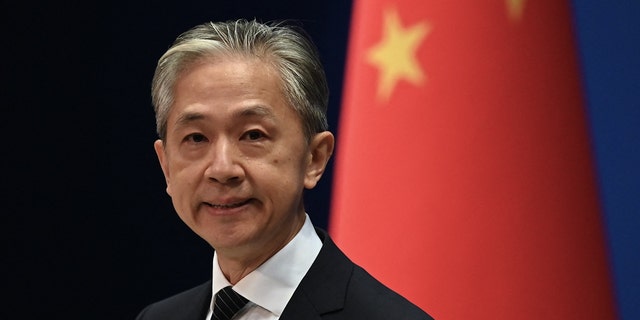 Chinese Foreign Ministry spokesman Wang Wenbin is leading the country's criticism in response to U.S. sanctions targeting two Chinese companies and four Chinese individuals the Treasury Department says are linked to the global fentanyl trade. (Photo by NOEL CELIS/AFP via Getty Images)
Fox News Digital has reached out to the State Department and Treasury Department for comment.
The Treasury Department said it filed the sanctions after working in "close coordination" with the Drug Enforcement Administration and the Justice Department.
Shortly after those were announced, the Justice Department unveiled a wave of indictments on Friday against members of the Sinaloa Cartel, which authorities are calling "the largest, most violent, and most prolific fentanyl trafficking operation in the world."
WHITE HOUSE OUTLINES PUSH TO CRACK DOWN ON FENTANYL FLOW, AMID TENSIONS WITH MEXICO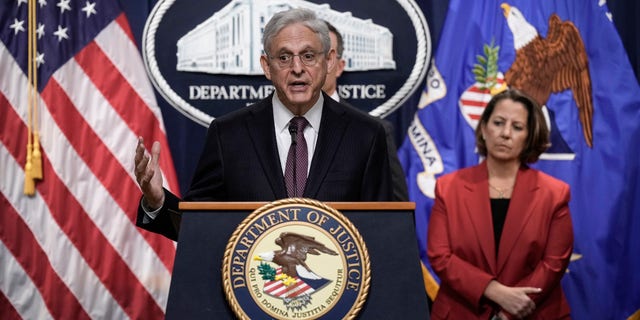 Attorney General Merrick Garland said Friday that a number of the sanctioned Chinese individuals are defendants in indictments against Mexico's Sinaloa Cartel, which is suspected of trafficking fentanyl. (Drew Angerer/Getty Images)
The indictments were unsealed in the Southern District of New York, Northern District of Illinois and District of Columbia. Top lieutenants of the Sinaloa Cartel, the sons of infamous drug lord Joaquín "El Chapo" Guzmán, who are collectively known as the Chapitos, are accused of smuggling significant quantities of drugs through Mexico and into the United States, as well as having their security forces horrifically torture and kill their victims.
Attorney General Merrick Garland said Friday that the precursor chemicals used to manufacture fentanyl — a deadly synthetic opioid more than 50 times more potent than heroin — come from Chinese chemical and pharmaceutical companies.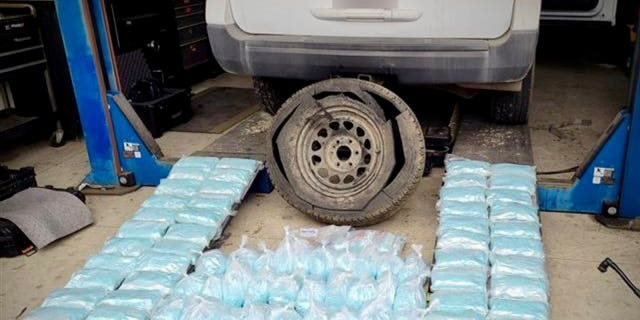 The U.S. Border Patrol is seen making a fentanyl bust in San Clemente, California. Under Secretary of the Treasury for Terrorism and Financial Intelligence Brian Nelson said Friday, while announcing the sanctions, that his department "will continue to vigorously apply our tools to prevent the transfer of precursor chemicals and machinery necessary to produce this drug." (U.S. Border Patrol)
"The United States government is using every tool at its disposal to combat the fentanyl epidemic. The PRC government must stop the unchecked flow of fentanyl precursor chemicals that are coming out of China," Garland said. "Earlier this morning, the Treasury Department announced sanctions against two Chinese companies and five related individuals for their roles in the sale of fentanyl precursor chemicals from China to the Sinaloa Cartel. Four of those individuals are defendants in this case."
CLICK HERE TO GET THE FOX NEWS APP
According to the Justice Department, fentanyl is the leading cause of death for Americans ages 18 to 49 and is the main driver of the opioid epidemic that has ravaged U.S. families and communities in the past eight years. Between 2019 and 2021, fatal overdoses increased by approximately 94%, with an estimated 196 Americans dying each day from fentanyl, DOJ said.
Fox News' Chris Pandolfo contributed to this report.
Greg Norman is a reporter at Fox News Digital.