close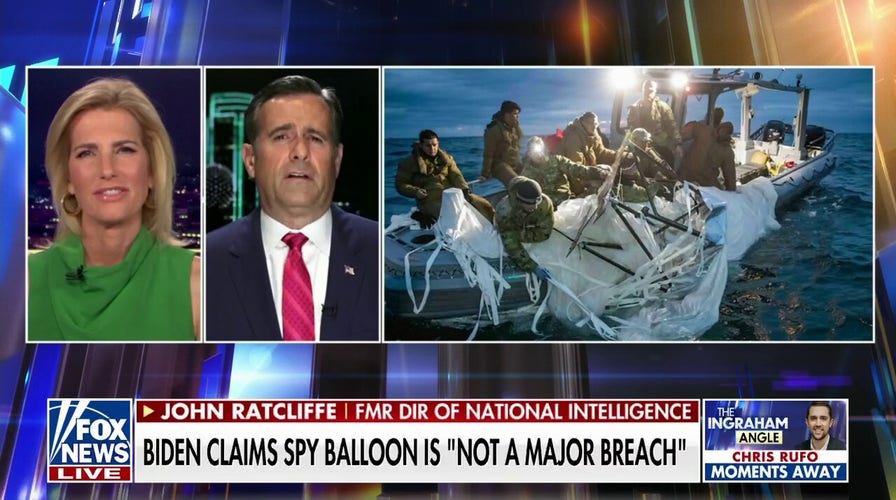 Video
Biden is sending the wrong message on China spy flight: John Ratcliffe
John Ratcliffe: Biden's national security team is unwilling to confront our number one adversary no matter what they do.
The People's Republic of China accused the U.S. House of Representatives of "scoring political points" by passing a resolution Thursday condemning the Chinese use of a surveillance aircraft shot down last week.
Chinese Ministry of Foreign Affairs spokeswoman Mao Ning addressed the resolution Friday during a press conference.
US AND ALLIES HOLD JOINT AIR FORCE EXERCISE AIMED AT CHINA AFTER SPY SHOOTDOWN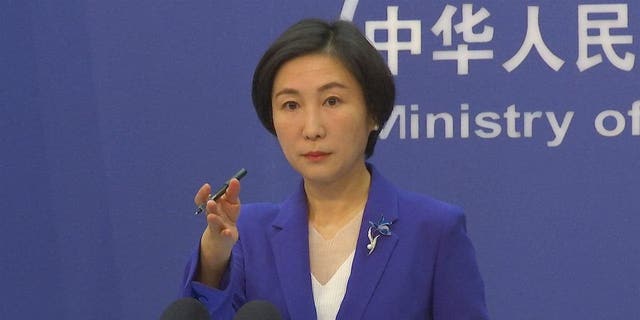 Chinese Foreign Ministry spokesperson Mao Ning gestures during a press conference at the Ministry of Foreign Affairs in Beijing, Thursday, Oct 13, 2022. (AP Photo/Liu Zheng, File)
"The Chinese side has repeatedly shared information and stated its position on the unintended entry of the unmanned Chinese civilian airship into US airspace due to force majeure," Mao said.
The House's resolution condemns China for the incursion and says it should be U.S. policy to "promptly and decisively act to prevent foreign aerial surveillance." It also calls on the Biden administration to take several steps to explain to Congress how it handled the incident – a set of instructions that may explain why some Democrats voted against it.
"The U.S. Congress's resolution is purely about scoring political points and dramatizing the whole thing," Mao claimed. "China deplores it and firmly opposes it."
CHINA WANTS ITS DOWNED SPY AIRCRAFT BACK, SAYING IT 'DOES NOT BELONG TO THE US'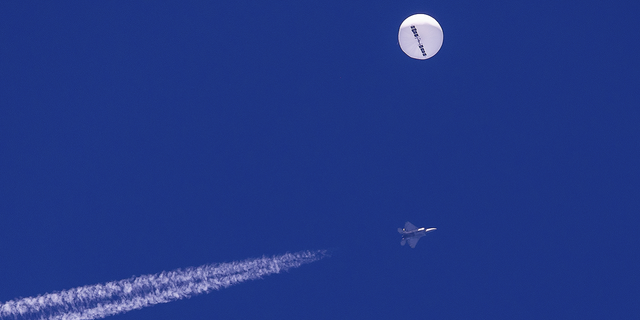 A large balloon drifts above the Atlantic Ocean, just off the coast of South Carolina, with a fighter jet and its contrail seen below it, on Saturday, Feb. 4. (Chad Fish via AP)
Earlier this week, senior military and national security officials confirmed that the downed balloon was tied to a major surveillance program run by China's military. The program relies on dated balloon technology along with modern signal surveillance techniques. The balloons travel through the upper atmosphere, hovering between 60,000 and 80,000 feet above Earth, above where commercial jets travel.
The balloon was shot down off the coast of South Carolina by a U.S. military fighter jet on Saturday afternoon. A senior U.S. military official said that an F-22 was used to bring down the balloon at 58,000 feet with a single A9X missile.
When asked about the nature of the equipment on the aircraft, Mao replied, "I do not have the information."
CLICK HERE TO GET THE FOX NEWS APP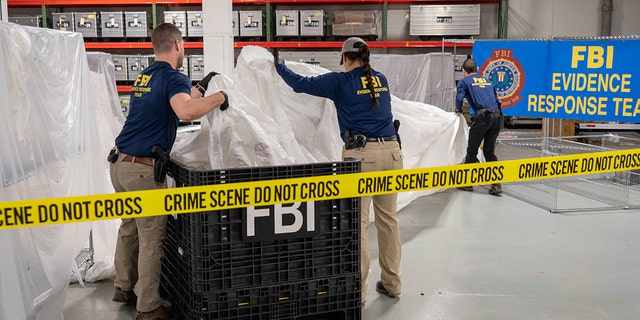 FBI Special Agents assigned to the Evidence Response Team process material recovered from the high altitude balloon recovered off the coast of South Carolina.  The material was processed and transported to the FBI Laboratory in Quantico, Virginia. (FBI)
The majority of evidence relating to the Chinese surveillance aircraft is still underwater, FBI officials told Fox News.
Divers are currently salvaging the wreck area, described as a "large scale scene," for debris, according to senior FBI officials. Diving operations are set to continue in the days and weeks ahead, as long as needed.
Fox News' Mark Meredith contributed to this report.
Timothy Nerozzi is a writer for Fox News Digital. You can follow him on Twitter @timothynerozzi and can email him at [email protected]