close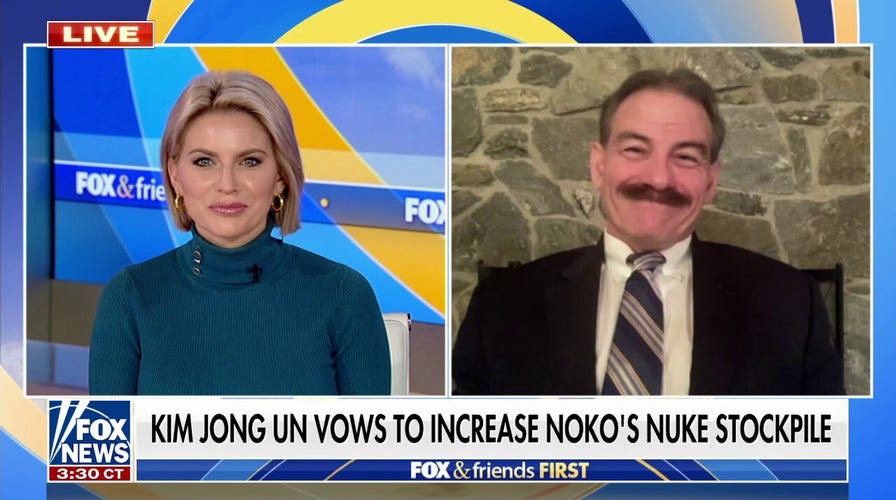 Video
Former Secretary of State Mike Pompeo calls for US to ban travel from China
Former Assistant Secretary of State Robert Charles joined 'Fox & Friends First' to discuss the surge of COVID cases in China and Kim Jong Un vowing to bolster North Korea's nuclear weapons. 
Chinese officials blasted foreign nations that announced "unacceptable" COVID-19 travel restrictions, vowing to take "countermeasures" in response.
"Some countries have taken entry restrictions targeting only Chinese travelers," China's Foreign Ministry spokesperson Mao Ning told reporters. "This lacks scientific basis and some practices are unacceptable."
"We firmly reject using COVID measures for political purposes and will take corresponding measures in response to varying situations based on the principle of reciprocity," she added.
Beijing also called the rules "discriminatory" despite the rules applying to all travelers from China, regardless of vaccination status or country of origin. Mao explained that the variant spreading through China "has previously been found elsewhere already," but that hasn't stopped other countries introducing restrictions.
CHINA'S NEW FOREIGN MINISTER PRAISES AMERICANS, STRIKES FRIENDLY TONE
A number of countries introduced travel requirements or restrictions in response to the quickly rising number of COVID-19 cases in China after Beijing rolled back its "zero-COVID" policies in response to nationwide protests.
Some countries, including the U.S. and Britain, have reintroduced required testing pre-flight for anyone departing China. Others nations, including Japan and Italy, will only require testing upon arrival and quarantine for any COVID-positive travelers, TIME reported.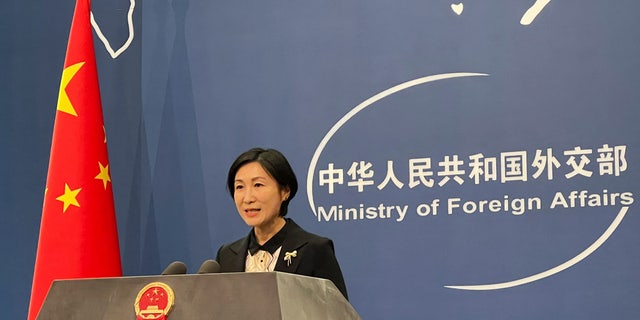 Chinese Foreign Ministry new spokesperson Mao Ning speaks at a news conference in Beijing, China September 5, 2022. 
(Reuters/Yew Lun Tian)
Morocco is the only country to go to extremes and outright ban entry to all travelers arriving from China – a measure that goes into effect on Tuesday.
The U.S. argued that restrictions were necessary since China has not provided total transparency, leaving the rest of the world unclear on the true extent of COVID-19 infections in the country.
KIM JONG UN: NORTH KOREA MUST 'OVERWHELMINGLY BEEF UP' MILITARY, NUCLEAR ARSENAL
The new Centers for Disease Control order affects any travelers coming from China, either directly or indirectly, as well as Hong Kong and Macau, and requires them to obtain a negative COVID-19 test no more than two days before traveling to the U.S.
The policy will go into effect on Jan. 5 in order to give airlines time to put the policy in place and will affect all travelers two-years-old and older.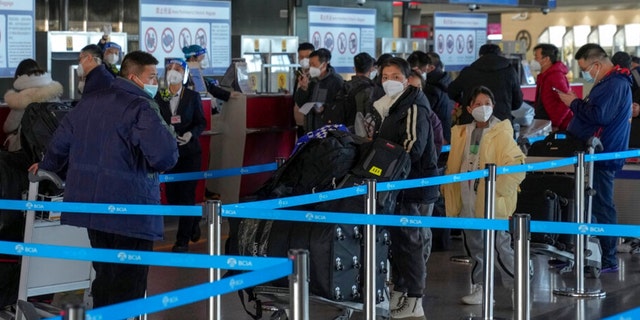 Masked travelers with luggage line up at the international flight check in counter at the Beijing Capital International Airport in Beijing, Thursday, Dec. 29, 2022. Moves by the U.S., Japan and others to mandate COVID-19 tests for passengers arriving from China reflect global concern that new variants could emerge in its ongoing explosive outbreak — and the government may not inform the rest of the world quickly enough. 
(AP Photo/Andy Wong)
French Prime Minister Elisabeth Borne said Tuesday that the country is looking for tests for travelers and would "continue to do it" for the foreseeable future, according to German outlet DW.
Information about China's current COVID-19 situation remains scattered after Beijing decided to stop reporting any asymptomatic cases. Official reporting indicates an average increase of 3,842 cases per day last week, representing a 36% increase from the average two weeks ago, according to The New York Times.
NASA CHIEF WARNS CHINA COULD CLAIM TERRITORY ON THE MOON IF IT WINS NEW 'SPACE RACE'
However, the Times also reported that some estimates – including one that made the rounds on Chinese social media – cited estimates from national health officials that the virus had spread to 250 million people during the first 20 days of December.
Countries have complained about China's lack of cooperation and unwillingness to release all COVID-related data, particularly after the government also announced it would change its qualifications for counting deaths that related to the virus.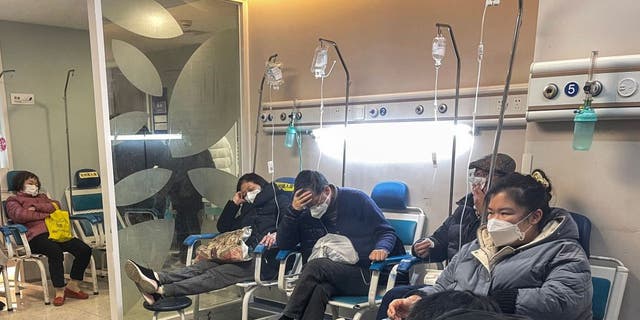 People receive medical attention in a Fever Clinic area in a hospital in the Changning district in Shanghai, on Dec. 23, 2022. China is battling a wave of coronavirus infections that has hit the elderly hard but resulted in only a handful of reported deaths after the government redefined the criteria by which COVID-19 fatalities are counted. 
(Photo by Hector Retamal/AFP via Getty Images)
Mao told reporters that China wants to "step up communication with the rest of the international community and work together to prevail over COVID."
"Based on the latest changes in the COVID situation and the circumstances facing our response, the competent authorities in China have shared information in a timely, open and transparent manner in accordance with the law," Mao said. "We shared the genome data of the virus from the latest COVID cases in China via the Global Initiative on Sharing Avian Influenza Data."
CLICK HERE TO GET THE FOX NEWS APP
"China always believes that for all countries, COVID response measures need to be science-based and proportionate," she added. "They should not be used for political manipulation, there should not be discriminatory measures against certain countries, and measures should not affect normal travel and people-to-people exchange and cooperation."
Peter Aitken is a Fox News Digital reporter with a focus on national and global news.