close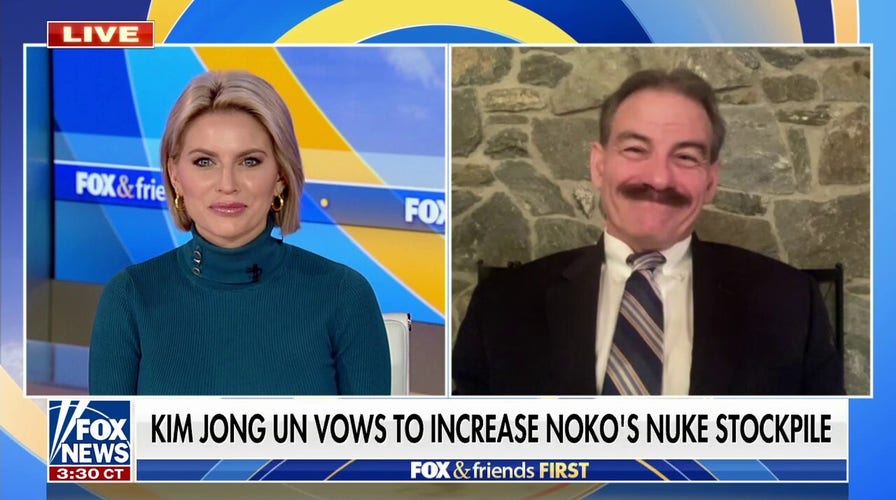 Video
Former Assistant Secretary of State Robert Charles calls for US to ban travel from China
Former Assistant Secretary of State Robert Charles joined 'Fox & Friends First' to discuss the surge of COVID cases in China and Kim Jong Un vowing to bolster North Korea's nuclear weapons. 
China has reportedly suspended or closed the social media accounts of more than 1,000 critics of its policies on the COVID-19 outbreak.
The Sina Weibo social media platform said it had addressed 12,854 violations, permanent bans on 1,120 accounts and attacks on experts, scholars and medical workers.
The company said Thursday it "will continue to increase the investigation and cleanup of all kinds of illegal content and create a harmonious and friendly community environment for the majority of users."
The Chinese Communist Party imposes strict limits on free speech, with previous methods prompting widespread protests in major cities.
AS COVID RAVAGES CHINA, US EXPANDS TESTING SYSTEM FOR INCOMING TRAVELERS
While the Chinese Communist Party has relied on its health care professionals to justify stringent mitigation efforts, the country has quickly moved to roll back restrictions, leading to a new surge.
China will no longer bring criminal charges against people who have been accused of violating border quarantine regulations, and those in custody will be released.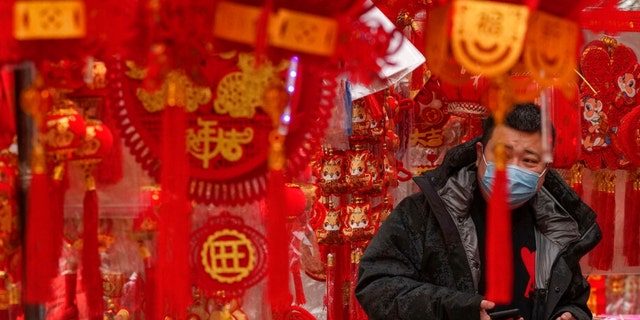 A man wearing a face mask shops for Chinese Lunar New Year decorations at a pavement store in Beijing Saturday, Jan. 7, 2023.
(AP Photo/Andy Wong)
The official China Daily newspaper website said the adjustments were made after "comprehensively considering the harm of the behaviors to the society and aim to adapt to the new situations of the epidemic prevention and control."
Cases and hospitalizations are on the rise, even as authorities say Lunar New Year travel is expected to double over the same period last year.
On Friday, China's Transportation Ministry called for reduced trips and gathering, particularly if they involve those who are especially at risk of severe illness.
Vice Minister Xu Chengguang told reporters people using public transportation are also urged to wear masks and closely monitor their health.
China is continuing with a plan to end mandatory quarantines for those arriving from abroad, starting Sunday, in addition to dropping a requirement for students at city schools to have a negative COVID-19 test to enter campus when classes resume Feb. 13.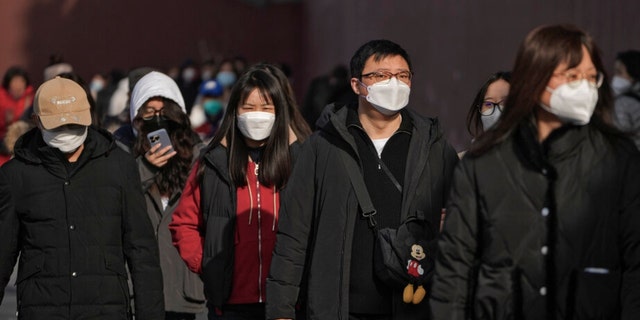 People wearing face masks walk along a street in Beijing, Friday, Jan. 6, 2023. 
(AP Photo/Andy Wong)
CHINA COVID CRISIS: BEIJING HOSPITAL RUNS OUT OF BEDS, FAMILIES BURN BODIES IN STREETS AS DEATHS SPIKE
The city education bureau said in a statement Friday that while schools can move classes online if there are new outbreaks, they must return to in-person instruction as soon as possible.
Chinese health authorities publish a daily count of new cases, severe cases and deaths. Those numbers include only officially-confirmed cases and use a narrow definition of COVID-related deaths.
Since the government ended compulsory testing, letting people with mild symptoms test themselves and convalesce at home, authorities say the government can no longer provide a full accounting of the state of the latest infections.
On Saturday, the National Health Commission reported 10,681 new domestic cases, and three new deaths were reported over the previous 24 hours.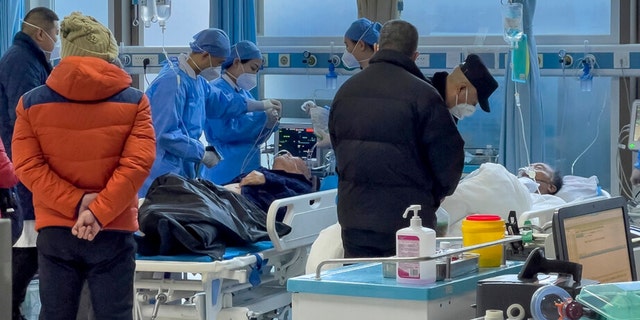 Medical workers check on an elderly patient as he arrives to an emergency hall in a hospital in Beijing Saturday, Jan. 7, 2023. 
(AP Photo/Andy Wong)
The numbers are reportedly smaller than estimates being released by some local governments. The eastern Zhejiang province announced Tuesday it was seeing about 1 million new cases a day.
The Health Commission on Saturday rolled out rules for strengthened monitoring of viral mutations, including testing of urban wastewater. It called for increased data gathering from hospitals and local government health departments and stepped-up checks on "pneumonia of unknown causes."
If a variant emerges in an outbreak, it is found through genetic sequencing of the virus.
CLICK HERE TO GET THE FOX NEWS APP
The World Health Organization has expressed concern about the lack of data from China, but China has pushed back on testing requirements instituted by foreign governments, saying they aren't science-based.
Its spokespeople have said the situation is under control and reject accusations of a lack of preparation for reopening.
The U.S. is requiring a negative test result for travelers from China within 48 hours of departure.
The Associated Press contributed to this report.
Julia Musto is a reporter for Fox News and Fox Business Digital.