close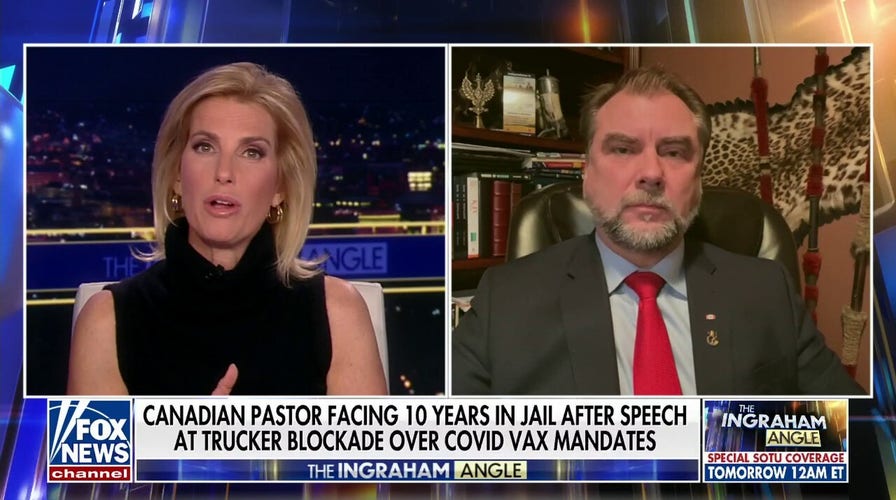 Video
Ingraham guest facing 10 years in jail after speech at trucker blockade over COVID vaccine mandates
Cave of Adullam congregation Pastor Artur Pawlowski explains how he is facing 10 years in prison after speech at trucker blockade over COVID vaccine mandates on 'The Ingraham Angle.'
Charges were dropped against multiple Canadian pastors accused of violating public health orders by holding church services during the COVID-19 pandemic.
A judge recently dismissed the contempt charges against Pastor Phillip James Hutchings and his associates at His Tabernacle Family Church in Saint John, New Brunswick.
Prosecutors also withdrew the charges against Pastor Aaron Rock of Harvest Bible Church in Windsor, Ontario, last week.
Chief Justice Tracey DeWare of the Court of King's Bench dismissed a motion to hold Hutchings and church director Cody Butler in contempt for holding church services in a commercial tent in the fall of 2021, when indoor gatherings were banned in New Brunswick, according to a Feb. 2 ruling.
CANADIAN PASTOR REPEATEDLY JAILED OVER COVID PROTOCOLS TO FACE FINAL TRIAL: 'CRAZY STUFF'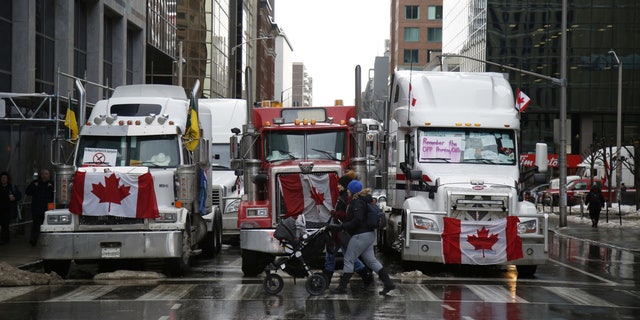 Trucks block a section of Metcalfe Street during a "Freedom Convoy" demonstration in downtown Ottawa, Canada, on Feb. 10, 2022. (David Kawai/Bloomberg via Getty Images)
The church erected the tent in response to being ticketed in October 2021 for holding indoor gatherings, according to the ruling.
Prosecutors had argued that the tent, whose flaps were put down during cold weather, was a "public indoor space," and that the pastors did not sufficiently make sure that each churchgoer was vaccinated.
DeWare said she could not determine beyond a reasonable doubt that the tent Hutchings' church was using for services "clearly and unequivocally" constituted an indoor gathering as defined by the provincial health order in place at the time.
"Clearly a commercial tent with four sidewalls up cannot be considered an 'enclosed space' or 'public indoor space' on any interpretation given to the definition," DeWare wrote. "Arguably, the commercial tent with four sidewalls down could fall with the parameters of an 'enclosed space.'"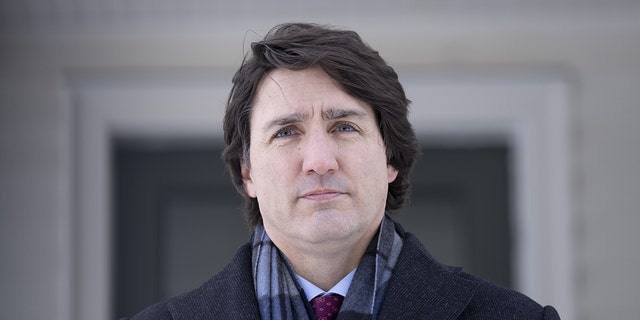 Prime Minister Justin Trudeau during a news conference during the trucker protests on Jan. 31, 2022. (Adrian Wyld/The Canadian Press/Bloomberg via Getty Images)
"However, as I write this decision, it is unclear to me when that occurs, and counsel for the applicant were unable to provide a clear answer to the question."
"[An] alternative and reasonable point of view can be that the Respondents moved their church services to the commercial tent in an attempt to avoid the restrictions on 'public indoor space' and therefore avoid breaching the Mandatory Order," DeWare ruled.
PASTOR ACQUITTED AFTER BEING ARRESTED WHEN POLICE HELICOPTER FOUND CHURCH GATHERING OUTSIDE DURING PANDEMIC
Defense attorney Jonathan Martin described the ruling as "a win for due process and also a win for government accountability against the drafting of vague regulations that provide limitless prosecutorial discretion," according to The Canadian Press.
Last Monday, Crown prosecutors also withdrew two charges against Rock, who was the first pastor charged with violating Ontario's lockdown order by holding services that exceeded a 10-person limit, according to The Windsor Star.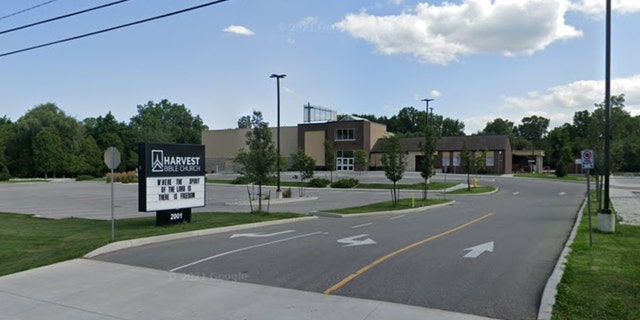 Prosecutors withdrew two charges last week against Pastor Aaron Rock of Harvest Bible Church in Windsor, Ontario. (Google Maps)
"I was a little bit surprised, pleasantly surprised," Rock told the outlet of the dropped charges, each of which carried up to a year in prison and six figures in fines. "I've never been a guy in trouble with the law – it was kind of surreal."
Rock said he is not anti-vaccine or against public health restrictions, but believed COVID-19 was "wildly exaggerated" and the government's response "foolish and very destructive."
"I was a little bit surprised, pleasantly surprised. I've never been a guy in trouble with the law – it was kind of surreal."

— Pastor Aaron Rock of Windsor, Ontario
CANADIAN PASTOR DEFIANT AS JUDGE ORDERS HIM TO PARROT 'MEDICAL EXPERTS' FROM PULPIT: 'I WILL NOT OBEY'
The legal victories for the pastors come after similar charges have been dropped against other Canadian clergy members.
Pastor Tim Stephens was acquitted in November after he was arrested twice in 2021 because his Calgary church continued to congregate in defiance of the government. His second arrest came after a police helicopter reportedly found his church gathering outside.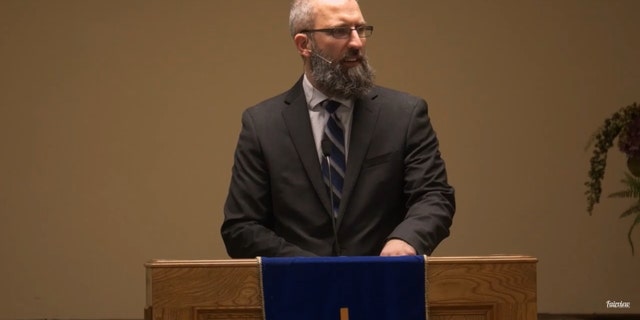 Pastor Tim Stephens of Fairview Baptist Church in Calgary, Alberta, was acquitted of public health-related charges last November after being arrested twice in 2021. (Justice Centre for Constitutional Freedoms)
Pastor Artur Pawlowski of the Cave of Adullam congregation in Calgary, Alberta, recently explained to Fox News Digital that he faces up to a decade in prison if convicted on charges related to officiating a church service for truckers blocking the U.S.-Canada border in Coutts last year.
CLICK HERE TO GET THE FOX NEWS APP
Following a two-day trial earlier this month, the judge presiding over Pawlowski's case is slated to render his decision in March.
Jon Brown is a writer for Fox News Digital. Story tips can be sent to [email protected].