close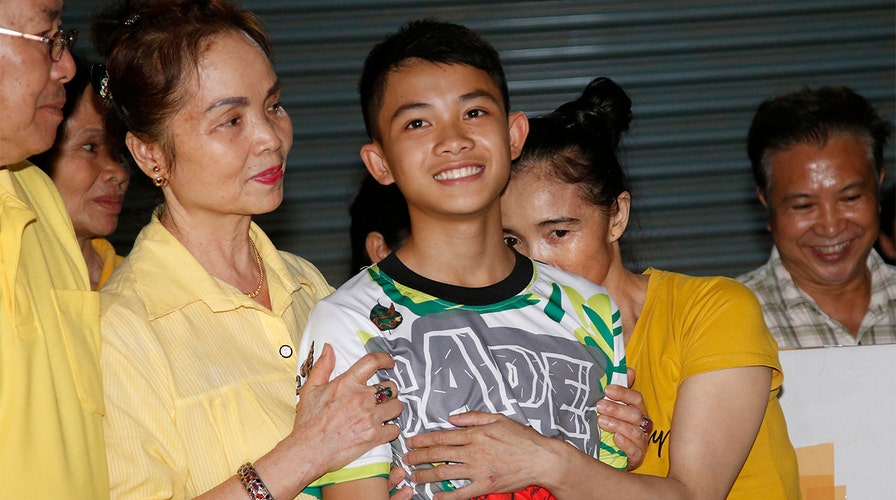 Video
Thai cave: Entire soccer team rescued
Thai cave: Entire soccer team rescued
The captain of the boys' soccer team that was dramatically rescued from a flooded cave in Thailand in 2018 has died in England while attending a sports academy, reports say.
Duangpetch "Dom" Promthep of the "Wild Boars" team was one of 12 players who along with their coach became trapped in the Tham Luang cave during an unexpected rainstorm in June that year.
Faced with tremendous challenges, a team of the world's most experienced divers navigated the maze of flooded, narrow cave tunnels. The divers were joined by Thai forces and more than 10,000 volunteers to complete the daring rescue mission.
"Duangpetch Promthep has now gone to another world," Supatpong Methigo, a Buddhist monk who taught the team in Thailand's northern Chiang Rai province, wrote on Facebook, according to Reuters. "I hope he will be reborn and become my student again in the next life."
'THIRTEEN LIVES' DIRECTOR RON HOWARD, STAR COLIN FARRELL DETAIL 'EXHAUSTING' SCENES IN FILM ABOUT THAI CAVE RESCUE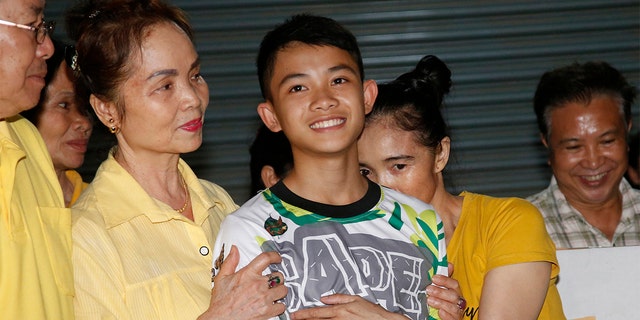 FILE – Relatives of Duangphet "Dom" Phromthep, one of the boys rescued from the flooded cave in northern Thailand, greet him as he arrives home in the Mae Sai district, Chiang Rai province, northern Thailand, July 18, 2018. (AP Photo/Sakchai Lalit, File)
Promthep, 17, was found unconscious in his dorm room at the soccer academy he was attending in Leicestershire since late 2022, the BBC reports. He later died at a local hospital.
"I am saddened to hear that Dom Duangpetch Phromthep, captain of the Wild Boars football team from the 2018 Tham Luang cave incident, has died in the UK," British Ambassador to Thailand Mark Gooding tweeted. "My condolences to Dom's family and friends."
The cause of his death was not immediately clear, but Leicestershire Police told the BBC it is not being classified as suspicious.
FLASHBACK: THAI BOY RESCUED IN CAVE RECOUNTS HARROWING ORDEAL
"I wanted to see his dream realized … but rest well now Dom," Kiatisuk Senamuang, a former coach whose foundation helped Promthep get a scholarship at the Brooke House College Football Academy, said in an Instagram post, according to Reuters.
The principal of the college, Ian Smith, said in a statement obtained by Sky News that ""We unite in grief with all of Dom's family, friends, former teammates and those involved in all parts of his life, as well as everyone affected in any way by this loss in Thailand and throughout the college's global family."
Former teammates who were rescued with Promthep in the cave also are paying tribute.
CLICK HERE TO GET THE FOX NEWS APP
"You told me to wait and see you play for the national team, I always believe that you would do it," Prachak Sutham was quoted by the BBC as saying.
"Brother, you told me that we would be achieving our football dream… if the next world is real, I want us to play football together again, my brother Dom," reportedly added Titan Chanin Viboonrungruang.
Fox News' Stephanie Giang-Paunon and Larry Fink contributed to this report.
Greg Norman is a reporter at Fox News Digital.