Natasha Bure has had enough of Hollywood.
The 25-year-old actress and YouTube star – who is also the daughter of Candace Cameron Bure – announced in a new video that she's making a big move from LA to Texas so she can "learn lessons," "grow" and "do something I wouldn't normally do."
It may seem like a big move, but she's not concerned. As she put it, "If I love it, I love it. If I hate it, OK, then we'll move on after a year."
NATASHA BURE PRAISES MOM CANDACE CAMERON FOR HER FAITH, BEING 'BOLD' AMID BACKLASH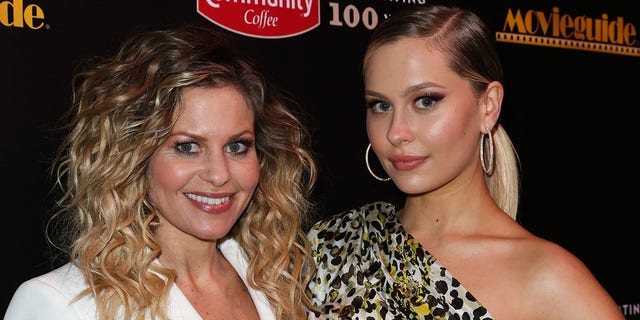 Natasha Bure is the eldest of Candace Cameron Bure's three children. (Paul Archuleta/Getty Images)
"I'm really nervous," Natasha said after revealing that she was signing a lease agreement. "But I'm nervous in a good way. I feel like there's so much unknown for the future and that is a really, I don't know, cool thing."
Bure explained that she actually decided on the big move last December, and originally her plan was to leave California several months ago, but work and family obligations caused things to be pushed back.
"This is also the first time I'm ever officially living by myself," she continued. "It's gonna be a challenge, for sure, but I think it will be a good challenge for me. I feel like I'm in this little bubble in LA."
"I know the city really well. I have so many friends that I really love, but I want to get out of my comfort zone and try something new."
MARK WAHLBERG, JULIA ROBERTS AND MORE STARS WHO HAVE MOVED OUT OF HOLLYWOOD
Discussing her open-minded attitude about the move, she said, "I just want to meet new people, I want to learn lessons, I want to grow, and I feel like right now where I am in my life, this is the perfect opportunity to go and get out of my comfort zone . . . If I hate it, then I'll move back or I'll move somewhere different or whatever."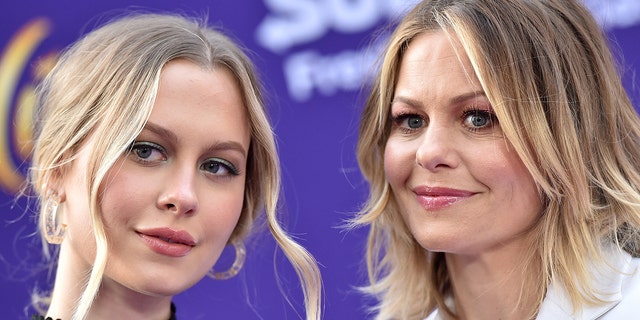 Natasha Bure bears a strong resemblance to her famous mother. (Getty Images)
Bure is not the first celebrity to make the decision to leave LA. Last year, Mark Wahlberg and his family moved to Las Vegas, and just months ago Scott Baio left Hollywood for Florida.
Natasha revealed another change in her life earlier this month, when she shared that she was making a big shift toward modesty.
"Modesty & I have come a long way truthfully," Natasha shared on her Instagram Story.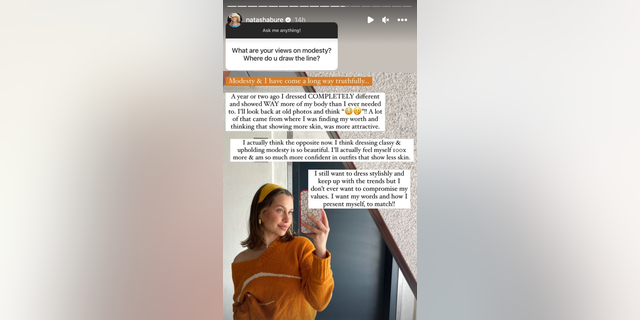 Natasha Bure shared this message about modesty on her Instagram story. (Natasha Bure/Instagram)
"A year or two ago I dressed COMPLETELY different and showed WAY more of my body than I ever needed to," she explained.
CLICK HERE TO SIGN UP FOR THE ENTERTAINMENT NEWSLETTER
She reflected on looking back at her own photos and appeared shocked by the way she used to dress.
"A lot of that came from where I was finding my worth and thinking that showing more skin, was more attractive," Natasha added.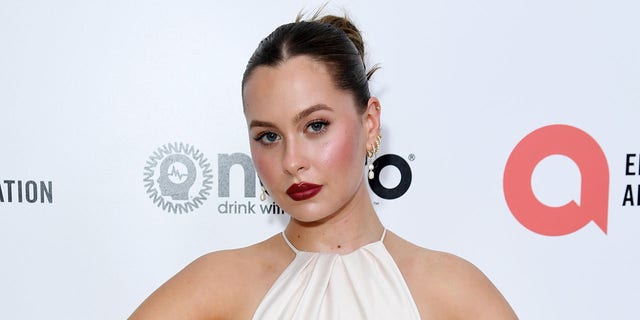 Natasha Bure glammed up for an event in March 2023. (JC Olivera/WireImage)
"I actually think the opposite now. I think dressing classy & upholding modesty is so beautiful. I'll actually feel myself 100x more & am so much more confident in outfits that show less skin."
CLICK HERE TO GET THE FOX NEWS APP
"I still want to dress stylishly and keep up with the trends but I don't ever want to compromise my values," Natasha said. "I want my words and how I present myself, to match!!"
Fox News Digital's Stephanie Giang-Paunon contributed to this report.