close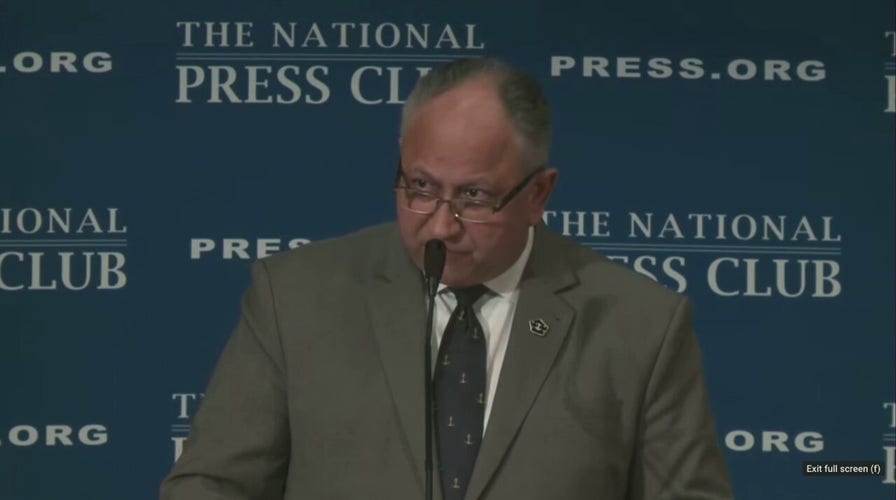 Video
China outpacing US in war ship production, Navy secretary warns
U.S. Navy Secretary Carlos Del Toro said Tuesday that China is outpacing the U.S. in war ship production. (National Press Club)
Canadian officials say they have discovered Chinese surveillance buoys in the Arctic, escalating concerns from Canadians and Americans about Chinese espionage.
Canadian defense minister Anita Anand said the activity was "not new" on Wednesday. The Canadian military found the buoys this past autumn as part of Operation Limpid.
Officials referred to the objects as "dual-purpose technologies" that are of Chinese origin, according to Canadian newspaper The Globe and Mail.
Department of National Defence spokesperson Daniel Le Bouthillier said the Canadian military "is fully aware" of efforts by China to conduct surveillance in Canada's airspace and maritime areas, but did not provide many details.
US GOVERNMENT MONITORING SUSPECTED CHINESE SPY BALLOON OVER NORTHERN STATES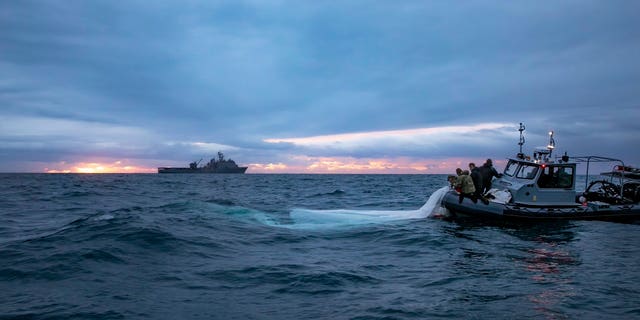 U.S. forces pull pieces of China's surveillance balloon out of the ocean. (US Fleet Forces)
"To ensure the integrity of operations, we are unable to provide further information at this time," he added.
It is unclear what the purposes of the buoys were, as they could have also been used for environmental and climate research.
Foreign Affairs Minister Mélanie Joly told CNN that Canada intends "to be clear" in its dealings with China.
"When it comes to China, we will challenge China when we ought to, and we will co-operate with China when we need to," Joly said.
CHINA LAUNCHES INVESTIGATION INTO SUSPECTED SPY BALLOON FLYING OVER US, MINISTRY SAYS
"When it comes to issues over the Arctic within our maritime borders, or any form of foreign interference, we will be clear, and that's how we will address this issue," she continued.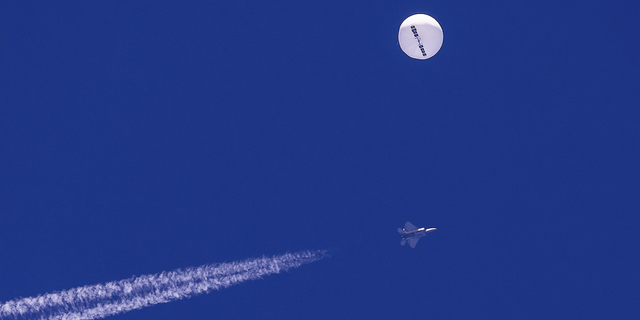 In this photo provided by Chad Fish, a large balloon drifts above the Atlantic Ocean, just off the coast of South Carolina, with a fighter jet and its contrail seen below it, on Saturday, Feb. 4. (Chad Fish via AP)
The news comes after recent revelations that the U.S. government spent at least $1.5 million shooting down three unidentified "objects" over the U.S. and Canada in February, after downing a suspected Chinese spy flight off South Carolina that had crossed the continental United States.
The Chinese government has denied any involvement with the flying objects, with a minister calling American officials' concerns over the balloons "hysterical."
CLICK HERE TO GET THE FOX NEWS APP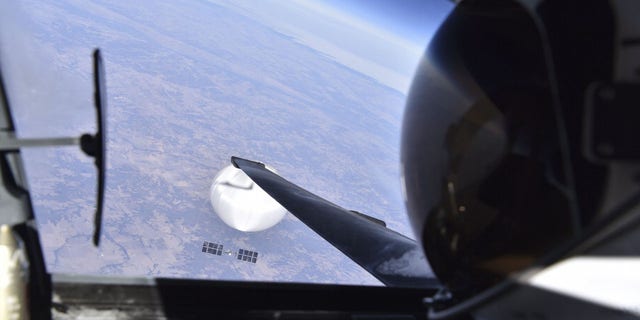 A pilot looks down upon a suspected Chinese spy balloon on Feb. 3, 2023.  (US Air Force)
"Across the globe there are many balloons in the sky from different countries. Do you want to down each and every one of them?" top diplomat Chinese diplomat Wang Yi said on Saturday. "It does not show America is strong, on the contrary, it shows the opposite."