Rep.-elect Byron Donalds, R-Fla., set the House abuzz on Tuesday when he switched his vote for House Speaker from embattled Republican Leader Kevin McCarthy to Rep. Jim Jordan, R-Ohio – as McCarthy struggles to meet the threshold to gain the gavel.
Donalds had supported McCarthy for the first two votes, which both resulted in no candidate reaching the necessary 218 votes after 19 Republicans defected — the first time in nearly a century that additional votes were needed for a majority's nominee.
Some rebel Republicans had cast votes for Reps.-elect Andy Biggs, R-Ariz., Jordan, Jim Banks, Lee Zeldin, R-NY, and Donalds himself in the first round. Jordan secured all non-McCarthy GOP votes in the second and third rounds. Democrats, meanwhile, have remained united around Rep.-elect Hakeem Jeffries, D-NY.
On the third vote, Donalds was asked his selection, and chose Jordan, raising the number of Republicans voting for someone other than McCarthy to 20. Jordan has said he is supporting McCarthy.
MCCARTHY FALLS SHORT IN THIRD HOUSE SPEAKER VOTE AS JORDAN GAINS MOMENTUM
The vote by Donalds immediately sparked murmurings throughout the chamber, as well as a round of applause from Republicans lawmakers opposed to McCarthy's candidacy. Ultimately, Jordan received 20 GOP votes, while McCarthy received 202 and Jeffries received all 212 votes from his fellow Democrats.
In an interview on "Kudlow" after the vote, Donalds said he changed his vote because he doesn't believe McCarthy has the 218 votes at the moment.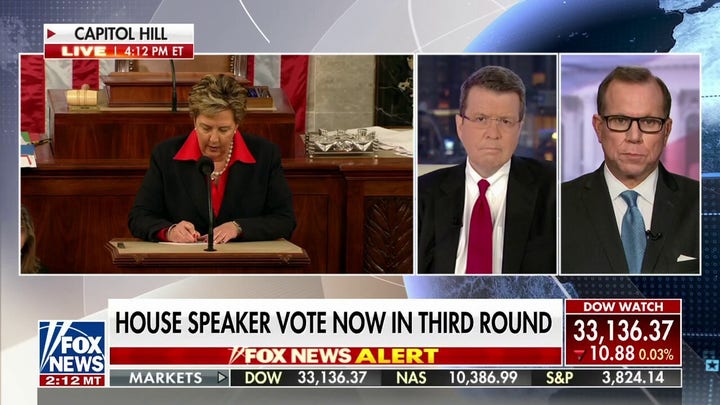 Video
"I voted for Kevin on the first two ballots, and it's just not clear that he has the votes," he said.
MCCARTHY SHORT OF VOTES AS HOUSE SPEAKER CONTEST ENTERS FINAL HOURS
He said that McCarthy does have the ability to get to the threshold but "there's a lot of work to be done."
"I think just if you're going to ask members to vote over and over and over again to try to wear people down, I think it actually has the opposite effect," he said. "My view has been for us to call a recess, get in a room, figure it out, have those conversations and then go back to the floor."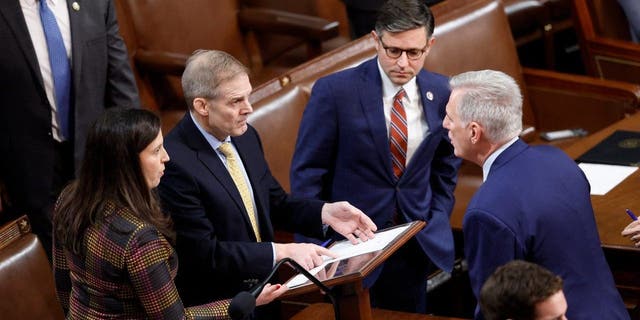 WASHINGTON, DC – JANUARY 03: (L-R) U.S. Rep. Elise Stefanik (D-NY), Rep. Jim Jordan (R-OH), Rep. Mike Johnson (R-LA) and House Minority Leader Kevin McCarthy (R-CA) talk as the House of Representatives holds their vote for Speaker of the House on the first day of the 118th Congress in the House Chamber of the U.S. Capitol Building on January 03, 2023 in Washington, DC.
(Photo by Anna Moneymaker/Getty Images)
CLICK HERE TO GET THE FOX NEWS APP
Shortly after the vote, the House moved to adjourn until noon on Wednesday, meaning that the chamber will not be electing a speaker until at least that time. No members have been sworn in and cannot be until a speaker is elected.
Fox News' Kelly Phares and Jessica Chasmar contributed to this report.