close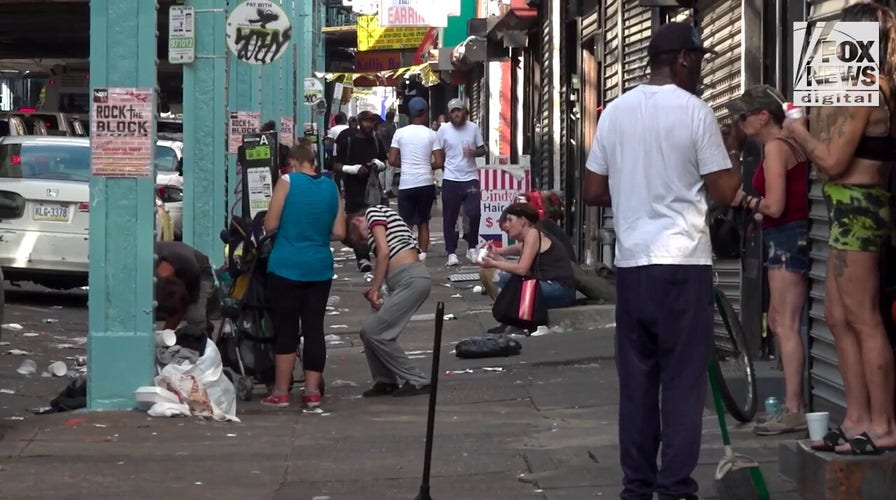 Video
CRISIS IN KENSINGTON: Businesses setting up 'booby traps' for protection
In Kensington's open-air drug market, some businesses struggle to entice prospective customers as drug users loiter or pass out on their front stoops.
PHILADELPHIA – Poverty-stricken families living in Kensington, unable to flee the crime-ridden open-air drug market, are forced to find ways to hide their children from the neighborhood's in-your-face horrors, while businesses devise tricks to keep addicts and their oozing flesh wounds off their stoops, according to a recovering addict who managed to flee the community.
"The businesses don't last long. When they are put in the community, the community tends to tear them down," said Frank Rodriguez. "It's not a place for anything to thrive."
HOW DRUGS AND CRIME ARE RAVAGING THIS PHILADELPHIA NEIGHBORHOOD. WATCH: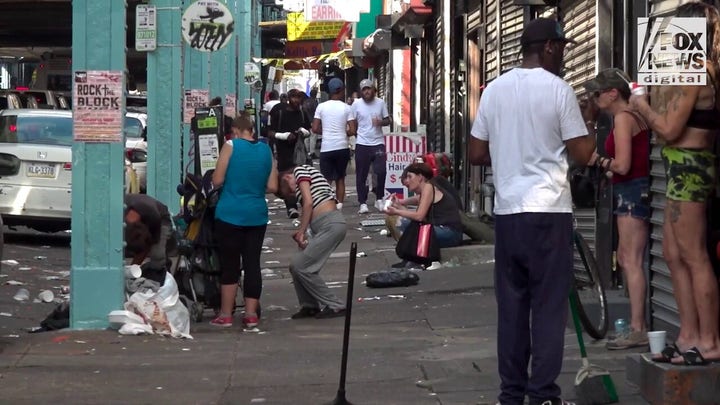 Video
WATCH MORE FOX NEWS DIGITAL ORIGINALS HERE
Kensington has gained international attention for its excessive public drug use and has become a focal point for high crime and poverty in the City of Brotherly Love. The neighborhood had among the worst violent and drug crime rates citywide over a 30-day period ending Aug. 14, according to data compiled by The Philadelphia Inquirer.
"I couldn't imagine the customers to my business having to come through all this chaos just to support my business," Rodriguez, a business owner himself, told Fox News. "Who wants to come down to this neighborhood … to shop here? Who wants to do that? Nobody."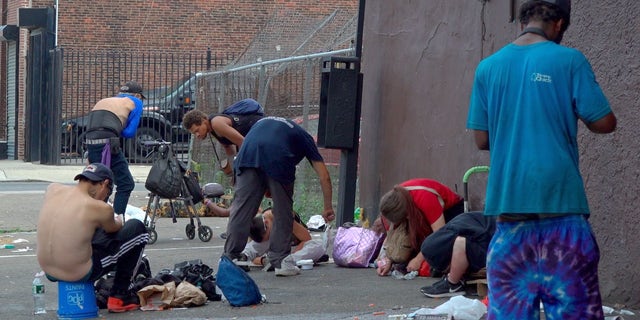 Drug users slump over in Kensington on a gloomy summer afternoon. One injects himself with a needle and a few others stumble around the sidewalk in a trance.  (Jon Michael Raasch/Fox News Digital)
CRISIS IN KENSINGTON: 'CHEMICAL WARFARE' IN PHILADELPHIA DRUG MARKET 'IS GETTING WORSE,' FORMER DEALER SAYS
In Kensington, frail men and women slumped over stoops muster the strength to inject themselves for another fix. Others, half-clothed, stumble through the busy road or sprawl out on the sidewalk passed out from fentanyl or tranq — or both. Overdose kits, syringes and trash is perpetually scattered across Kensington Avenue.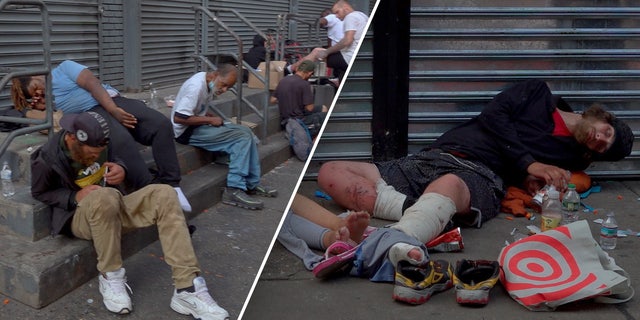 Owners of an award-nominated restaurant said public drug use is driving away customers and vendors. (Jon Michael Raasch and Megan Myers/Fox News)
The owners of Cantina La Martina, a James Beard Award-nominated Mexican spot in Kensington, recently highlighted obstacles their restaurant has faced because of the public drug consumption and large encampments. Co-owner Mariangeli Saez said nightly servings have dropped at least 60% and safety concerns has caused their food supply vendors to refuse to make deliveries, CBS News Philadelphia reported.
Employees "have to come out every single day and clean up numerous times," Rodriguez said. "There's needles, vomit, feces, bodies."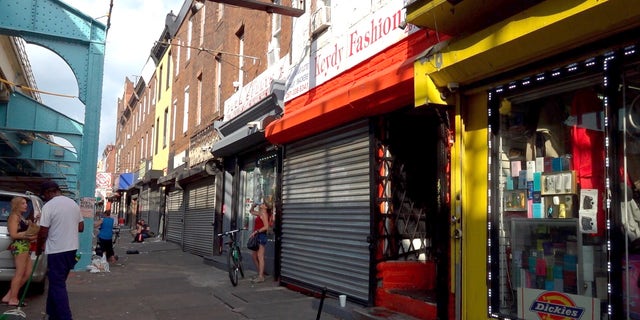 Rampant drug use and crime is causing obstacles for some businesses in Kensington's open-air drug market. (Megan Myers/Fox News Digital)
Rodriguez, who used to deal and use drugs in the neighborhood before getting sober, said the area's escalated substance abuse and crime has led some businesses to go the extra mile to keep their storefronts appealing to prospective customers.
"They have to set up these crazy little hacks and booby traps just to keep people off of their stoops," he said. "There are businesses that set up sprinkler systems, so they can just be inside and hit a button and the sprinkler system goes off."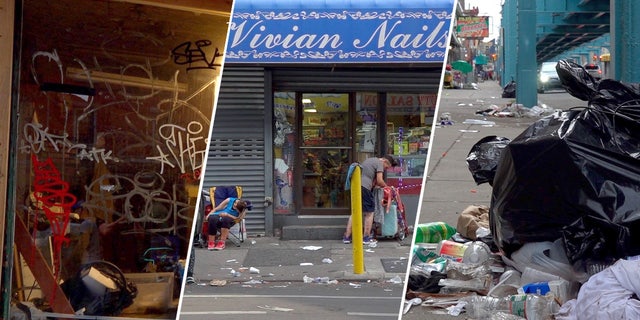 Trash builds up along Kensington Avenue from people living out on the streets. Drug users are slumped over outside storefronts with needles in their hands.  (Jon Michael Raasch and Megan Myers/Fox News)
But Kensington is also home to many families with young kids. One lifelong Kensington resident, Rob, told Fox News he was bringing pizza home to his kids to avoid exposing them to the criminals and drug addicts littering the streets.
Residents "can't even shop in their own community," Rodriguez told Fox News.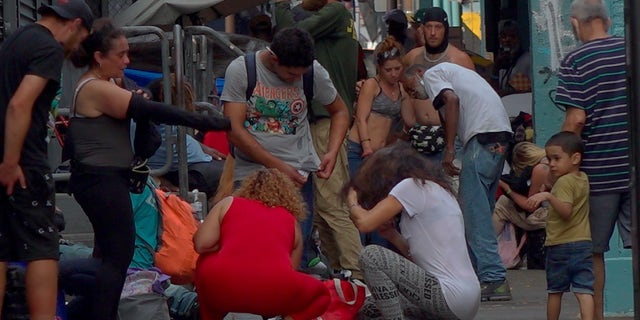 A child watches a group of people gather together to use drugs as he walks down Kensington Avenue in Philadelphia's open-air drug market.  (Jon Michael Raasch/Fox News Digital)
Kensington's violent crime rate was around 30% higher than the rest of the city from 2012 to 2016, while the area's average income per capita was half the average citywide salary, according to a Drexel University study published in October 2019. The area also had more complaints about graffiti removal, illegal dumping, vacant houses and dangerous buildings than the city at large.
PHILADELPHIA MAYOR CANDIDATE: 'I WOULD SHUT DOWN KENSINGTON,' CLEAR DRUGS AND CRIME
"There's people that are literally just waiting for you to nod off so they can go in your bag, take your money, take your drugs, take the shoes off your feet," Rodriguez said.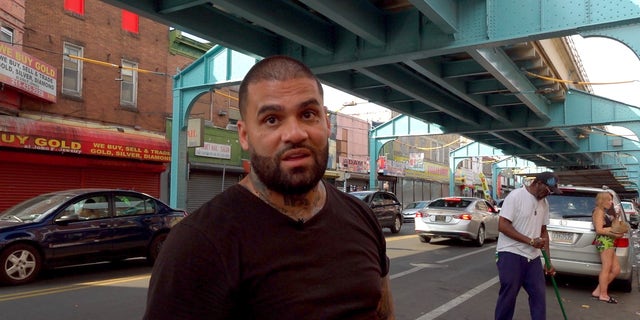 Rodriguez, a recovering heroin addict, says the drug epidemic plaguing this Philadelphia neighborhood is impacting the residents and businesses. (Jon Michael Raasch/Fox News Digital)
Rodriguez fled Kensington as part of his path to sobriety but goes back nearly every week to provide necessities and life advice to struggling drug users. But despite his efforts, the recovering heroin addict previously told Fox News that the neighborhood has continued to deteriorate.
CLICK HERE TO GET THE FOX NEWS APP
"It's 100% getting worse," he said. "And it's gonna get worse tomorrow, and the next day is gonna be even worse."
Click the link to learn more about Philadelphia's open-air drug market.
Ethan Barton contributed to this report.
Megan Myers is an associate producer/writer with Fox News Digital Originals.