close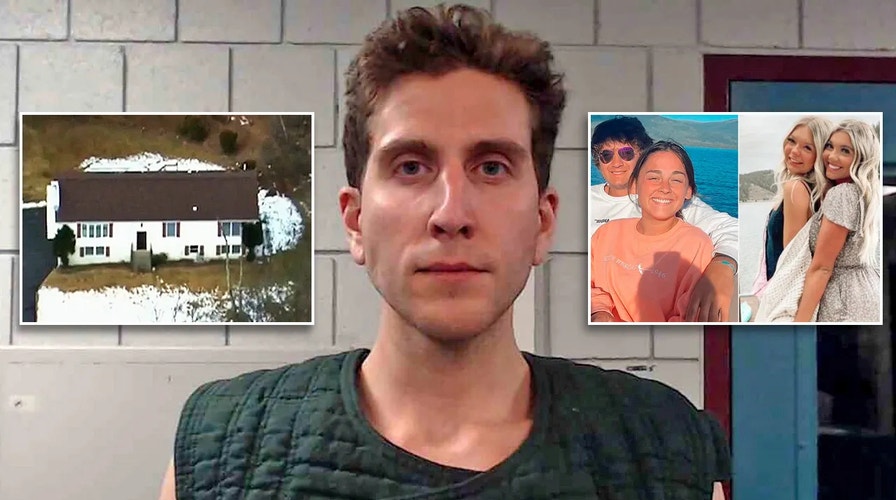 Video
Unmarked plane circles over the Kohberger house
A playback of air traffic shows a Pennsylvania State Police plane circling above the home of Bryan Kohberger's parents from 4:02 a.m. to 6:22 a.m. Dec. 30. (Credit: The Image Direct for Fox News Digital)
MOSCOW, Idaho — Flight records show a Pennsylvania police plane circled the Poconos home where authorities apprehended suspected Idaho killer Bryan Kohberger for hours last week.
A playback of air traffic data shows the plane's path circling Kohberger's parents' home from 4:02 a.m. to 6:22 a.m. Dec. 30.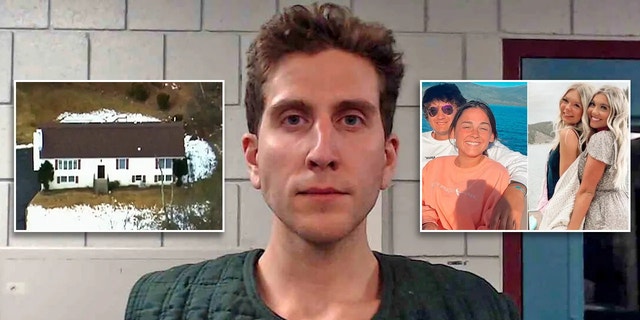 Bryan Kohberger's booking photo with insets of his alleged victims. 
(Monroe County Prison/Instagram)
The single-engine 2019 Textron Aviation 208B kept eyes in the sky long after a State Police tactical team and the FBI raided the Kohberger family's home in Albrightsville.
The family lives in a gated community where police say DNA evidence collected from the trash outside the house turned up a match linking the suspect profile and Kohberger's father.
UNIVERSITY OF IDAHO MURDERS TIMELINE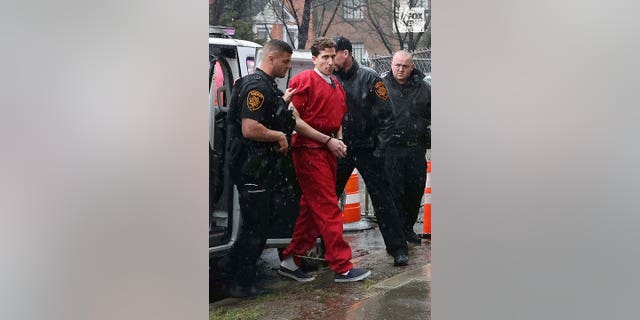 Bryan Christopher Kohberger arrives to the Monroe County Courthouse in Stroudsburg, Pa.
(The Image Direct for Fox News Digital)
According to an arrest affidavit made public Thursday, police found a Ka-Bar knife sheath on a bed next to one of the victims at the crime scene on King Road. They recovered DNA off the metal snap.
WATCH: Unmarked plane circles over the Kohberger house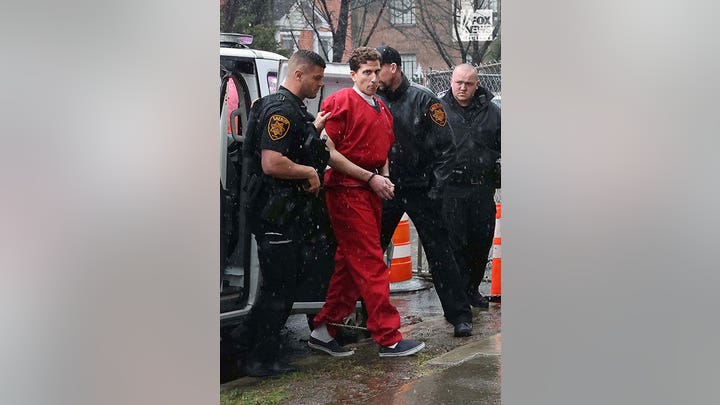 Video
Pennsylvania State Police Maj. Christopher Paris said during a news conference last week that "force was used" to gain access to the Kohbergers' home during an early morning raid.
"There were multiple windows that were broken, I believe, to gain access, as well as multiple doors," Paris said, adding that Bryan Kohberger's parents were home at the time.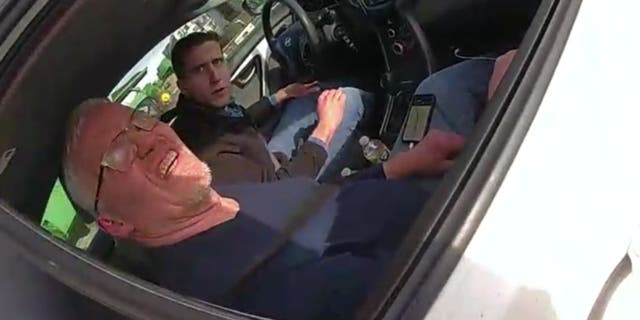 Accused Idaho murderer Bryan Kohberger and his father were pulled over in Indiana for speeding.
(Indiana State Police)
IDAHO MURDERS: RIDE ALONG BRYAN KOHBERGER'S SUSPECTED ROUTE HOME FROM STUDENT STABBINGS CRIME SCENE
Paris said preparations for the search warrant's execution began on the evening of Dec. 29 and added that around 50 "tactical assets" were on scene. Court records show that is the same day Idaho Judge Megan Marshall signed off on the arrest warrant accusing Kohberger of four counts of first-degree murder and a felony burglary charge for allegedly entering a home with the intent to kill.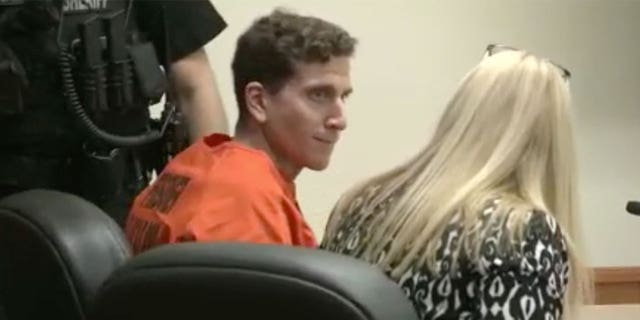 Brian Kohberger in Latah County court for his Jan. 5, 2023, appearance
(POOL)
Authorities allege that on Nov. 13, Kohberger entered a six-bedroom house on King Road in Moscow, Idaho, and fatally stabbed Madison Mogen, 21, Kaylee Goncalves, 21, Ethan Chapin, 20, and Xana Kernodle, 20. The three women lived together, and Chapin, who was dating Kernodle, was visiting for the night.
Two other housemates survived the attack, including one who told police she was frozen with fear after seeing a masked man with "bushy eyebrows" on his way out of the house moments after the murders.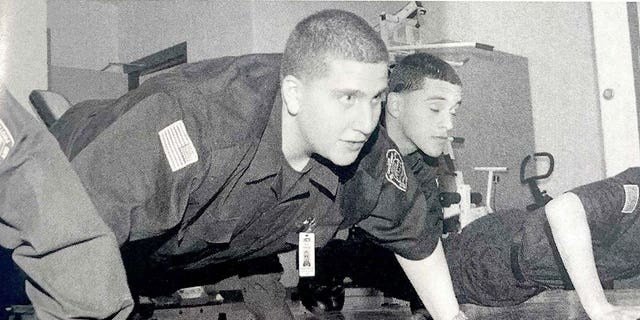 A yearbook photo of Bryan Kohberger in a high school law enforcement class doing a push-up. 
(Stephanie Pagones/Fox News Digital)
IDAHO MURDERS: BRYAN KOHBERGER HELD WITHOUT BOND IN STUDENT SLAYINGS AMID CHILLING NEW DETAILS
The 28-year-old was a student at Washington State University, roughly 10 miles from the University of Idaho, where all four victims were undergrads.
Kohberger was studying for a Ph.D. in WSU's department of criminal justice and criminology. After the semester, authorities say, he drove the suspect vehicle from Pullman to his family's house in Pennsylvania with his father along for the ride.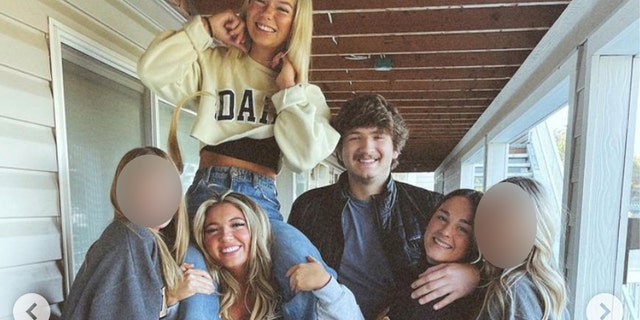 Ethan Chapin, 20, Xana Kernodle, 20, Madison Mogen, 21, and Kaylee Goncalves, 21, along with the women's two other roommates in Kaylee Goncalves' final Instagram post, shared the day before the slayings.
(@kayleegoncalves/Instagram)
Kohberger has a master's degree in criminal justice from DeSales University. As part of a project there, he had sought ex-cons in a Reddit forum, asking if any wanted to take part in a study into "how emotions and psychological traits influence decision-making when committing a crime."
CLICK HERE TO GET THE FOX NEWS APP
During Kohberger's initial appearance in an Idaho court Thursday, a judge ordered him held without bail on five charges — four counts of first-degree murder and one of felony burglary for allegedly entering a house with the intent to kill.
He is due back in court Jan. 12 at 10 a.m. PT.
Fox News' Adam Sabes and Chris Eberhart contributed to this report.
Michael Ruiz is a reporter for Fox News Digital. Story tips can be sent to [email protected] and on Twitter: @mikerreports