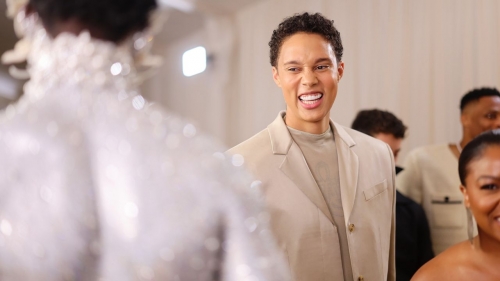 Brittney Griner attended The Met Gala in New York this week.
Matt Winkelmeyer/Getty Images for The Met Museum/Vogue

CNN
—
Nearly five months after she was released from Russian detention, WNBA star Brittney Griner says it feels "a little overwhelming" to return to public life given the widespread interest in her case.
Griner spent nearly 300 days in custody before being released as part of a prisoner swap involving Russian arms dealer Viktor Bout in December.
She has since been reintegrating into life in the United States, meeting with US President Joe Biden, attending the Met Gala on Monday, and preparing for the season ahead with the Phoenix Mercury.
"I didn't think it could get that big," Griner told reporters during the Mercury's annual preseason media day on Wednesday.
"But it's cool because now I'm able to reach even more people and bring them into the WNBA but then also keep them aware of other detainees that are still left behind right now and that we're trying to get home.
"So just using that bigger outlet to continue to support others who are in need and don't have the spotlight or the media coverage that they should be able to get."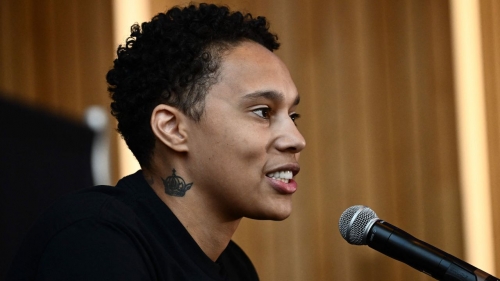 Griner speaks during a news conference last week.
Patrick T. Fallon/AFP/Getty Images
'Surreal feeling'

The 32-year-old Griner was sentenced to nine years in prison under drug-smuggling charges after authorities in Russia found cannabis oil in her luggage before her release last year.
She has since said she will never go overseas to play again – something many WNBA players do to earn more money.
"It is a surreal feeling, being back in my Phoenix jersey – just being back in the arena, taking it all in," said Griner. "I didn't think that it would come this quickly, I was prepared for the long haul, but it's so nice being here, being up here doing media again, wearing this jersey."
Mercury head coach Vanessa Nygaard said Griner has brought an "infectious energy" since her return, while also acknowledging that the team will offer mental health support to the center.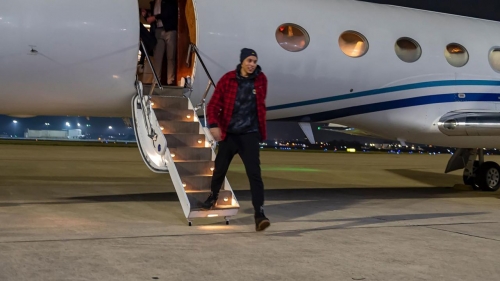 Griner arrives back in the United States in December.
Miguel Negron/US Army South
"Many people would have come back from the experience she went through and not even wanted to play basketball anymore or do anything," Nygaard told reporters.
"We're here to support her. Whatever she's able to bring to us, we'll take it."
The Mercury plays preseason games against the Seattle Storm and the Los Angeles Sparks this month before its regular season gets underway against the Sparks on May 19.