Britney Spears seems to be relishing her single girl era, days after announcing she and ex Sam Asghari had split after six years together and 14 months of marriage.
The "I'm A Slave 4 U" singer, who frequently updates her followers via social media, shared two suggestive videos Sunday evening, the first capturing Spears rolling around topless in her bedsheets as she stared seductively at the camera. Annie Lennox's version of "I Put A Spell On You" plays in the background.
The second video shows Spears, 41, with an unidentified male, who crouches down and licks up her leg. Spears explained that she had invited her "fav boys over" after an incident with the paparazzi.
BRITNEY SPEARS ADMITS SHE 'COULDN'T TAKE THE PAIN ANYMORE' IN FIRST STATEMENT ON SAM ASGHARI DIVORCE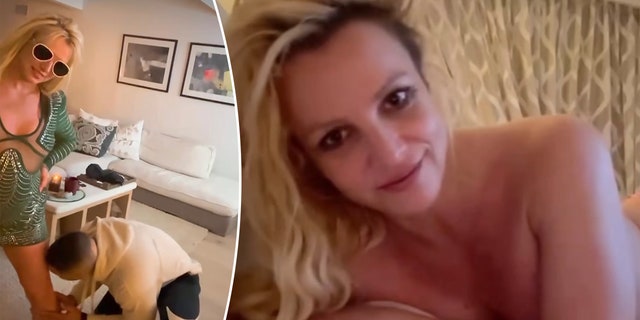 Days after news broke that she and husband, Sam Asghari, were getting divorced, Britney Spears posted some more suggestive content to Instagram. (Britney Spears Instagram)
"When you go to meet up with a so called 'friend' and drive an hour for chicken !!!" she captioned that video. "Then you have to wait in the car and need to use the bathroom … I knew paps were tipped off because the car I was in was never used before … so how I was I followed ??? Malibu Canyon Road is the most horrible road ever to drive on … so what does a b—- like me do !!??! I put my green dress on and show up at my friends !!! I invited my fav boys over and PLAYED ALL NIGHT !!!"
          View this post on Instagram                      
APP USERS CLICK HERE TO VIEW INSTAGRAM
Spears' ex Asghari actually referenced the paparazzi in his own post to social media a day earlier, joking about his circumstances and asking his followers to choose his disguise for an eventual run-in with the paparazzi.
"Help me choose," Asghari wrote above three filtered photos, which showed the actor with varied hairstyles, facial hair and accessories. He included an answer box for users to reply.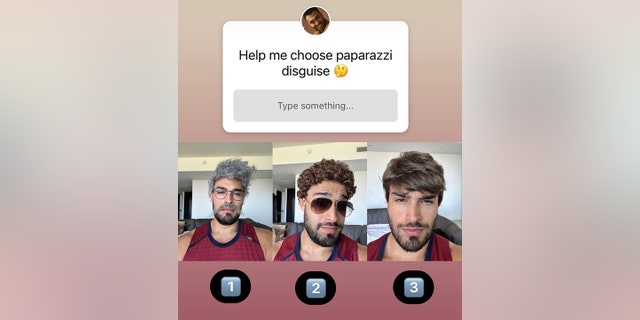 Sam Asghari asks his followers which the best disguise was as he prepares for the paparazzi. (Sam Asghari Instagram)
Asghari was the first to speak on the divorce, sharing a statement to Instagram last week.
"After 6 years of love and commitment to each other my wife and I have decided to end our journey together. We will hold onto the love and respect we have for each other. And I wish her the best always."
BRITNEY SPEARS SPEAKS OUT FOR FIRST TIME FOLLOWING SAM ASGHARI DIVORCE NEWS: 'BUYING A HORSE SOON'
"S— happens," he wrote, choosing not to elaborate. "Asking for privacy seems ridiculous so I will just ask for everyone including media to be kind and thoughtful."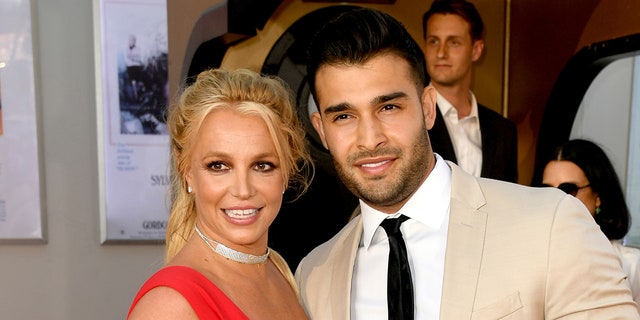 Although they were together for six years, Britney Spears and Sam Asghari only married in the summer of 2022. (Kevin Winter/Getty Images)
According to court documents obtained by Fox News Digital, Asghari cited "irreconcilable differences" when he filed for divorce on August 16, although the separation date was listed as July 28.
The "Special Ops: Lioness" actor asked for spousal support as well as attorney's fees to be paid. After negative rumors circulated suggesting a more contentious split, his rep told Fox News Digital, "There are many claims that Sam is challenging the prenup and threatening to exploit his ex-wife with videos. However, all these claims are false, as no negative intention has ever been directed towards her and never will be. Sam has always and will always support her."
Britney Spears said she could no longer deal with the "pain" from her relationship with Sam Asghari, when breaking her silence on the divorce. (Phillip Faraone/FilmMagic/Getty Images)
On Friday, Spears chose a familiar way to break her silence, by sharing a video of her dancing to Instagram. She captioned the post, "As everyone knows, Hesam and I are no longer together … 6 years is a long time to be with someone so, I'm a little shocked but … I'm not here to explain why because its honestly nobody's business," she exclaimed.
CLICK HERE TO SIGN UP FOR THE ENTERTAINMENT NEWSLETTER
"But, I couldn't take the pain anymore honestly !!! In some sort of telepathic way I have been receiving so many messages that melt my heart from friends and I thank you !!! I've been playing it strong for way too long and my Instagram may seem perfect but it's far from reality and I think we all know that," she wrote, acknowledging her fans.
"I would love to show my emotions and tears on how I really feel but some reason I've always had to hide my weaknesses !!! If I wasn't my dad's strong soldier, I would be sent away to places to get fixed by doctors !!! But that's when I needed family the most !!! You're supposed to be loved unconditionally … not under conditions !!!! So I will be as strong as I can and do my best !!! And I'm actually doing pretty d— good !!! Anyways have a good day and don't forget to smile," she concluded.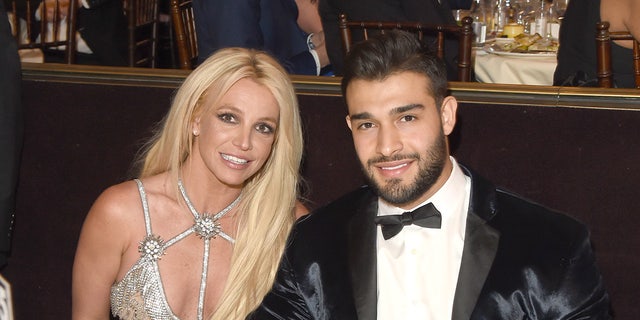 Britney Spears and Sam Asghari got married in June at the pop-star's home.  (Getty Images)
CLICK HERE TO GET THE FOX NEWS APP
The couple originally met on the set of Spears' "Slumber Party" video in 2016 and married at her home in Thousand Oaks last summer.