close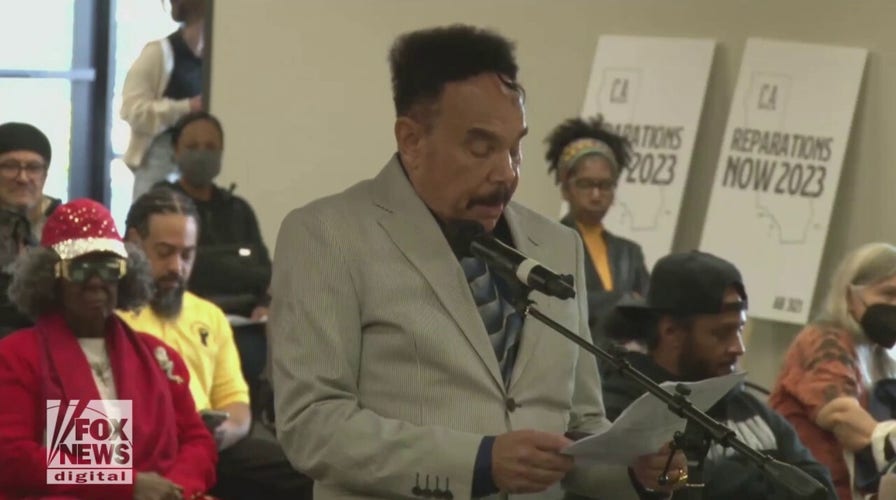 Video
Activist at California slavery reparations meeting denounces proposed payment of $223,000, yelling 'not enough!'
California's reparations task force met again Friday in San Diego with public comment from speakers who urged bold action. One man yelled that a suggested $223,000 payment was 'not enough.'
British Prime Minister Rishi Sunak has rejected calls from the opposition party to issue an apology for the United Kingdom's role in slave trading or to discuss reparations.
"What I think our focus should now be on doing is, of course, understanding our history and all its parts, not running away from it, but right now making sure that we have a society which is inclusive and tolerant of people from all backgrounds," Sunak said last week.
"That's something that we on this side of the house are committed to doing and will continue to deliver, but trying to unpick our history is not the right way forward, and it's not something that we will focus our energies on."
Labour MP Bell Ribeiro-Addy had challenged Sunak to take a more aggressive stance on the issue, noting that past prime ministers and heads of state had only "expressed sorrow or deep regret" on the issue, The Guardian reported.
UK PUBLISHERS, BROADCASTERS BLAST BBC 'BLACKOUT' OF CORONATION OF KING CHARLES: 'WE ARE DEEPLY CONCERNED'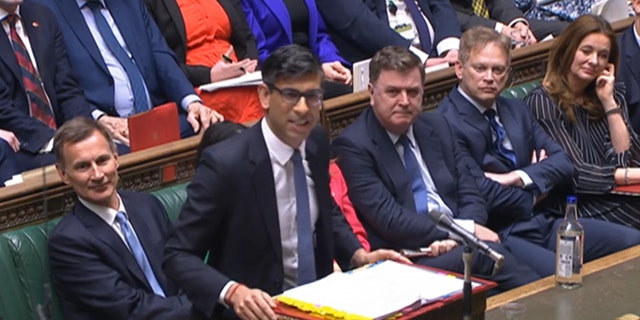 Prime Minister Rishi Sunak speaks during Prime Minister's Questions in the House of Commons, London, March 15, 2023.  (House of Commons/PA Images via Getty Images)
Her query follows a recent call from the descendants of some of Britain's wealthiest slave traders to begin a reparations program to make up for the "ongoing consequences of this crime against humanity."
A Labour spokesperson said Ribeiro-Addy's call was not a party policy, but party leader Sir Keir Starmer did not respond to a Fox News Digital request for comment by time of publication.
Nile Gardiner, director of the Margaret Thatcher Center for Freedom at The Heritage Foundation, told Fox News Digital this is only a recent issue of discussion for the U.K,. and the idea that the British government might pay reparations is "utterly ridiculous."
"The British government has no intention of going down that path, and rightly so," Gardiner said.
BRITAIN'S COMPETITION WATCHDOG OPENS INVESTIGATION INTO ARTIFICIAL INTELLIGENCE MARKET
"The reality is that Britain was the world's leader in stamping out slavery and fighting it across the world, including on the high seas, and invested a huge amount of money, manpower and military might in suppressing the slave trade. So, this idea of in the U.K. paying reparations is utterly ridiculous.
"Britain's role in defeating the slave trade is something for the British people to be incredibly proud of."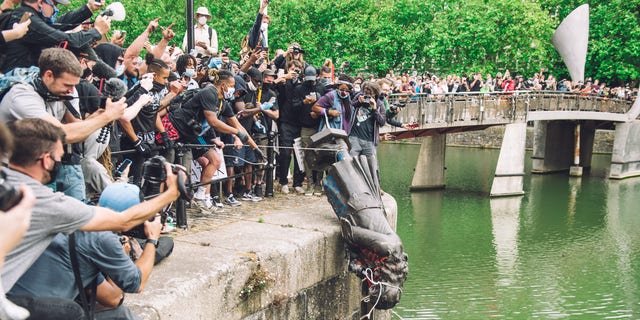 The statue of Colston is pushed into the river Avon June 7, 2020. Edward Colston was a slave trader of the late 17th century who played a major role in the development of the city of Bristol, England. (Giulia Spadafora/NurPhoto via Getty Images)
The slave trade started in 1526 with Portugal's purchase of slaves from West Africa to transport across the Atlantic, kicking off the Transatlantic or Triangle Slave Trade. The first British citizen on record to buy and sell slaves was John Lok in 1555, followed by William Towerson in 1556.
Britain outright abolished slavery in the colonies and bought out slaves from their owners across the empire in 1833 with the introduction of the Slavery Abolition Act. Some exceptions and delays occurred during the process.
UK UNIVERSITY CUTS 'WOMAN' FROM MENOPAUSE AND MATERNITY POLICY DESCRIPTIONS
Protesters in 2020 during the global Black Lives Matter protests tore down or defaced the statues of famous men who had engaged in slave trading, such as Edward Colston of Bristol, whose statue protesters threw into the nearby harbor after dragging it through the streets.
Bernie Grant, a Labour Party politician from Tottenham, London, in his final session of Prime Minister's Questions asked if former Prime Minister Tony Blair would issue an apology for slavery to the people of African descent, living or dead.
Blair said he expressed "deep sorrow," later saying, "I have said we are sorry, and I say it again."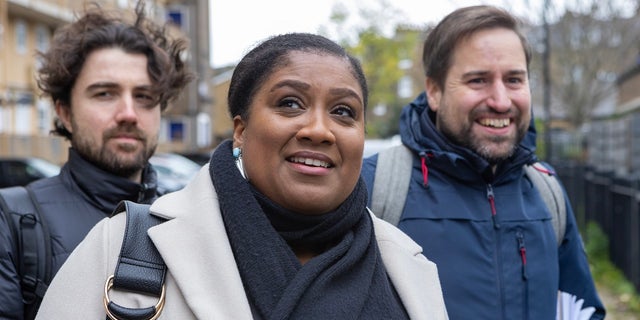 Labour MP for Streatham Bell Ribeiro-Addy was out and about Dec. 3, 2022, in London. (Nicola Tree/Getty Images)
Labour MPs Clive Lewis and Dawn Butler in March renewed calls for the government to enter "meaningful negotiations" with former Caribbean colonies and pay for reparations.
Gardiner labeled such arguments as "wrong-headed" and driven by "far-left ideology" that has "very little public support."
CLICK HERE TO GET THE FOX NEWS APP
"It's going to go nowhere," he said, adding that reparations were "completely unrealistic," laying blame on similar calls and discussions in the U.S. for stirring up the idea.
"These kinds of calls have accelerated significantly in the last couple of years, and I think much of this is coming from across the Atlantic in the United States, really," Gardiner said. "I think this is a relatively new development, but there is zero chance of a Conservative government ever agreeing to pay reparations, and I think it's unlikely that a Labour government would agree as well.
"No country did more in the world to fight slavery than the United Kingdom."
Peter Aitken is a Fox News Digital reporter with a focus on national and global news.