close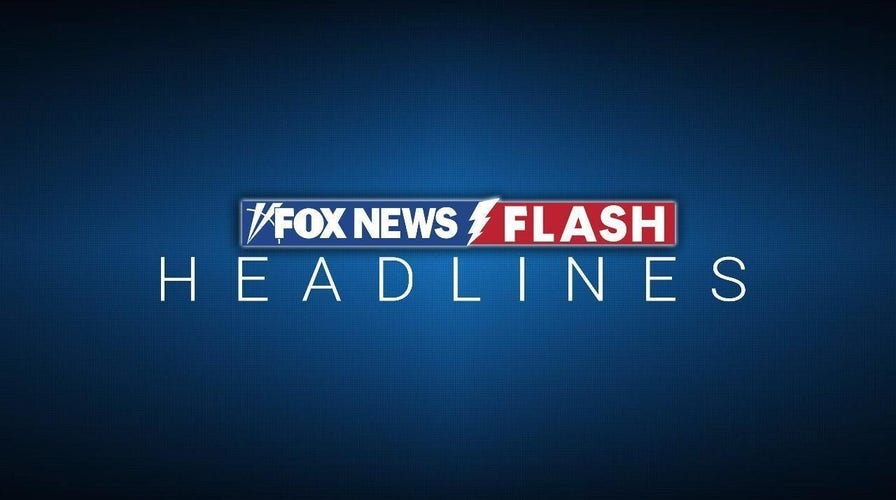 Video
Fox News Flash top headlines for April 21
Fox News Flash top headlines are here. Check out what's clicking on Foxnews.com.
British politician Dominic Raab blasted the inquiry against him as an absurdist "Kafkaesque saga" in a fiery rebuke posted following his resignation from the post of deputy prime minister in the U.K. government.
Raab resigned from his post following the results of an inquiry into bullying allegations during his time in government. In a letter submitted to British Prime Minister Rishi Sunak, Raab said it had been "a privilege to serve you as Deputy Prime Minister, Justice Secretary and Lord Chancellor."
"I am grateful to have had the opportunity to work as a Minister in a range of roles and departments since 2015, and pay tribute to the many outstanding civil servants with whom I have worked," he wrote in his resignation letter, which was posted online.
Sunak then elevated long-time ally Oliver Dowden, currently serving as the head of the minister's cabinet and previously served as chairman of the Conservative Party under Boris Johnson, to the role of deputy prime minister while also elevating Minister of State for Defence Procurement Alex Chalk to the head of the Ministry of Justice
UK MAY SOON SEIZE KITCHEN KNIVES FROM SUSPECTED CRIMINALS' HOMES AMID DANGEROUS WEAPONS CRACKDOWN
In a follow-up to his resignation letter, Raab criticized the inquiry and findings against him in an op-ed published by Telegraph.
"In reality, the Kafkaesque saga I endured was shorn of the safeguards most people enjoy," he wrote, referring to Kafka's "The Trial," in which an unnamed protagonist faces trial and conviction for unspecified crimes.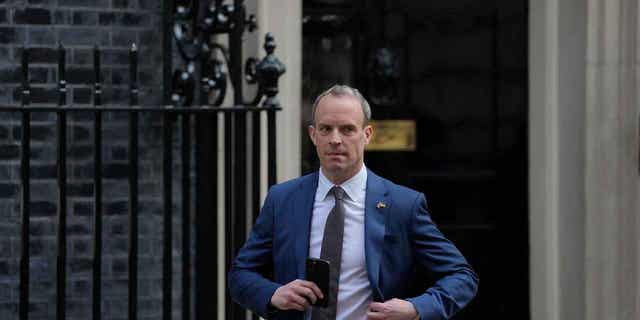 Britain's Deputy Prime Minister Dominic Raab leaves 10 Downing Street in London, Wednesday, March 23, 2022. A spokesperson says U.K. Prime Minister Rishi Sunak is reviewing a report about whether his top deputy bullied civil servants. (AP Photo/Alastair Grant, File)
"Normal rules of evidence and procedural fairness were disapplied," Raab claimed, noting that a normal statute of limitation on reporting instances of bullying lasts for three months while he faced some allegations that were over four years old and "submitted in a coordinated way."
"I was subject to trial by media for six months, fueled by warped and fabricated accounts leaked by anonymous officials breaching the rules of inquiry, the Civil Service Code of Conduct, or both," he concluded, adding that "in any other workplace, HR guidance would apply."
'JUST STOP OIL' PROTESTER CANCELS WORLD SNOOKER CHAMPIONSHIP AFTER POURING ORANGE DYE ON TABLE
Allegations of bullying behavior – mainly acts of intimidation and demeaning statements to senior officials and colleagues – arose as soon as Raab accepted a post in Sunak's government last fall. He returned to the government to hold the posts of deputy prime minister and head of the Ministry of Justice.
The Guardian reported that civil servants in the Ministry of Justice were offered "respite or a route out" of the department with Raab's return due to concerns that some still suffered from his previous tenures. A number of sources in the ministry told The Guardian that Raab was "demeaning rather than demanding" and was "very rude and aggressive."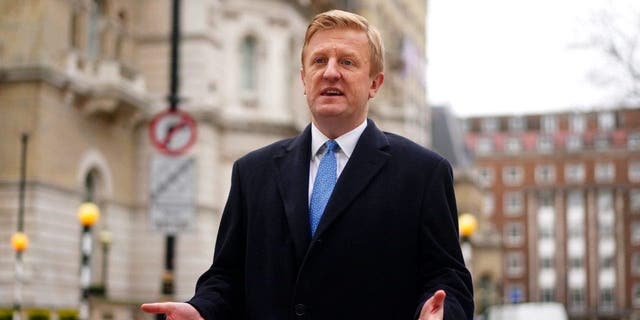 Chancellor of the Duchy of Lancaster, Oliver Dowden, speaks to the media as he departs BBC Broadcasting House in London, after appearing on the BBC One current affairs program, Sunday with Laura Kuenssberg. Picture date: Sunday March 19, 2023. (Photo by Victoria Jones/PA Images via Getty Images) (Victoria Jones/PA Images via Getty Images)
Raab ordered an inquiry into the allegations, promising to resign if it were to confirm any instances of bullying whatsoever. He faced eight formal complaints about his behavior, with the inquiry clearing him of all but two of the allegations.
The report concluded that Raab had engaged in an "abuse or misuse of power" while serving as foreign secretary under Boris Johnson. Raab claimed the two findings were "flawed" and "set a dangerous precedent for the conduct of good government."
ENGLISH POLICE FATALLY SHOOT RUNAWAY BULL THAT CHARGED THROUGH VILLAGE
"Ministers must be able to exercise direct oversight with respect to senior officials over critical negotiations conducted on behalf of the British people, otherwise the democratic and constitutional principle of Ministerial responsibility will be lost," Raab wrote in his resignation letter.
"This was particularly true during my time as Foreign Secretary, in the context of the Brexit negotiations over Gibraltar, when a senior diplomat breached the mandate agreed by Cabinet."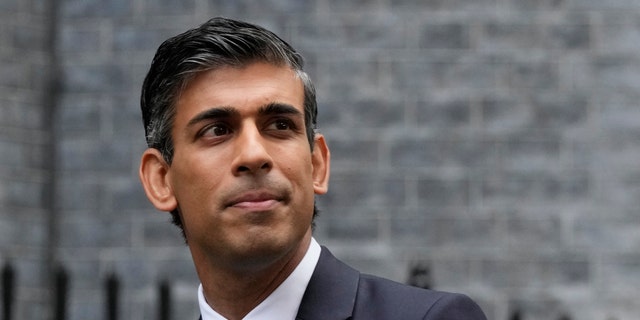 Conservative British Prime Minister Rishi Sunak. (AP Photo/Frank Augstein)
The second allegation related to "direct feedback" Raab said he gave to senior officials, which he argued was "done within reasonable bounds."
Raab wrote that the lawyer who wrote the report "concluded that I had not once, in four and a half years, sworn or shouted at anyone, let alone thrown anything or otherwise physically intimidated anyone, nor intentionally sought to belittle anyone," Raab insisted.
MISSING MADELEINE MCCANN: GERMAN COURT THROWS OUT SEX CHARGES AGAINST SUSPECT IN TODDLER'S DISAPPEARANCE
"I am genuinely sorry for any unintended stress or offense that any officials felt, as a result of the pace, standards and challenge that I brought to the Ministry of Justice," he added. "That is, however, what the public expect of Ministers working on their behalf."
Raab worried that setting the threshold for bullying "so low" would prompt "spurious complaints" from civil servants against ministers and create a "chilling effect on those driving change" in the government.
In his rebuke, Raab stressed that he had faced only 15 formal complaints between 2018 and 2022 from among the "thousands of public servants" he regularly worked with. Some of the complaints were made by individuals who had "never been in any meeting with me."
CLICK HERE TO GET THE FOX NEWS APP
"This precedent sets the playbook for a small number of officials to target ministers, who negotiate robustly on behalf of the country, pursue bold reforms and persevere in holding civil servants to account," Raab concluded.
"If that is now the threshold for bullying in government, it is the people of this country who will pay the price."
Reuters contributed to this report.
Peter Aitken is a Fox News Digital reporter with a focus on national and global news.