close
Video
Inside Florida's 'pedophile village'
YouTuber turned investigative journalist Tyler Oliveira shares details from inside Miracle Village, a haven for registered sex offenders, on 'Jesse Watters Primetime.'
A pair of distinctive red Crocs landed a Florida man behind bars after he allegedly robbed the bakery where he was once employed, allegedly spending the stolen money on food and alcohol.
A suspect wearing a black mask, a black sweatshirt, black pants, a brown and black backpack and bright red Crocs snuck into Crumbl Cookies in Brooksville on July 20 and removed cash from the bakery's safe and cash register, according to a Facebook post from the Hernando County Sheriff's Office.
The store's manager told police that the thief was probably 18-year-old Jacob Ortega, a former employee who always wore red Crocs and carried a brown and black backpack, police said.
FLORIDA WOMAN FACES MORE THAN 100 COUNTS OF CHILD PORNOGRAPHY, BESTIALITY CHARGES: POLICE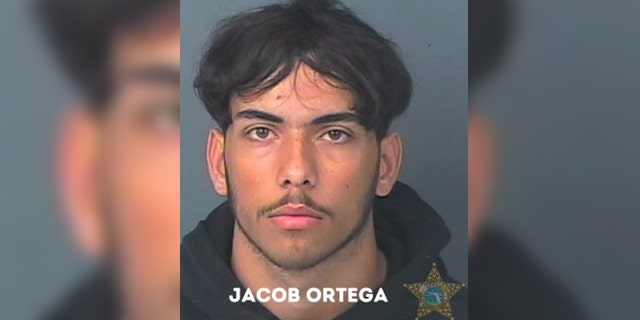 Jacob Ortega, pictured, was charged with burglary, grand theft and unlawful use of a two-way communication device (Hernando County Sheriff's Department)
Police said they tracked down and paid a house call to the owner of a vehicle captured on surveillance footage leaving the store's parking lot around the time of the break-in. The owner allegedly told detectives that Ortega called him around 2 a.m. on July 20 asking for a ride to a drug deal.
The unnamed vehicle owner told police he dropped Ortega off near the store, then picked him up later at a nearby Home Goods.
Several days later, Ortega allegedly told him that he had "obtained" money from the Crumbl Cookies – and that he had stored some of that money inside the vehicle to "hold on to." With the owner's permission, police searched the car and found a "sum of cash" in the glove compartment.
FLORIDA DAD ARRESTED FOR DIRT BIKE CRASH THAT KILLED HIS TWO YOUNG CHILDREN
Police captured Ortega with help from his former manager, who recognized the red Crocs he always wore on surveillance footage of the break-in
FLORIDA NEIGHBORHOOD TERRORIZED AFTER CROCODILE EATS SMALL DOG
Ortega confessed to the burglary when questioned by detectives on August 1, telling detectives that he remembered the unchanged access codes on the bakery's side door, safe and register from when he was employed there.
According to the sheriff's office, Ortega told detectives that he spent the ill-gotten cash on food and alcohol for his friends, and that the remainder was in the vehicle they had already searched.
CLICK TO GET THE FOX NEWS APP
Ortega was charged with burglary, grand theft and unlawful use of a two-way communications device. He was jailed on $12,000 bond.
FOX News Digital could not reach the Hernando County Sheriff's office or the Spring Valley location of Crumbl Cookies for comment at press time.
Christina Coulter is a U.S. and World reporter for Fox News Digital. Email story tips to [email protected].