close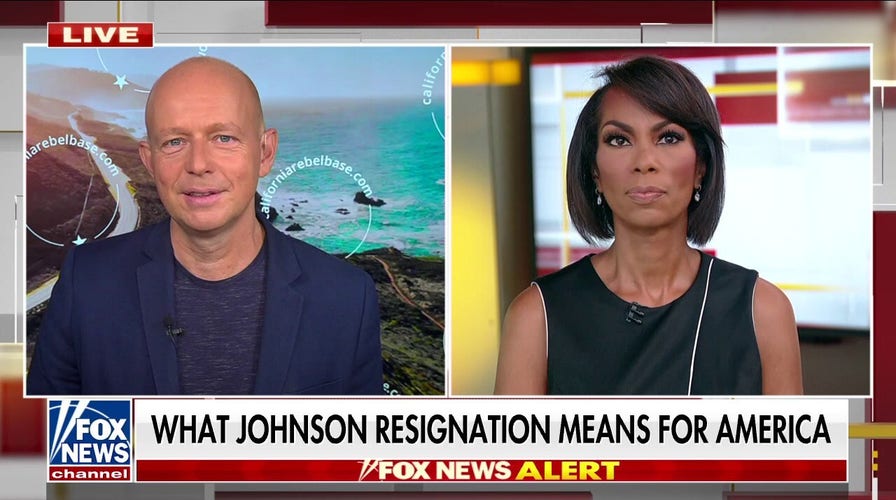 Video
Hilton: Boris Johnson didn't deliver on Brexit promises
'The Next Revolution' host Steve Hilton weighs in on British Prime Minister Boris Johnson's resignation and argues his replacement as Conservative Party leader will be a strong U.S. ally.
British Prime Minister Rishi Sunak and European Commission President Ursula von der Leyen reportedly reached a deal in London Monday while meeting for what 10 Downing Street billed as "final talks" to end years of wrangling and seal an agreement to resolve their thorny post-Brexit trade dispute over Northern Ireland.
"An agreement has been reached. The deal is done," a senior government source told the BBC.
In a joint statement Sunday evening, Sunak and von der Leyen said they "agreed to continue their work in person toward shared, practical solutions for the range of complex challenges around the Protocol on Ireland and Northern Ireland."
The two sides announced that von der Leyen would travel to England for a meeting with Sunak in Windsor, about 20 miles west of London. A joint news conference is penciled in, followed by a statement by Sunak to the House of Commons. A meeting with King Charles III is also planned and will likely touch on a variety of issues, including climate change and the war in Ukraine.
UK PM SUNAK HEADS TO NORTHERN IRELAND, FUELING SPECULATION OF POST-BREXIT TRADE TALKS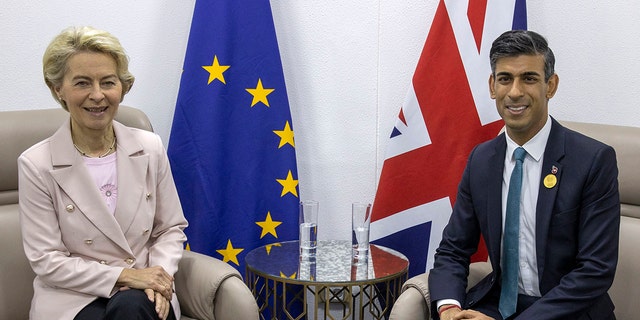 European Commission President Ursula von der Leyen is traveling to England Monday to meet with British Prime Minister Rishi Sunak regarding Brexit. (Steve Reigate/Pool Photo via AP, File)
Striking an agreement would be a victory for Sunak – but not the end of his troubles. Selling the deal to his own Conservative Party and its Northern Ireland allies may be tougher.
"The king is pleased to meet any world leader if they are visiting Britain and it is the government's advice that he should do so," a Buckingham Palace spokesperson told The Associated Press.
If all goes to plan, the deal could end a dispute that has soured U.K.-EU relations, sparked the collapse of the Belfast-based regional government and shaken Northern Ireland's decades-old peace process.
Northern Ireland is the only part of the U.K. that shares a border with an EU member, the Republic of Ireland. When the U.K. left the bloc in 2020, the two sides agreed to keep the Irish border free of customs posts and other checks because an open border is a key pillar of Northern Ireland's peace process.
Instead, there are checks on some goods entering Northern Ireland from the rest of the U.K. That angered British unionist politicians in Belfast, who say the new trade border in the Irish Sea undermines Northern Ireland's place in the United Kingdom.
BORIS JOHNSON'S EXIT PUTS BREXIT IN DANGER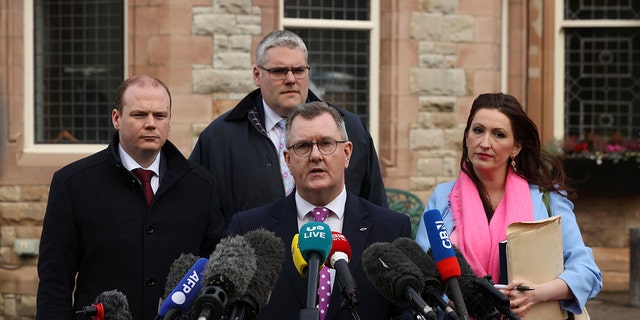 Northern Ireland political leaders, from left, Gordon Lyons, Gavin Robinson, Sir Jeffrey Donaldson and Emma Little-Pengelly speak in Belfast outside where Prime Minister Rishi Sunak held talks over the Northern Ireland Protocol on Feb. 17, 2023. (Liam McBurney/PA via AP)
What's known as the Northern Ireland Protocol has been criticized as potentially jeopardizing the 1998 Good Friday Agreement, which ended decades of sectarian violence known as The Troubles. The Democratic Unionist Party collapsed Northern Ireland's Protestant-Catholic power-sharing government a year ago in protest and has refused to return until the rules are scrapped or substantially rewritten.
Deputy Prime Minister Dominic Raab spoke to Sky News Sunday about taking "more of an intelligence-based approach" to good checks at Irish ports, which "would in itself involve a significant, substantial scaling back of the role of the ECJ." He also spoke of the prospect of a "proper democratic check coming out of the institutions in Stormont."
Hints of compromise toward the EU also have sparked opposition from hard-line euroskeptics who form a powerful bloc in Sunak's governing Conservative Party. Critics include former Prime Minister Boris Johnson, who as leader at the time of Brexit signed off on the trade rules that he now derides. Johnson was ousted by the Conservatives last year over ethics scandals but is widely believed to hope for a comeback.
NIGEL FARAGE TEASES RETURN TO POLITICAL FRONT LINES AS RISHI SUNAK DENIES 'SWISS-STYLE' BREXIT DEAL CHANGE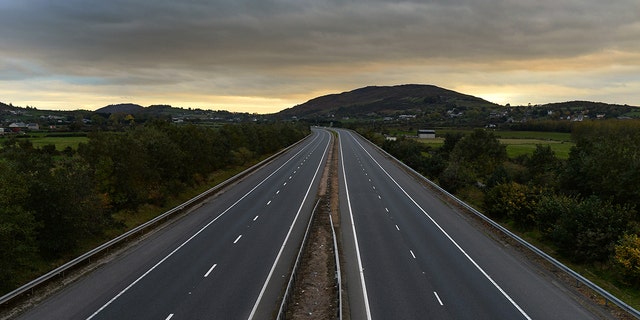 Brexit secured no land checks at the border, but contention remains over the new trade border in the Irish Sea. (Charles McQuillan/Getty Images)
Jacob Rees-Mogg, a prominent pro-Brexit Tory lawmaker, said acceptance of any deal "will all depend" on the DUP. "If the DUP are against it, I think there will be quite a significant number of Conservatives who are unhappy," Rees-Moog said.
Sunak has said Parliament will get to debate any deal he strikes, but he hasn't promised lawmakers a binding vote on it.
During the long Brexit divorce, the U.K. government introduced a bill that would let it unilaterally rip up parts of the Brexit agreement, a move the EU called illegal. The bloc accused the U.K. of failing to honor the legally binding treaty it had signed regarding the Northern Ireland Protocol.
The mood between London and Brussels improved after Sunak, a pragmatic Brexit supporter, took office in October, replacing Johnson's predecessor Liz Truss after her short tenure.
A deal is likely to remove customs checks on the vast majority of goods moving between the U.K. and Northern Ireland and give Northern Ireland lawmakers some say over EU rules that apply there as part of the protocol.
CLICK HERE TO GET THE FOX NEWS APP
The thorniest issue is the role of the European Court of Justice in resolving any disputes that arise over the rules. The U.K. and the EU agreed in their Brexit divorce deal to give the European court that authority. But the DUP and Conservative Brexiteers insist the court must have no jurisdiction in U.K. matters.
The Associated Press contributed to this report.
Danielle Wallace is a reporter for Fox News Digital covering politics, crime, police and more. Story tips can be sent to [email protected] and on Twitter: @danimwallace.