close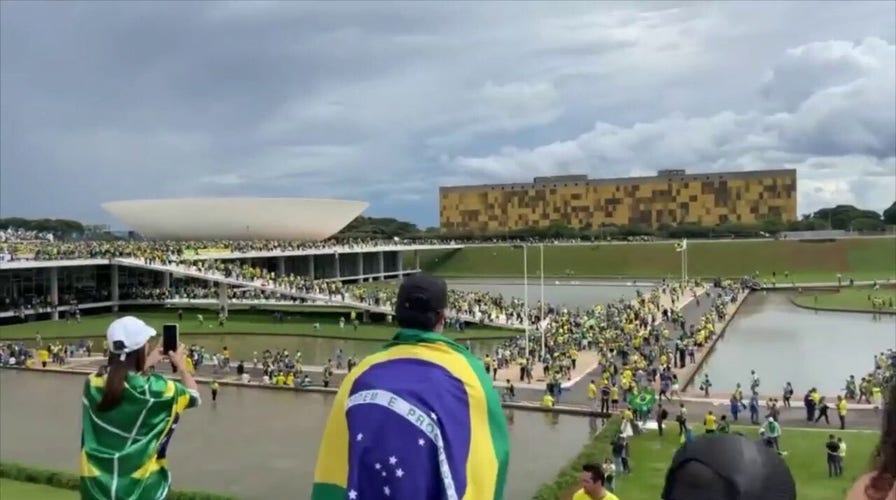 Video
Brazilian authorities retake Capitol after pro-Bolsonaro rioters ransack government buildings
Brazilian authorities retake Capitol after pro-Bolsonaro rioters ransack government buildings
Jair Bolsonaro, former president of Brazil, is looking to remain in the U.S. after applying for a six-month tourist visa, according to reports.
Reuters reported that Bolzonaro's attorney confirmed that the visa was being sought, as a growing number of Democrats in Washington called to have him extradited to Brazil, where he faces accusations of inciting a capitol attack reminiscent of what took place in Washington, D.C. on Jan. 6.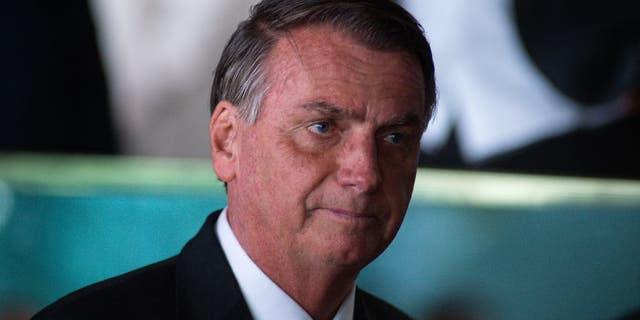 Former President of Brazil Jair Bolsonaro looks on after a press conference two days after being defeated by Lula da Silva in the presidential runoff at Alvorada Palace on November 1, 2022, in Brasilia, Brazil. Bolsonaro didn't acknowledge his defeat and asked supporters to protest in a pacific way and allowing free transit through the country.
(Andressa Anholete/Getty Images)
Bolsonaro was originally scheduled to return to Brazil in late January, but the attack on the Brazilian capitol by thousands of his supporters appears to have changed his plans – he originally planned to leave the U.S. sooner than later, crediting the possibility of his hospitalization in early January for complications related to his 2018 stabbing.
BOLSONARO MAY LEAVE FLORIDA FOR BRAZIL EARLY AS PRESSURE TO EXTRADITE HIM GROWS
Bolsonaro's attorney, Felipe Alexandre, told Reuters the U.S. received his client's application on Friday, adding that his client will remain here until a decision is made on his application.
"He would like to take some time off, clear his head, and enjoy being a tourist in the United States for a few months before deciding what his next step will be," Alexandre told Reuters. "Whether or not he will use the full six months will be up to him and whatever strategy we agree to embark on based on his plans as they develop."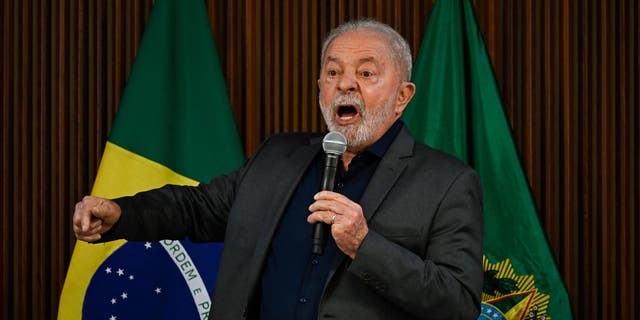 Brazil's President Luiz Inacio Lula da Silva speaks during a meeting with Governors at Planalto Palace in Brasilia, on January 9, 2023, a day after supporters of Brazil's far-right ex-president Jair Bolsonaro invaded the Congress, presidential palace, and Supreme Court. – Brazilian security forces locked down the area around Congress, the presidential palace and the Supreme Court Monday, a day after supporters of ex-president Jair Bolsonaro stormed the seat of power in riots that triggered an international outcry. Hardline Bolsonaro supporters have been protesting outside army bases calling for a military intervention to stop Lula from taking power since his election win.
(MAURO PIMENTEL/AFP via Getty Images)
Brazilian authorities detained over 1,500 rioters who participated in an attack on the country's Congress, Presidential Palace and Supreme court on Jan. 8, 2023.
GEORGE SANTOS FACES REVIVED FRAUD CASE IN BRAZIL AMID TURMOIL IN WASHINGTON
That day, thousands of Bolsonaro's supporters participated in the riot, though the former president denied any involvement in inciting them.
Democrats compared the attack to the pro-Trump storming of the U.S. Capitol in January 2021, and like former President Donald Trump, Bolsonaro refused to concede to Brazilian President Luiz Inácio Lula da Silva and did not attend his inauguration.
CLICK HERE TO GET THE FOX NEWS APP
Brazilian President Lula da Silva has named him personally responsible for the attack, though no formal investigation or charges have been made.
"He didn't just provoke this or encourage this—he's still encouraging this via social media," Da Silva said following the attacks.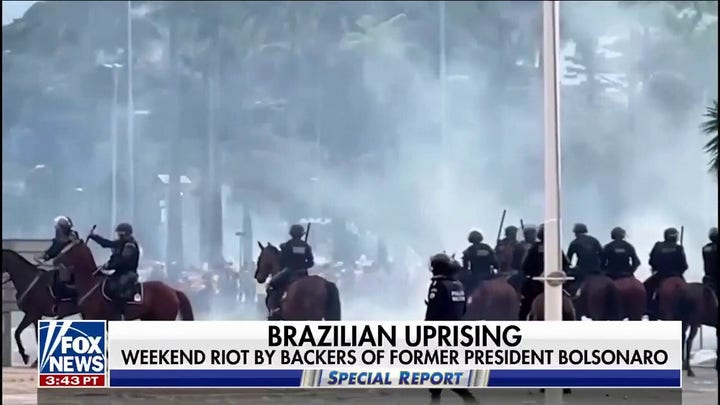 Video
Greg Wehner is a breaking news reporter for Fox News Digital.