Border wall construction, which was abruptly ended shortly after the Biden administration took office, is again becoming a major political issue in both Congress and on the 2024 campaign trail as the border sees new increases in migrants again.
More than 450 miles of barrier were either built or upgraded during the Trump administration as part of its efforts to end illegal immigration. But Biden promised that "not another foot" would be built and construction was halted within days of Inauguration Day.
But within months the administration was tackling a historic migrant crisis that is still in ongoing today. Officials encountered over 180,000 migrants in July alone and multiple Border Patrol sectors have been overwhelmed.
GOP LAWMAKERS FILE AMICUS BRIEF BACKING TEXAS AGAINST DOJ LAWSUIT OVER BORDER BARRIER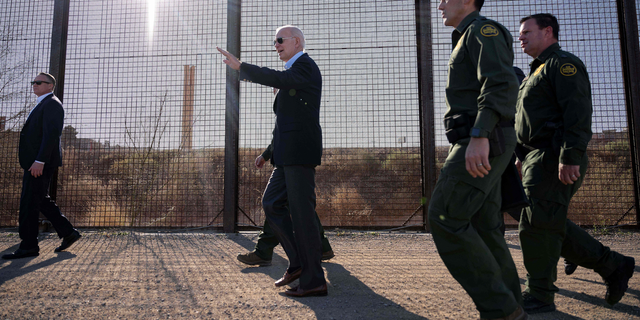 President Joe Biden walks along the border wall at El Paso, Texas, on January 8, 2023. 
As the administration has pursued a policy of expanding lawful pathways for migrants to enter via parole, while limiting asylum eligibility for some illegal immigrants and increasing the use of Title 8 penalties – Republicans have zeroed in on restoring Trump-era policies, including the wall, as a fix to the crisis.
On the 2024 field, a number of top candidates including Trump, Florida Gov. Ron DeSantis, entrepreneur Vivek Ramaswamy, former U.N. Ambassador Nikki Haley, Sen. Tim Scott, R-S.C., former N.J. Gov. Chris Christie and others have backed finishing the incomplete project.
"As the next president of the United States, I will make that border wall complete," Scott said at the first GOP presidential debate on Wednesday. No-one expressed disagreement.
Former Vice President Mike Pence, also running for the 2024 nomination, highlighted his role in obtaining funding to build the wall when he served in the administration.
Meanwhile, Republicans in the House and Senate have made multiple efforts to pass legislation that would restart border wall construction. The signature border and asylum legislation passed by Republicans in the House earlier this year has as its core language that would immediately restart border wall construction using existing funds appropriated by Congress.
Last week, it emerged that the administration has been selling off border wall materials – specifically hollow beams to act as vertical bollards in the 30-foot panels.
BIDEN QUIETLY AUCTIONS OFF BORDER WALL PARTS TO STUNT REPUBLICAN EFFORT TO RESTART CONSTRUCTION: REPORT
"The U.S. Army Corps of Engineers (USACE) is disposing of the excess border wall materials in accordance with the Federal Acquisition Regulation," a U.S. Army Corps of Engineers spokesperson said in an email to Fox News Digital on Sunday. "USACE has already transferred approximately $154 million worth of the roughly $260 million of bollard panels and other materials in accordance with standard excess property disposition procedures. USACE stands ready to implement a decision regarding disposition of the remaining materials."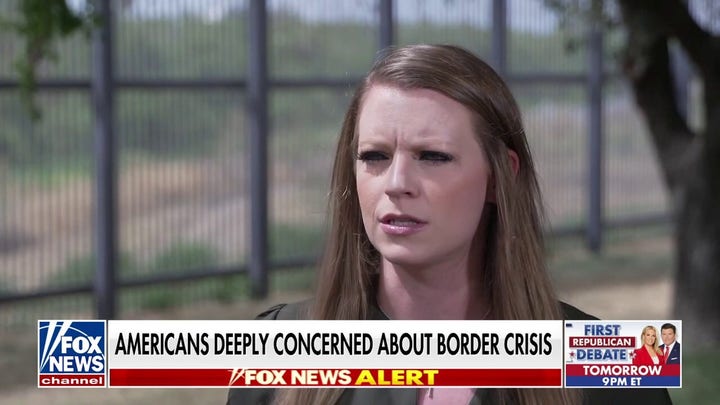 Video
The news of the auction sparked outrage from lawmakers in both the House and Senate. Republicans on the Senate Armed Services Committee took aim at the move and called for the suspension of ongoing auctions in a letter to the Pentagon this week.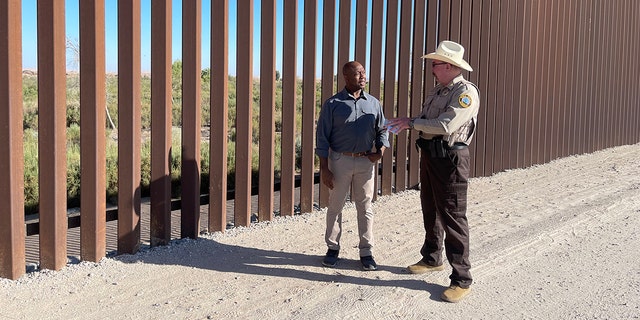 Aug 4, 2023: Sen. Tim Scott visits the border wall in Yuma, Arizona. (Tim Scott for President)
TEXAS SAYS MEXICO IS 'FLAT-OUT' WRONG TO TIE MIGRANT DEATH TO FLOATING BORDER BARRIER
"President Biden cannot get away with subverting Congress' work on this — he must put the border materials to use, end the taxpayer-funded waste, stop the unprecedented flow of illegal aliens across our southern border, and finish the wall!" Sen. Joni Ernst, R-Iowa, who led legislation to turn materials over to states, so they can continue construction independently, said in a statement.
However, the Biden administration has also continued with some construction in other areas, including some repair work to fix environmental damage. In June it announced that, mandated by the FY 2019 border barrier appropriation, it had authorized Customs and Border Protection to build up to 20 miles of barrier in the busy Rio Grande Valley Sector.
However, it has also sparred with Texas over its own border barriers. Texas has not only launched its own land barrier construction, it has also set up a floating barrier in the Rio Grande itself. The Department of Justice has sued over that construction, arguing that it is in violation of federal law. An initial ruling in that case could come before the end of the month.
Fox News' Danielle Wallace and Jamie Joseph contributed to this report.