close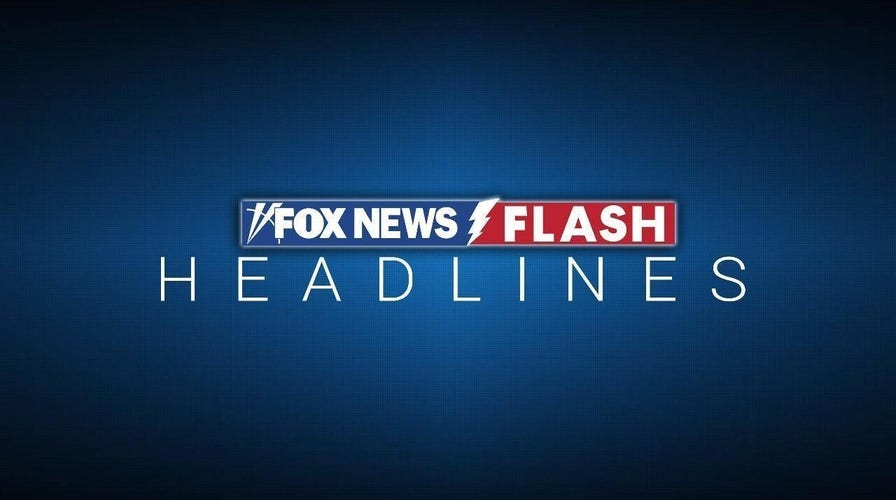 Video
Fox News Flash top headlines for March 3
Fox News Flash top headlines are here. Check out what's clicking on Foxnews.com.
The freshly exhumed remains of three men lie in black body bags on the edge of the small cemetery in a town not far from Ukraine's capital, waiting to be taken to a morgue. None has yet been identified.
Ukrainian authorities are still unearthing people who were hastily buried in makeshift graves during Russia's brief but brutal occupation of villages and towns near Kyiv. Almost 200 bodies remain unidentified, while 280 people are listed as missing.
Oleksander Pinchuk's mother, Halyna, is among them. They never found her body in the wreckage of her apartment building, which took a direct hit from an airstrike a year ago. Pinchuk had walked out of the building just eight hours earlier, and has not seen his mother since, he said.
ITALY PRIME MINISTER URGES INDIA TO PLAY CENTRAL ROLE IN ENDING RUSSIA, UKRAINE WAR
On Thursday, Pinchuk stood in the winter chill, grim-faced among a small group of mourners who gathered for a religious service to commemorate the anniversary of the strike in the town of Borodyanka.
"Just look at what the Russians brought to us and what they did to our beautiful town," said Dmytro Koshka, the priest conducting the service at the former site of the residential building. "How could we ever forget and forgive?"
Nothing remains of the structure except the outline of where it once stood. Behind it is another apartment building, blackened and empty but still standing.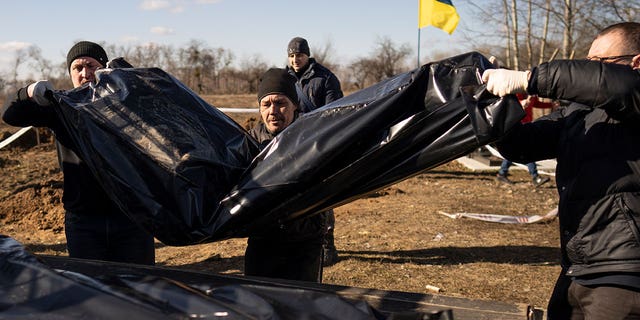 Men carry bags containing three freshly exhumed bodies in a Ukrainian cemetery on March 2, 2023. Ukrainian authorities are still exhuming the bodies of civilians hastily buried in makeshift graves.  (AP Photo/Vadim Ghirda)
Pinchuk said rescue crews only managed to get to the building last April, after Ukrainian forces retook control of Borodyanka. The crews dug through the rubble for about two weeks and located the remains of 15 people. But they found no trace of dozens more believed to have been inside the 108-apartment building.
"We still have hope for at least some of them, but the rest, they just burned alive," Pinchuk said, his gaze fixed, the pain of loss visible in his eyes.
Without a body to mourn over and bury, the 43-year-old hopes against hope that his mother is still alive. He heard rumors that Russian troops took more than 100 people from Borodyanka to Belarus. Perhaps she was among them.
BIDEN ADMIN SCRAMBLES TO TRACK $20B IN UKRAINE AID AS HOUSE REPUBLICANS WARN OF AUDITS
"Until the last moment, I will think of her as alive," he said.
The exhumation of the three bodies Thursday from two makeshift graves on the edge of Borodyanka's cemetery meant that some families may have a chance to learn what became of their loved ones.
A passer-by found the three in early March 2022, when Russia forces still occupied the town, and he buried the bodies with the help of another man, according to Andrii Nebytov, the head of the Kyiv region's police department.
The passer-by then fled the region. He only just recently returned and told authorities about the burials, the police chief said.
CLICK HERE TO GET THE FOX NEWS APP
One of the dead is believed to be a 50-year-old local man who was shot and partially burned in his car, but DNA tests are needed to confirm that. Nobody knows who the other two are.
There's not much to go on to identify them. A green pencil is all that was found on one, packets of cigarettes and key fobs on another. The remains are so decomposed that identification and determining exactly how they died will require forensic tests.
The exhumations bring the number of civilian bodies found in previously Russian-occupied areas of the Kyiv region to 1,373, Nebytov said. Of that number, 197 have yet to be identified.