From first-time candidate Vivek Ramaswamy grabbing the most attention to a usually mild-mannered former Vice President Mike Pence repeatedly on the attack, the first Republican presidential nomination debate of the 2024 election cycle tossed out the expected script and offered up plenty of fireworks and surprises.
"It was a little messy at times because I think there's been so much pent-up angst for this debate," longtime Republican strategist David Kochel, a veteran of numerous GOP presidential campaigns, told Fox News minutes after the conclusion of the Fox News-hosted debate in Milwaukee, Wisconsin.
Kochel, who sat in the debate hall audience, highlighted that the showdown "comes a little bit late in the cycle. You could tell that everybody was just rearing to get out and go. It was a pretty aggressive debate."
RAMASWAMY ATTACKED FROM ALL SIDES IN FIRST GOP 2024 DEBATE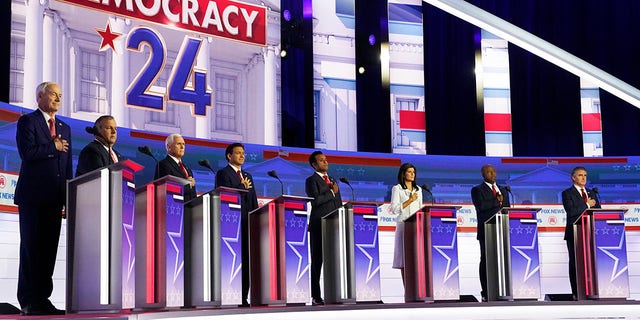 2024 Republican presidential candidates Asa Hutchinson, from left, Chris Christie, former Vice President Mike Pence, Ron DeSantis, Vivek Ramaswamy, Nikki Haley, Senator Tim Scott and Doug Burgum during the Republican primary presidential debate hosted by Fox News in Milwaukee, Wisconsin, US, on Wednesday, Aug. 23, 2023. Photographer: Al Drago/Bloomberg via Getty Images (Al Drago/Bloomberg via Getty Images)
With former President Donald Trump — the commanding front-runner in the GOP nomination race as he makes his third straight White House run — skipping out on the debate, Florida Gov. Ron DeSantis was expected to bear the brunt of the attacks. DeSantis sits at a distant second to Trump in most polls, but is ahead of the rest of the large field of contenders.
CHINA, UKRAINE, TRUMP, FENTANYL AND MORE ON THE DEBATE STAGE AGENDA
But during the two-hour debate, Ramawamy — a multi-millionaire biotech entrepreneur, best-selling author and culture wars crusader — ended up being the candidate taking the most incoming fire from his seven rivals on the stage.
Former New Jersey Gov. Chris Christie, who's making his second White House run, and former ambassador and former South Carolina Gov. Nikki Haley took shots at Ramaswamy. But it was Pence who landed the most blows.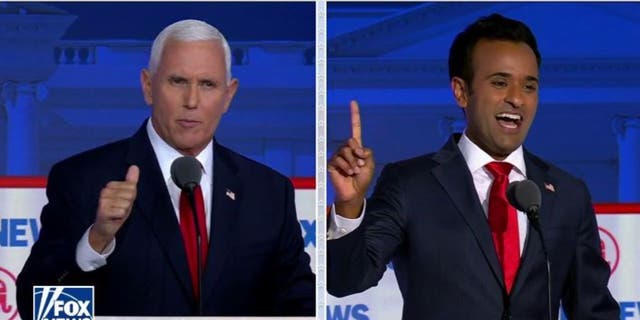 Former Vice President Mike Pence and biotech entrepreneur Vivek Ramaswamy square off at the first Republican presidential nomination debate, on August 23, 2023 in Milwaukee, Wisconsin (Fox News)
In one viral moment, Pence blasted Ramaswamy, saying "now is not the time for on-the-job training. We don't need to bring in a rookie. We don't need to bring in people without experience."
Kochel argued that "Ramaswamy was just an absolute punching bag and probably deserved it because he comes across as so slick and packaged and everybody just wanted to take swings at him. You could sort of feel all the animosity towards him on the stage."
WATCH: HALEY CLASHES WITH RAMASWAMY OVER U.S. AID TO UKRAINE
Ramaswmay grabbed plenty of applause for repeatedly defending Trump.
Longtime Republican consultant Dave Carney told Fox News that "Ramaswamy started out very strong — he's the best performer."
But Carney, a veteran of plenty of GOP presidential campaigns over the past four decades, argued that Ramaswamy's "shtick didn't last all two hours. I think he hurt himself a lot. Nikki Haley really took the wood to him…They showed he can't take a punch."
Ramaswamy also grabbed plenty of headlines for claiming that "climate change is a hoax."
"The reality is more people are dying of bad climate change policies than they are of actual climate change," he added.
Ramaswamy's comments were booed by some in the crowd — and they were slammed by Christie, who jabbed, "I've had enough already tonight of a guy who sounds like ChatGPT standing up here."
RAMASWAMY WINS CONSERVATIVE PRAISE ON SOCIAL MEDIA FOR THIS COMMENT
While he received the most incoming fire, Ramaswamy was far from a human punching bag. He repeatedly counter-attacked and served up plenty of populist one-liners as he stood out as Trump's chief defender on the stage. And he made himself the center of conversation.
Speaking with Fox News' Sean Hannity immediately following the debate, an upbeat Ramaswamy spotlighted that "this is my first time in a political debate and I am thrilled with how it came out. We over exceeded my expectation."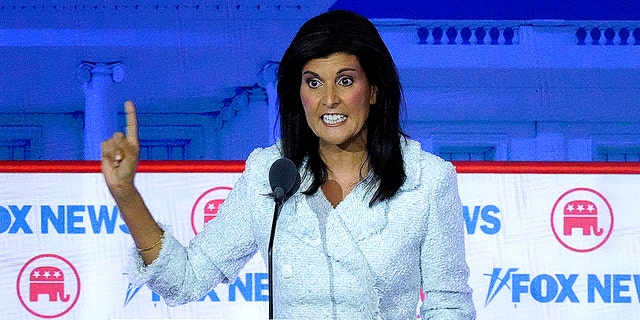 Aug 23, 2023; Milwaukee, WI – GOP presidential candidate Nikki Haley, a former U.N. Ambassador and former South Carolina governor, speaks at Fiserv Forum during the first 2023 Republican presidential debate.  Mandatory Credit: Mike De Sisti-USA TODAY NETWORK (Mike De Sisti-USA TODAY NETWORK)
Haley, the only female among the major candidates running for the Republican nomination, was the first contender on the stage to come out swinging, targeting DeSantis, Sen. Tim Scott of South Carolina, and Pence early in the debate for supporting legislation that raised the national debt.
"I thought Nikki was very strong," Kochel said. "She showed a lot of strength."
Carney added that "Nikki Haley punched above her weight more than anybody else and did herself a lot of good."
Pence was also repeatedly in the spotlight, with over 12 minutes of speaking time, which was more than any other candidate. That was due in part to his numerous interruptions.
DESANTIS ON PENCE JAN. 6, 2021 ACTIONS: 'I HAVE NO BEEF WITH HIM'
"Pence was larger figure on stage," Kochel noted.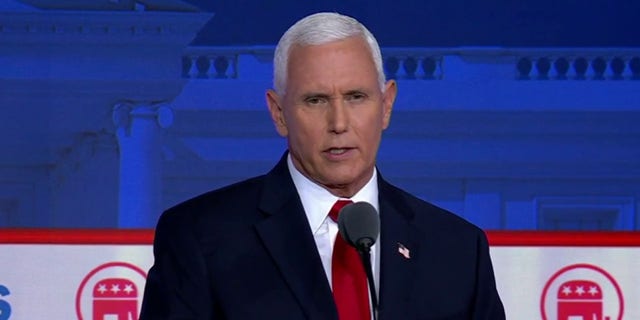 Mike Pence slams Vivek Ramaswamy at Wednesday night's first GOP debate in Milwaukee.   (Fox News)
And Carney said that "Pence came up a little bit" during the debate. "They had a strategy to be relevant and I think he did a good job."
Most of the candidates also came to Pence's defense for the then-vice president's actions in upholding his constitutional duties by certifying the 2020 election results amid the attack on the U.S. Capitol on Jan. 6, 2021.
HEAD HERE FOR THE LATEST FOX NEWS REPORTING FROM THE CAMPAIGN TRAIL
DeSantis, who's ten minutes of speaking time was fourth behind Pence, Ramaswamy and Christie, grabbed mixed reviews.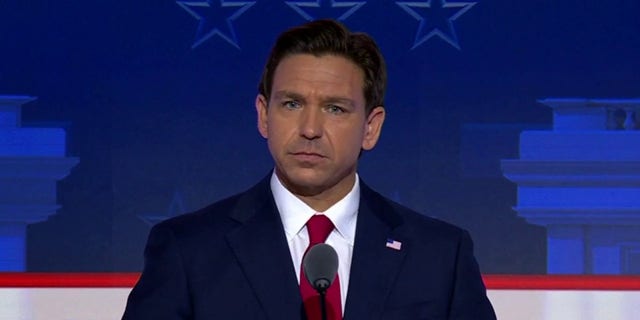 Ron DeSantis at Wednesday night's first GOP debate in Milwaukee. (Fox News)
"I thought DeSantis was very strong. He was able to work lots of his stump speech into moments of the debate, which is what he wants because he's got one of the better stumps in the field, Kochel said.
"He didn't have to get into any bickering. He just came in and delivered the message that he had. I think that's to his benefit," Kochel added. "DeSantis did everything he needed to do."
But Carney disagreed, saying "I think Ron DeSantis sort of disappeared."
"I think many people think DeSantis is falling and finished, and he didn't do anything to change the trajectory," Carney argued. "He was OK, but he didn't score any points."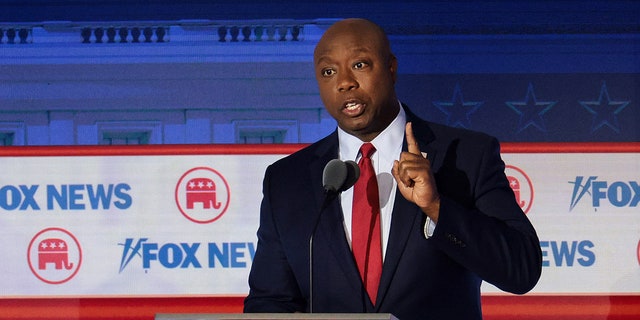 Republican presidential candidate, Sen. Tim Scott (R-SC) speaks during the first debate of the GOP primary season hosted by FOX News at the Fiserv Forum on August 23, 2023 in Milwaukee, Wisconsin.  (Win McNamee/Getty Images)
Scott grabbed roughly eight minutes of speaking time, barely more than former Arkansas Gov. Asa Hutchinson and North Dakota Gov. Doug Burgum, the lowest polling of the conteders who stood on the wings of the stage.
"Scott is good. He's just very quiet and is just not a fighter," Carney said.
Carney added that Scott, the only Black Republican in the Senate and a rising star in the GOP, "made some impassioned pleas on education and abortion. But he missed an opportunity to really break through."
Kochel added that "Tim Scott disappeared. I don't know where he was the entire debate. We'll see if he has a better debate next time."
Kochel said that "Christie did the Christie act the way you sort of expected. He's real. He's authentic. He's got a lot of communications ability. But clearly the way he's approaching Trump, Republicans just aren't comfortable with it."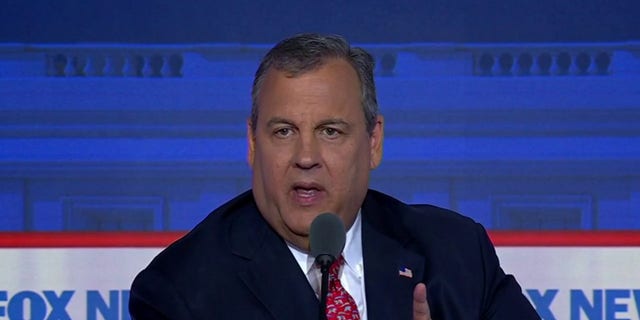 Chris Christie at Wednesday night's first GOP debate in Milwaukee. (Fox News)
Pointing to Christie's high unfavorable ratings with Republicans, Kochel added that "you could tell. He's kind of getting booed down when he was talking about Trump's indictments."
But the strategists said Trump was one of the winners of the debate, even though he was far from the stage.
"Trump won because he's still the front-runner. He didn't lose any votes tonight," Carney emphasized.
And Kochel added, "I think Trump benefited from not being on the stage. He was probably better off not being there. Trump's probably feeling pretty good about it."
CLICK HERE TO GET THE FOX NEWS APP
The showdown in Milwaukee was the first of monthly debates organized by the Republican National Committee.
The next debate — a FOX Business-hosted showdown — will be held Sept. 27 at the Ronald Reagan Presidential Library in Simi Valley, California.