President Biden's chaotic military withdrawal from Afghanistan two years ago, which led to the death of 13 U.S. service members, marked a political turning point in the presidency that could haunt Biden's re-election chances in 2024.
Wednesday marks two years since the U.S. military's hasty withdrawal from Afghanistan as the Taliban took control the country in a matter of days.
Biden on Saturday honored the service members who were killed during the terrorist bombing at the Kabul airport on Aug. 26, 2021, saying they were killed "while performing a noble mission on behalf of our nation."
"We grieve with them, we honor them, and we will always continue to support them," he said.
BIDEN'S TREATMENT OF GOLD STAR FAMILIES UNDER RENEWED SCRUTINY: 'TOTAL DISREGARD'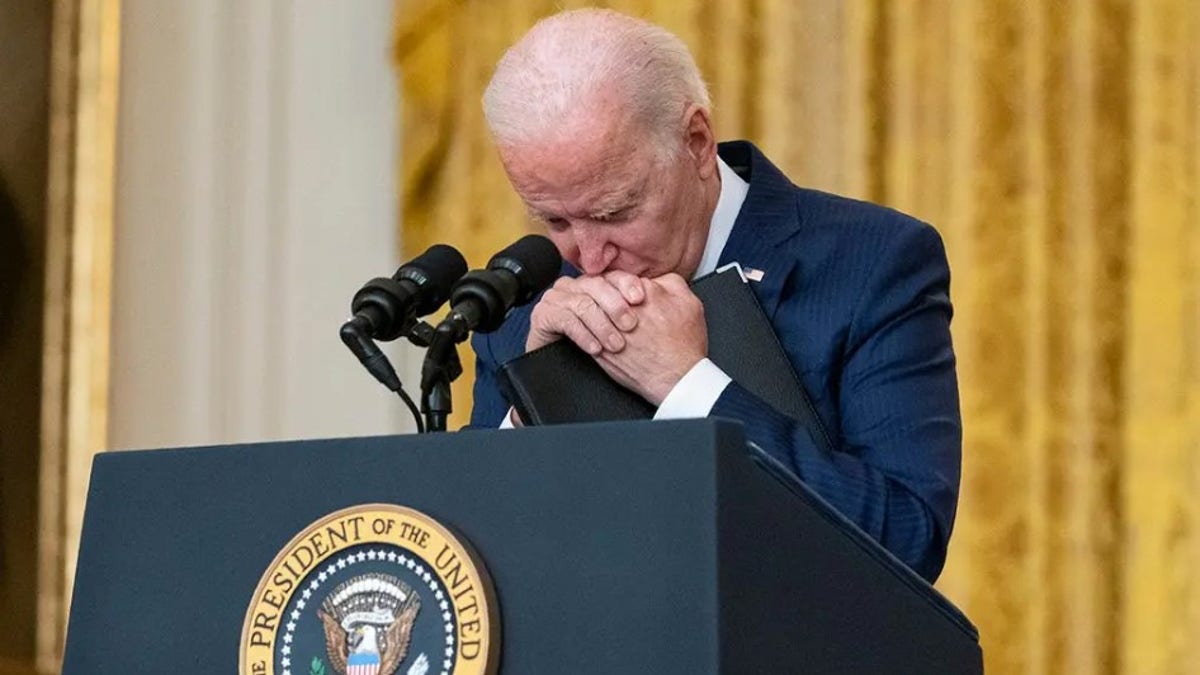 President Biden rests his heads in his hands in a moment of frustration during a contentious back and forth with Fox News' Peter Doocy during a press conference following a terrorist attack in Kabul, Afghanistan, that left 13 service members dead on Aug. 26, 2021. (Getty Images)
However, a new book titled, "Kabul: The Untold Story of Biden's Fiasco and the American Warriors Who Fought to the End," argues that the attack outside Abbey Gate at Hamid Karzai International Airport would have never occurred if the Taliban had been prevented from taking over Bagram Air Base, where the bomber, Abdul Rahman al-Logari, had been imprisoned.
"The Taliban freed Logari when it overran Bagram shortly after President Joe Biden abandoned the base despite vocal objections from military commanders," the book's authors, James Hasson and Jerry Dunleavy, wrote in an opinion piece for Fox News Digital on Saturday. "If Biden hadn't rejected military leaders' advice, Logari would still have been behind bars on August 26, instead of outside Abbey Gate."
Meanwhile, the Gold Star families of those killed in the Kabul attack who have been fiercely critical of Biden convened again in Washington, D.C., on Tuesday for a roundtable discussion with the House Foreign Affairs Committee called, "Examining the Abbey Gate Terrorist Attack."
The families attended a congressional forum with the House Foreign Affairs Committee earlier this month when they reported feeling misled and betrayed by their own government and called on Biden administration officials to resign.
"We've been lied to about what happened that day as well as to what happened to our children," Greg Page, father of Marine Corps Corporal Daegan Page, said during Tuesday's roundtable. "We've been lied to about our relationship with The Taliban, who, by the way, have done more to take out the leaders of this attack than our own leadership has."
The Department of Defense released a statement Tuesday offering condolences to the families but pushed back on claims the attack could have been prevented.
"U.S. military commanders on the ground in Afghanistan made the best decisions and provided their best military advice based off what was known at the time and leaders took appropriate action in response to reported threat streams," the statement read, in part. "From the investigation at the tactical level, the Abbey Gate attack was not preventable without degrading the mission to maximize the number of evacuees, and the leaders on the ground followed the proper measures and procedures."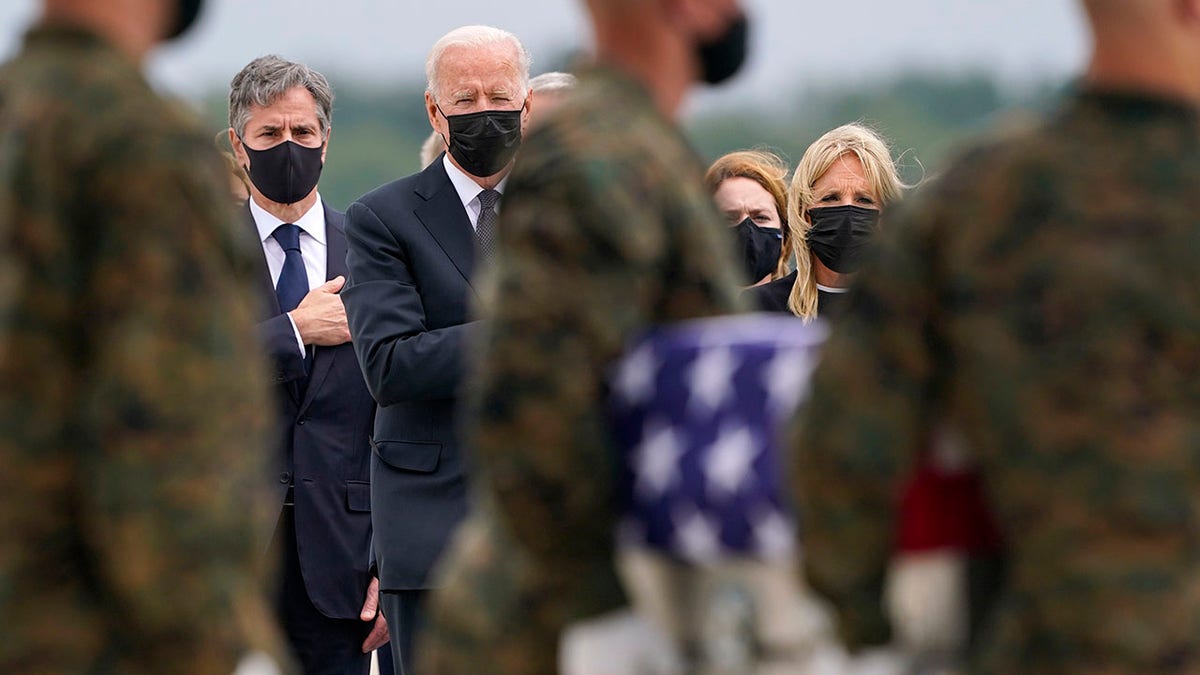 President Biden, first lady Jill Biden, and Secretary of State Antony Blinken look on as a carry team moves a transfer case with the remain of Marine Corps Cpl. Humberto A. Sanchez, 22, of Logansport, Indiana, during a casualty return at Dover Air Force Base, Delaware, Sunday, Aug. 29, 2021, for the 13 service members killed in the suicide bombing in Kabul, Afghanistan, on Aug. 26. (AP Photo/Carolyn Kaster)
The U.S. Department of State released a damning formal evaluation of the United States' chaotic withdrawal from Afghanistan in June, claiming that both former President Trump and President Biden had "insufficient senior-level consideration" of what could go wrong during a withdrawal.
"The decisions of both President Trump and President Biden to end the U.S. military mission in Afghanistan had serious consequences for the viability of the Afghan government and its security," the report stated. "Those decisions are beyond the scope of this review, but the AAR team found that during both administrations there was insufficient senior-level consideration of worst-case scenarios and how quickly those might follow."
The White House downplayed the report ahead of its release, placing the blame on Trump, despite Biden telling Americans after Afghanistan's fall that "the buck stops with me."
Biden continued to defend himself after the report came out, telling a reporter, "I said al Qaeda would not be there. I said we'd get help from the Taliban. What's happening now? What's going on? Read your press. I was right."
TWO YEARS AFTER AFGHANISTAN AIRPORT ATTACK, 13 AMERICANS NEVER HAD TO DIE
Biden's decision to pull troops from Afghanistan faced widespread global backlash after Taliban insurgents retook the country in a matter of days on Aug. 15, 2021, essentially winning the war 20 years after their ouster by U.S.-led forces. Just a month earlier, Biden told Americans that the likelihood of a Taliban takeover was "highly unlikely."
On Aug. 18, 2021, three days after the Taliban seized the capital of Kabul and forced the U.S. Embassy there to evacuate, Biden told ABC's George Stephanopoulos that intelligence did not indicate the Afghan government would quickly collapse — despite reports stating that is exactly what the intelligence predicted. The president also falsely claimed that "no one's being killed" in Afghanistan despite reports at that time of at least seven deaths amid the chaos at Kabul's airport.
Then, on Aug. 26, 2021, during the U.S. military's mass evacuation at the Kabul airport, suicide bombers killed 183 people, including 13 U.S. service members. The U.S. retaliated by launching two drone strikes against suspected ISIS-K terrorists, one of which ended up killing 10 Afghan civilians, including seven children.
The military evacuation, which required thousands of additional U.S. troops on the ground and significant cooperation from the Taliban to complete, ended a day ahead of deadline on Aug. 30, 2021, leaving behind hundreds of U.S. citizens and tens of thousands of Afghan allies, despite Biden's promise days earlier to "get them all out."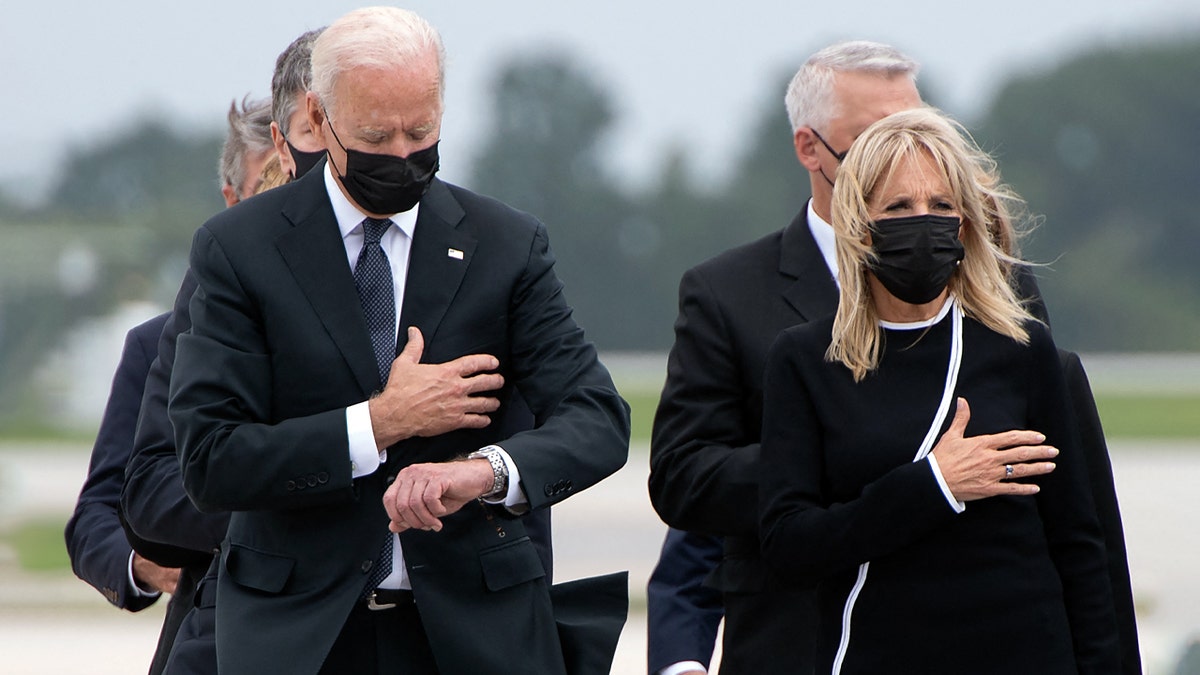 President Biden looks down alongside first lady Jill Biden as they attend the dignified transfer of the remains of a fallen service member at Dover Air Force Base in Dover, Delaware, Aug. 29, 2021. (Photo by SAUL LOEB/AFP via Getty Images)
After the evacuation, Secretary of State Antony Blinken told members of the House Foreign Affairs Committee there were only 100 Americans citizens left in Afghanistan who wanted to leave, but the State Department confirmed nearly a year later that more than 800 American citizens and at least 600 legal permanent residents of the U.S. had been evacuated since the withdrawal.
Critics immediately demanded that heads roll for the Afghanistan debacle, with calls for the firings of Blinken, national security adviser Jake Sullivan, Defense Secretary Lloyd Austin and Chairman of the Joint Chiefs of Staff Gen. Mark Milley, but Biden has declined to fire a single official over the pullout.
"We were told lies, given incomplete reports, incorrect reports, total disrespect," Kelly Barnett, mother of Staff Sgt. Taylor Hoover, said during the July hearing. "I was told to my face he died on impact. That's not true. The only reason that I know this is because witnesses told me the truth. I was lied to and basically told to shut up."
Lance Cpl. Kareem Nikoui's father, Steve Nikoui, accused Biden of using his Marine son "as a pawn so we can meet his Sept. 11th deadline and get the optics he wanted."
BIDEN ADMIN ROILED BY CRISES ON AFGHANISTAN, BORDER, INFLATION, COVID – BUT HEADS YET TO ROLL
Biden campaigned in 2020 on his decades of foreign policy experience with promises to repair the U.S. standing on the world stage after four years of the Trump administration. However, his decision to act unilaterally in the Afghanistan withdrawal without first consulting his NATO allies also sparked widespread backlash abroad, including from top officials in the U.K., Germany, Italy and France, among others who called it a betrayal.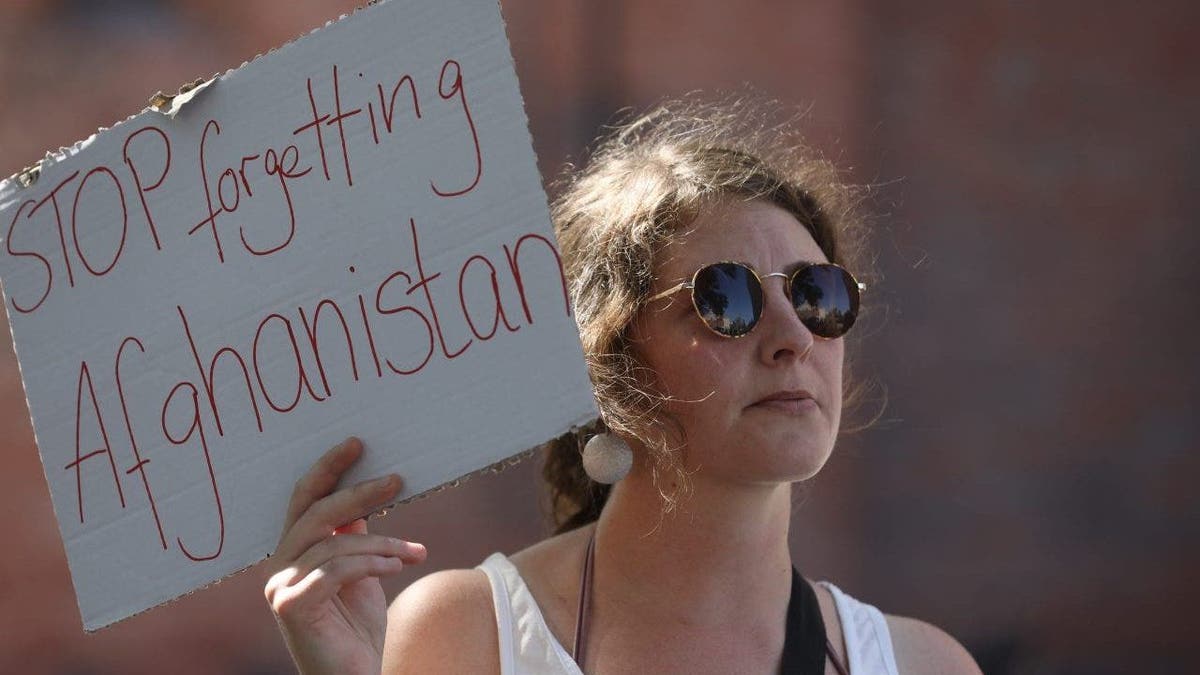 A protester with a sign reading "Stop Forgetting Afghanistan" demonstrates outside the Foreign Ministry against the Taliban two years since the Taliban takeover in Afghanistan on Aug. 15, 2023 in Berlin. (Aref Karimi/Getty Images)
Biden's critics have compared the withdrawal to the fall of Saigon at the end of the Vietnam War and have said Biden's foreign policy blunders have given the green light to authoritarian leaders to act aggressively across the globe.
For instance, just two months after the Afghanistan withdrawal, Russian President Vladimir Putin renewed a major buildup of troops near the Ukrainian border in October 2021. Russia invaded Ukraine months later on Feb. 24, 2022, in a bloody and economically devastating war that continues today.
Before what turned out to be a watershed moment in his presidency, Biden was enjoying high approval ratings on issues ranging from the economy to his handling of the COVID-19 pandemic. According to Gallup, Biden's approval rating peaked in April 2021, shortly after he took office, but it saw a dramatic 6-point drop in the weeks following the Afghanistan withdrawal and has been on a virtual plateau ever since.
Biden's foreign policy blunders, starting with Afghanistan, have caught up with him in the polls. A Gallup poll released last week shows Biden with a 38% approval rating on foreign policy, with 59% disapproving.
Biden's withdrawal could play a significant role in the 2024 presidential campaign, as Afghanistan descends further into totalitarianism and poverty under Taliban rule.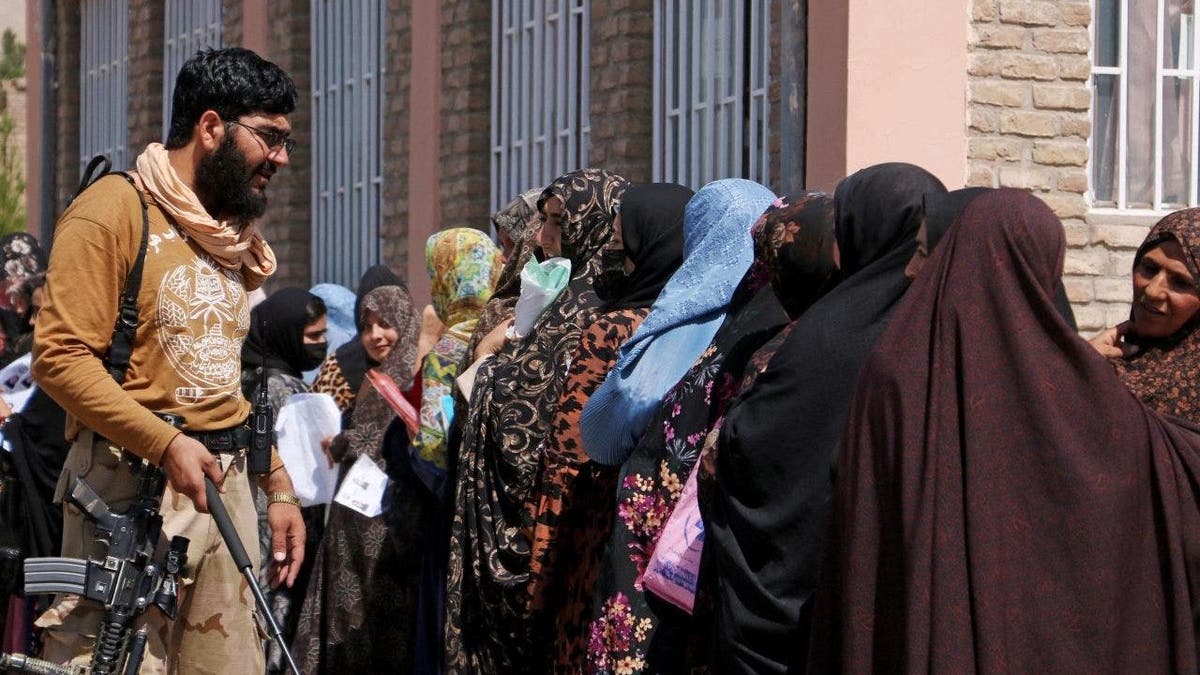 A Taliban security personnel gestures as women stand in a queue outside the passport office in Herat on Aug. 26, 2023. (Photo by MOHSEN KARIMI/AFP via Getty Images)
Former Vice President Mike Pence, who is running for the 2024 GOP nomination, said last week that Biden has weakened the U.S. "at home and abroad."
"That disastrous withdrawal from Afghanistan has emboldened the enemies of freedom," Pence reportedly told CNN. "We have war raging in Eastern Europe, China continues to menace in the Asia Pacific and here at home."
Nikki Haley, a former South Carolina governor who is also running for president as a Republican, said Tuesday that the world is "less safe" than it was two years ago.
CLICK HERE TO GET THE FOX NEWS APP
"Two years after the fall of Kabul and Joe Biden's botched withdrawal from Afghanistan, the world is less safe, our enemies are emboldened, and our allies are questioning America's commitments," a statement from Haley's presidential campaign said.
"Two years ago, the world watched in horror as Joe Biden withdrew from Afghanistan in a way that betrayed our allies and emboldened our enemies," added Haley. "Disaster followed. Thirteen American service members were killed, China grew increasingly aggressive toward Taiwan, Russia invaded Ukraine, and terrorists took over Afghanistan with the help of American equipment and supplies."
The Biden campaign and White House did not respond to Fox News Digital's requests for comment.
The Associated Press contributed to this report.