The Biden administration reportedly has been selling off millions of dollars' worth of border wall materials in a race against Republicans vying to pass legislation to finish its construction.
Steel "square structural tubes" photographed in a storage lot in Arizona were listed for sale on Gov Planet, an online auction marketplace run by publicly traded Canadian company Ritchie Bros. Auctioneers, earlier this month. Those 28-foot-tall hollow beams are "excess border wall materials that the U.S. Army Corps of Engineers turned over to the DLA for disposition and are now for sale," the Department of Defense's logistics agency first confirmed to The Daily Upside and later the New York Post.
Gov Planet, which specializes in military surplus, has sold 81 lots of those beams for about $2 million, according to the Post.
The beams, intended as vertical bollards in the border wall's 30-foot-tall panels, were sold in five separate lots on average of $212 each. Gov Planet netted $154,200 for 729 of them. Another 13 square structural tubes are to be auctioned off Aug. 23 and Aug. 30, the Gov Planet website says.
"The U.S. Army Corps of Engineers (USACE) is disposing of the excess border wall materials in accordance with the Federal Acquisition Regulation," a U.S. Army Corps of Engineers spokesperson said in an email to Fox News Digital Sunday. "USACE has already transferred approximately $154 million worth of the roughly $260 million of bollard panels and other materials in accordance with standard excess property disposition procedures. USACE stands ready to implement a decision regarding disposition of the remaining materials."
TEXAS DEMOCRATIC COUNTY OFFICIAL ANNOUNCES SWITCH TO THE GOP, CITES BORDER POLICIES: 'AN UNPRECEDENTED CRISIS'
Former President Donald Trump is said to have spent $15 billion to erect 450 miles of barriers along the southern border, with another 250 miles in construction when he left office.
On the day he was sworn in, Biden stopped the taxpayer-funded project, denouncing the border wall construction as a "waste of money that diverts attention from genuine threats to our homeland security."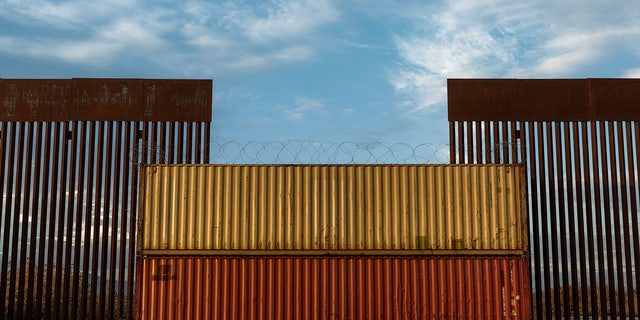 Shipping containers installed to fill gaps in the unfinished wall along the United States-Mexico border on Dec. 29, 2022, in Yuma, Arizona.  (Qian Weizhong/VCG via Getty Images)
Congressional Republicans, meanwhile, noted that an investigation found the Department of Defense has been spending $47 million per year, or $130,000 per day, to store the leftover border wall panels in the Southwest United States.
In May, Sens. Ted Cruz, R-Texas, Roger Wicker, R-Miss., the ranking member of the Senate Armed Services Committee, and Sen. Joni Ernst, R-Iowa, introduced the FINISH IT Act. The legislation would require the federal government to use previously purchased and unused border wall panels to extend the wall along the U.S.-Mexico border or to transfer them to state governments – such as Texas — to be used for wall construction.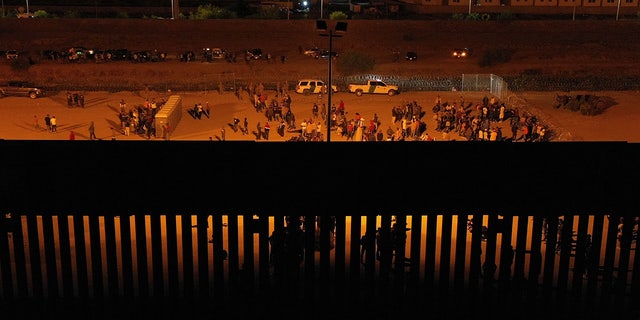 Migrants along the U.S.-Mexico border wall in El Paso, Texas, to surrender to US Customs and Border Protection (CBP) Border Patrol agents for asylum claim processing before the expiration of Title 42 on May 11, 2023.  (PATRICK T. FALLON/AFP via Getty Images)
The Post reported that the Gov Planet auction schedule picked up in May, when Wicker first introduced the FINISH IT Act, and again this month when the Democrat-led Senate passed the annual defense appropriations package that included the Republican sponsored bill to restart border wall construction. GOP lawmakers told the Post that the Biden administration is rushing to sell off more leftover border wall parts before the House, led by Republicans, can pass corresponding legislation.
BIDEN AVOIDS SECTIONS OF TRUMP-BUILT BORDER WALL DURING TRIP TO EL PASO
"This sale is a wasteful and ludicrous decision by the Biden administration that only serves as further proof they have no shame," Wicker said, condemning it as "outrageous, behind-the-scenes maneuvering."
"Leaving the border open to terrorists while selling border security materials at a loss is Bidenomics in a nutshell," Cotton, a co-sponsor of the bill, told the Post.
"The pennies made from selling the border wall will not be enough to pay the families who suffer from a criminal act committed by someone who crossed our open borders during the Biden administration," Sen. James Lankford, R-Okla., added.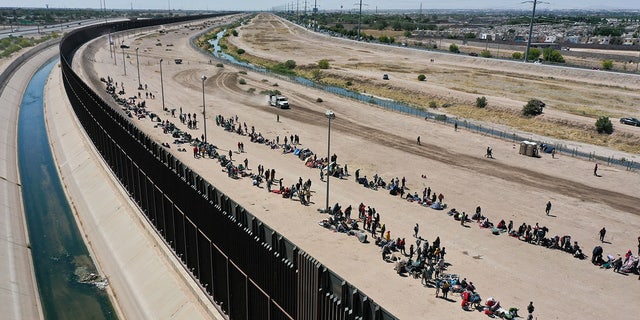 An aerial image shows migrants waiting along the border wall to surrender to US Customs and Border Protection (CBP) border patrol agents after crossing the Rio Grande River into the United States on May 11, 2023.  (PATRICK T. FALLON/AFP via Getty Images)
Rep. Elise Stefanik, R-N.Y., denounced the first sale of border wall parts as "reckless."
"Our borders continue to be overrun by an unprecedented number of illegal immigrants, turning every district into a border district, and compromising our national security," Stefanik told the Post.
Rep. Juan Ciscomani, R-Ariz., whose district is where the border wall parts have been stored awaiting auction, criticized Biden for his "refusal to act."
"The federal government needs to be utilizing every tool in the toolbox to secure our border," he said. "Instead of putting these materials to their intended use, they have been squandered, first collecting dust in the desert and now being auctioned off."
CLICK HERE TO GET THE FOX NEWS APP
"President Biden has no regard for taxpayer dollars — or how his open border is bankrupting communities across the country that are footing the bill for his failures," Rep. Nicole Malliotakis, R-N.Y., added. She is fighting to prevent migrants from being housed in New York City parks and miliary sites.