President Biden told reporters Senate Minority Leader Mitch McConnell, R-Ky., sounded "like his old self" when the two spoke on the phone earlier on Thursday.
On Wednesday, McConnell froze for more than 30 seconds while answering reporters' questions in Covington, Kentucky. It was the second time the 81-year-old lawmaker froze in front of the press this year since he fell and was hospitalized with a concussion in March.
The episodes have raised questions about McConnell's health and ability to continue serving as GOP leader. But Biden, 80, downplayed those questions at a press conference from FEMA headquarters Thursday.
"I spoke to Mitch. He's a friend, and I spoke to him today. And you know, he was his old self on the telephone," Biden said.
MCCONNELL CLEARED TO RESUME 'SCHEDULE AS PLANNED' FOLLOWING KY PRESS CONFERENCE FREEZE
President Biden visits FEMA headquarters in Washington, D.C., about the ongoing federal response efforts to the fires on Maui, Hawaii, Aug. 31, 2023.  (Fox News)
The president added he has a "little understanding of dealing with neurosurgeons" and mentioned that one of his top assistants has a husband who's a neurosurgeon.
"It's not at all unusual to have the response that sometimes happens to Mitch when you've had a severe concussion," Biden said. "It's part of the recovery. And I'm confident he's going to be back to his old self."
MCCONNELL FREEZES UP AGAIN DURING KENTUCKY NEWS CONFERENCE
Asked if he had any concerns about McConnell being able to do his job, Biden said, "I don't."
McConnell's aides attributed Wednesday's incident to a bout of lightheadedness, which was the same reason they gave for the senator's earlier freeze last month.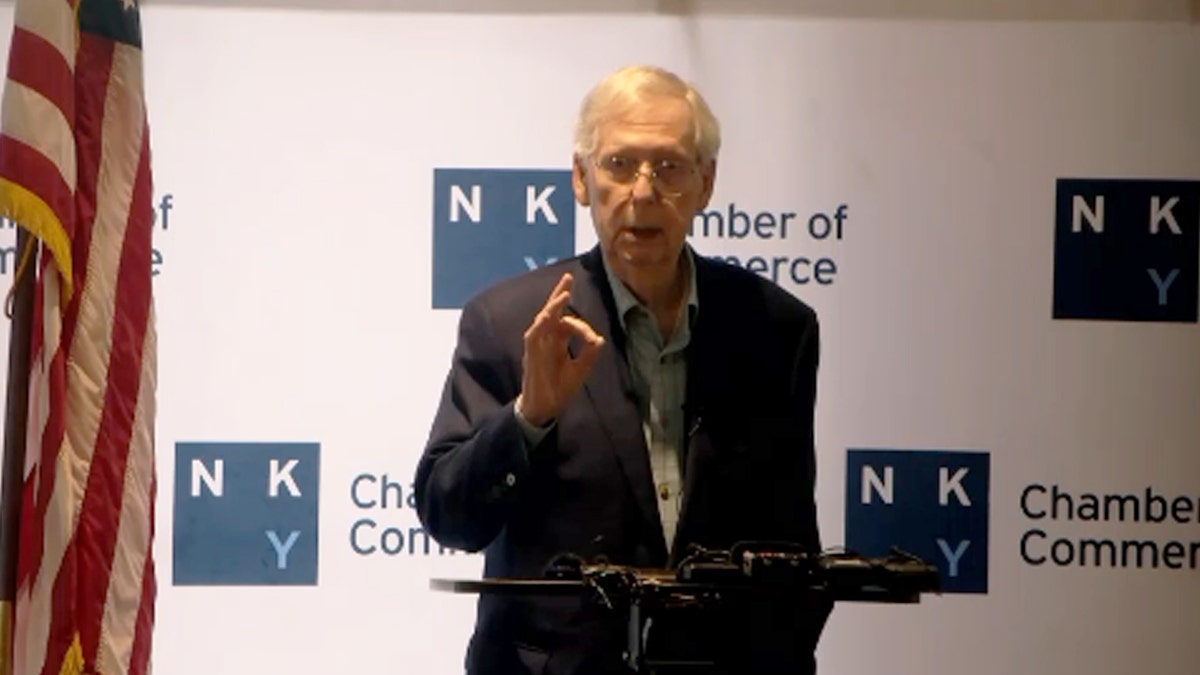 Senate Republican leader Mitch McConnell, R-Ky., delivers a speech at the Northern Kentucky Chamber of Commerce Government Forum. McConnell froze up Wednesday while taking reporters' questions.  (WXIX)
"What are your thoughts on running for re-election?" a reporter asked McConnell.
"What're my thoughts about what?" the GOP leader asked.
MCCONNELL FREEZES UP DURING PRESS CONFERENCE, LATER SAYS 'I'M FINE'
"What are your thoughts on running for re-election in 2026?" the reporter repeated.
McConnell stared blankly for 10 seconds before an aide appeared next to him and asked, "Did you hear the question, senator? Running for re-election in 2026?"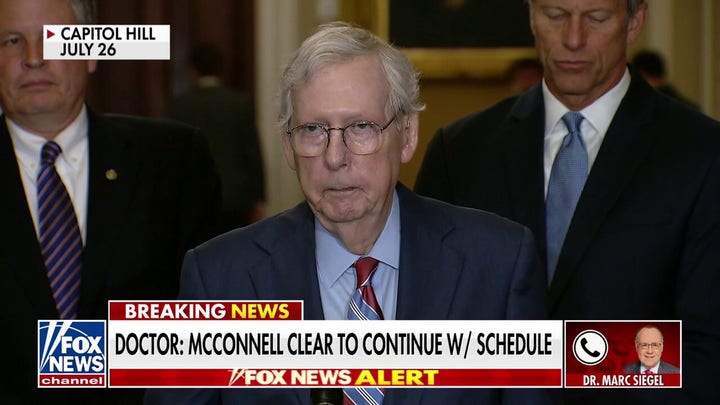 Video
"I'm OK," he told a second aide who appeared by his side. "Does anybody else have any questions? Please speak up," the other aide said.
Following the incident, McConnell reportedly then answered a few questions.
McConnell's doctor released a statement Thursday announcing the Republican leader has been cleared to continue with his work schedule as planned.
READ THE PHYSICIAN'S LETTER – APP USERS, CLICK HERE:
"I have consulted with Leader McConnell and conferred with his neurology team. After evaluating yesterday's incident, I have informed Leader McConnell that he is medically clear to continue with his schedule as planned," Dr. Brian Monahan, Congress' attending physician, wrote in a note on Thursday.
CLICK HERE TO GET THE FOX NEWS APP
"Occasional lightheadedness is not uncommon in concussion recovery and can also be expected as a result of dehydration," Monahan added.
Fox News' Jamie Joseph and Kyle Morris contributed to this report.