close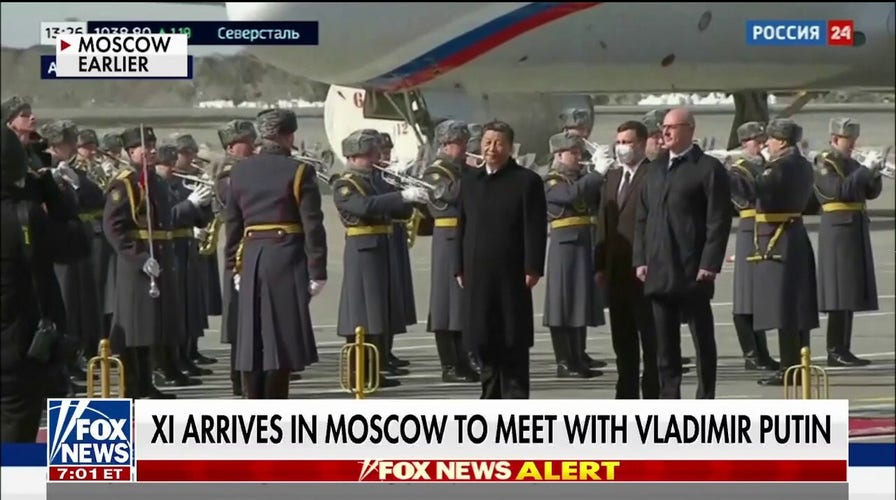 Video
China's Xi arrives in Moscow to meet with Vladimir Putin
Correspondent Mark Meredith reports the latest from the White House. 
National Security Council spokesman John Kirby on Monday ridiculed Russian President Vladimir Putin's visit to the captured Ukrainian city of Mariupol over the weekend, saying the Russian despot has to be aware of how badly he's botched the invasion.
Speaking to reporters in the White House briefing room, Kirby noted that the coastal city of Mariupol was far from the front lines of the fighting in Ukraine, where troops have been holding off Russian invaders. Mariupol was reduced to near ruins with artillery fire earlier in the invasion. Putin's regime has touted the rebuilding efforts there as evidence of its claim to be liberating Ukrainians from fascistic leaders.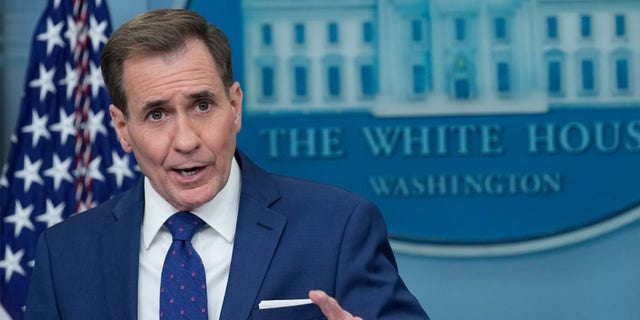 National Security Council spokesman John Kirby speaks during the daily briefing at the White House in Washington, Monday, March 20, 2023.  (AP Photo/Susan Walsh)
"I hope he did get to see the damage and the destruction that his troops did to that city. And I heard … that he was going to look at all the ways to [rebuild] Mariupol. How about the fact that they shouldn't have to rebuild it because he shouldn't have come?" Kirby said, getting noticeably riled up.
TOP EU DIPLOMAT ENDORSES DEAL FAST-TRACKING ARTILLERY SHELLS TO UKRAINE
"So, I hope he got to see what his troops, his military and war did to that city," Kirby said. "It's clear that he knows. He has to know how badly he's doing inside Ukraine. I mean, more than 50% of the territory they took from Ukraine in the first weeks and months of the war, the Ukrainians have already taken back."
Footage released on Sunday showed Putin driving around the city at night while Russia's Deputy Prime Minister Marat Khusnullin explains the efforts Russian forces are taking to rebuild the city.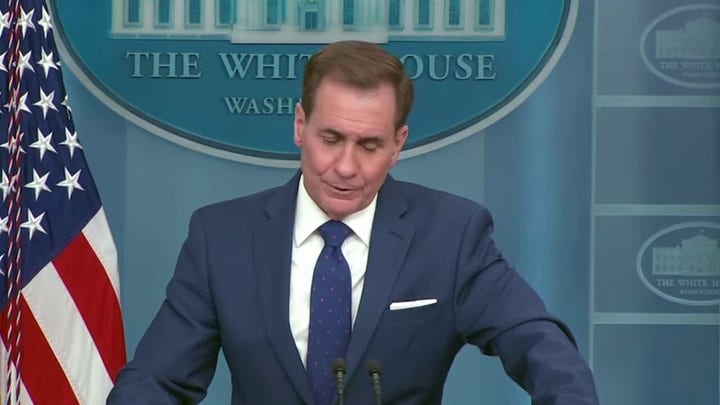 Video
Another video, shown on Russian state television, shows a woman heckling Putin as he was chatting with purported residents outside what appeared to be a newly-built apartment complex in the besieged Ukrainian city.
"It's all lies, it's all just for show!" a woman's voice could be heard yelling in the background, according to the BBC.
PUTIN AGREES TO CONTINUE ALLOWING UKRAINIAN GRAIN EXPORTS, THREATENS RETALIATION FOR NONCOMPLIANCE
Kirby's comments coincided with Chinese President Xi Jinping's visit to the Kremlin Monday. The NSC spokesman called on the Chinese leader to press his Russian counterpart "to halt the war crimes and atrocities and to withdraw his troops."
China last month called for a cease-fire and peace talks. Ukrainian President Volodymyr Zelenskyy cautiously welcomed Beijing's involvement, but the overture fizzed.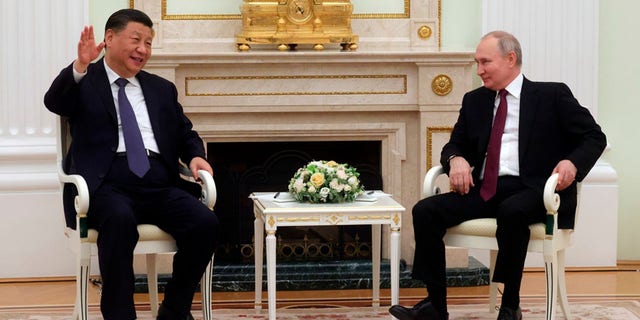 Chinese President Xi Jinping gestures while speaking to Russian President Vladimir Putin during their meeting at the Kremlin in Moscow, Russia, Monday, March 20, 2023. (Sergei Karpukhin, Sputnik, Kremlin Pool Photo via AP)
The Kremlin, meanwhile, has welcomed China's peace plan, while U.S. Secretary of State Antony Blinken said Monday the U.S. "welcomes any initiative that advances a just and durable peace."
He said that any proposal that left Russian forces in place in Ukraine would merely let Moscow reequip and otherwise regain strength to resume its offensive.
CLICK HERE TO GET THE FOX NEWS APP
Last month, Blinken revealed the U.S. had evidence China was considering providing lethal aid to support Russia in its war against Ukraine. On Monday, Kirby said the U.S. still has no indication China was moving in that direction.
Fox News' Anders Hagstrom contributed to this report.
Bradford Betz is a Fox News Digital breaking reporter covering crime, political issues, and much more.