A new set of border measures expanded by the Biden administration earlier this month — which the Department of Homeland Security has said is working to slow down illegal border crossings — is facing significant backlash from both Republicans and Democrats, but for very different reasons.
President Biden announced earlier this month that the administration was making a number of moves to reduce illegal crossings at the border, which have soared under his watch — with a record 250,000 in December alone.
Those measures saw the expansion of a humanitarian parole program that had initially been open to Venezuelans to now also include Cubans, Haitians and Nicaraguans — allowing more than 30,000 to fly directly into the U.S. a month if they have a U.S. sponsor and complete a background check, and have not entered illegally.
That measure was combined with an expansion of Title 42 expulsions to include up to 30,000 of those nationalities who entered illegally each month. Separately, the Department of Homeland Security announced a rule that would make migrants ineligible to claim asylum if they had passed through a country without claiming asylum there first.
BIDEN ADMIN CITES DATA SHOWING NEW BORDER MEASURES 'ARE WORKING' AS NEW LAWSUIT LOOMS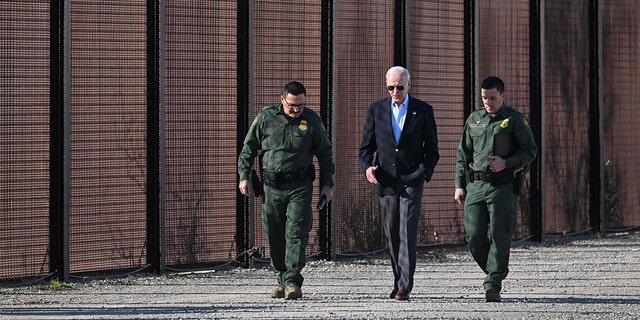 U.S. President Joe Biden speaks with a member of the US Border Patrol as they walk along the U.S.-Mexico border fence in El Paso, Texas, on January 8, 2023. 
(JIM WATSON/AFP via Getty Image)
The administration has claimed this week that initial data shows the policies are working, with a 97% drop in encounters of those four nationalities — and January is on track to see the lowest number for border encounters since the start of the crisis in February 2021.
But the carrot-and-stick approach has brought separate criticism from both the left and the right, who claim the policy is illegal but for different reasons.
The expansion of Title 42 and its asylum ineligibility rule immediately drew fury from left-wing activist groups, the U.N. and some Democrats for allegedly limiting the right to asylum. The U.N. High Commissioner for Human Rights said that the measures "appear to be at variance with the prohibition of collective expulsion and the principle of non-refoulment."
TEXAS LEADS 20 REPUBLICAN STATES IN SUING BIDEN ADMIN OVER MIGRANT PAROLE PROGRAM
"While I welcome measures to create and expand safe and regular pathways, such initiatives should not come at the expense of fundamental human rights, including the right to seek asylum and the right to an individual assessment of protection needs," he said. "Limited access to humanitarian parole for some cannot be a replacement for upholding the rights of all to seek protection of their human rights."
This week, 77 Democratic members of the House and Senate wrote to President Biden praising the parole program but saying, "it is disappointing that these pathways come at the expense of the legal right to seek asylum at the southern border."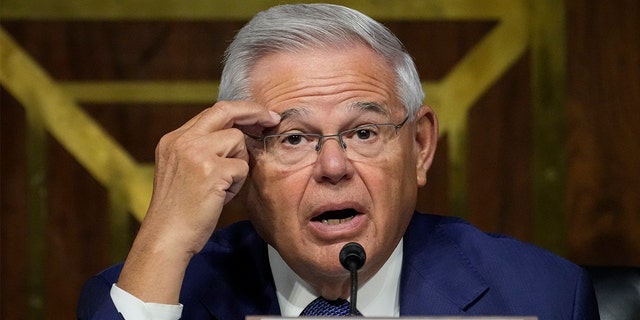 Sen. Bob Menendez, D-NJ, is one of 77 Democrats to oppose Biden's border security measures.
(Drew Angerer/Pool via AP)
"The right to seek asylum is enshrined in domestic and international law. Four decades ago, the Senate unanimously codified the protections of the 1951 Refugee Convention. Congress further made clear that seeking asylum at the border, "whether or not at a designated port of arrival," is lawful," they wrote. "The administration's announced border enforcement actions circumvent this law by not only expanding Title 42 beyond what is required by any court but by further implementing policies to deter and penalize people exercising their legal right to seek asylum at the border."
In a press conference on Thursday, Sen. Bob Menendez, D-NJ, fumed at the move to make some migrants claim asylum in a country other than the U.S.
"The administration cannot have it both ways when they claim to be committed to restoring access to asylum and then they callously block access to asylum imposing a transit ban policy that forces migrants to first seek humanitarian protection in a third country," he said.
OVER QUARTER OF A MILLION MIGRANT ENCOUNTERS IN DECEMBER ALONE
Facing that criticism, the Biden administration has sought to distance itself from claims that it is a transit ban similar to that seen during the Trump administration, and noted that migrants can claim asylum at ports of entry, including by using a new application.
"If they do not use that application, then they will need to have applied for humanitarian relief in one of the countries through which they have traveled," DHS Secretary Alejandro Mayorkas said earlier this month. "And if they were denied, then — then they are not subject to — not a ban, but a rebuttable presumption of ineligibility. And there's a marked difference between the two."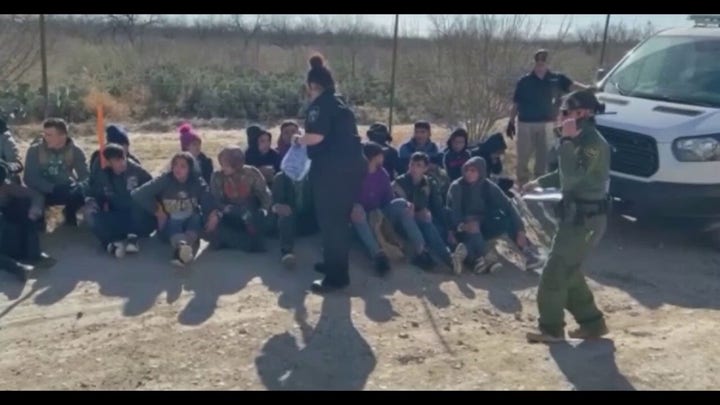 Video
Meanwhile, the administration faced another, potentially more serious, challenge to the policy as 20 Republican states filed a lawsuit against the humanitarian parole part of the policy — claiming it was illegal.
That lawsuit, filed by Texas and America First Legal in the Southern District of Texas, and joined by 19 additional states, points to the limits placed on parole by Congress that says the authority is to be used on a "case-by-case basis for urgent humanitarian reasons or significant public benefit" — and claims the policy does not meet that standard.
"The parole program established by the Department fails each of the law's three limiting factors. It is not case-by-case, is not for urgent humanitarian reasons, and advances no significant public benefit. Instead, it amounts to the creation of a new visa program that allows hundreds of thousands of aliens to enter the United States who otherwise have no basis for doing so. This flouts, rather than follows, the clear limits imposed by Congress," the lawsuit reads.
CLICK HERE TO GET THE FOX NEWS APP
The states say that the program is also unlawful as it did not engage in the notice-and-comment rulemaking required by the Administrative Procedure Act, and they "face substantial irreparable harms from the Department's abuse of its parole authority, which allow potentially hundreds of thousands of additional aliens to enter each of their already overwhelmed territories."
The Biden administration hit back at the lawsuit, with Mayorkas calling it "incomprehensible" that states would try and block it. An administration official told Fox News Digital that it "shows that extremist elected officials don't want real solutions; they would rather just keep using immigration to try to score political points."