close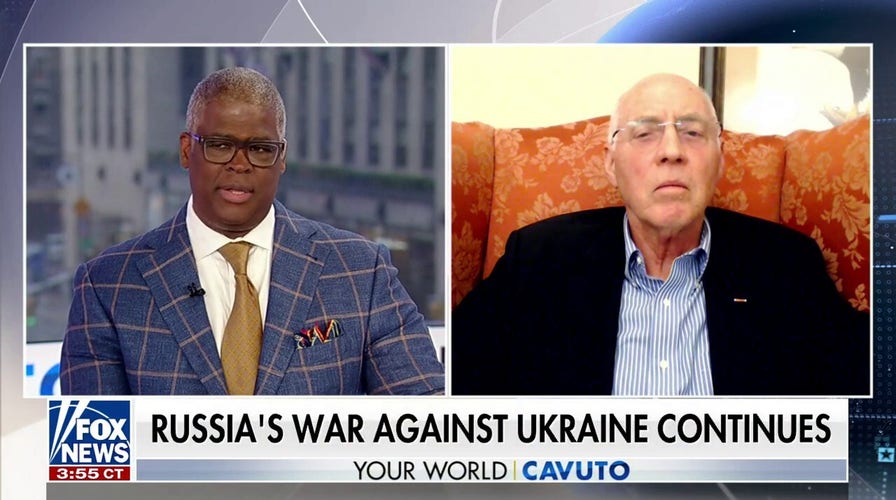 Video
The last few months in the Ukraine-Russia war have been pretty bloody: Lt. Col. Bob Maginnis
Retired U.S. Army Lt. Col. Bob Maginnis discusses the latest in the Russia-Ukraine conflict and the estimated number of casualties on 'Your World.'
President Biden's sexual assault accuser Tara Reade has reportedly defected to Moscow after fearing she might end up in prison or dead, but an expert has suggested that the reports amount to little more than trumped-up propaganda from Moscow.
"Tara Reade is being played by Putin's regime to stick it to Biden and give the story about the sexual assault allegation another run, in the aftermath of his announcing his run for re-election in 2024," Rebekah Koffler, president of Doctrine & Strategy Consulting and a former Defense Intelligence Agency officer, told Fox News Digital.
Reade spoke at a news conference with Sputnik International, a Russian state-owned news agency, and recounted what she said were her fears of reprisal while living in the U.S. following her claims during the 2020 U.S. presidential campaign that Biden had assaulted her while she worked as a congressional staffer in 1993.
She had initially leveled allegations, along with several other women, against Biden for inappropriate touching, but she elevated those claims to sexual assault as Biden progressed through the Democratic Party primaries.
SOUTH AFRICA LOOKS TO GRANT PUTIN DIPLOMATIC IMMUNITY FOR BRICS SUMMIT DESPITE OUTSTANDING ICC ARREST WARRANT
Biden's team denied the allegations, calling the claims "false" and urging news agencies to "rigorously vet those claims" while also supporting the right of women to tell their story when coming forward with such allegations. A former executive assistant to then-Sen. Biden also called the account "clearly false."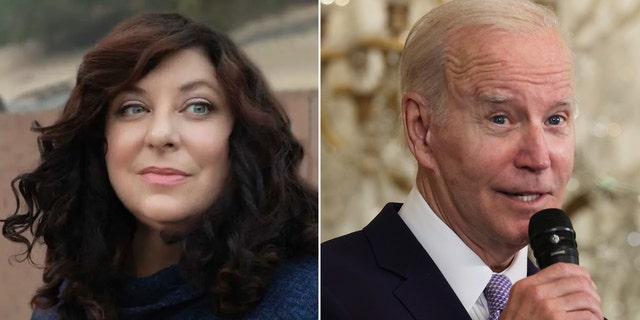 Tara Reade has accused President Biden of sexually assaulting her when she worked in his U.S. Senate office in 1992-1993. (Darin Hayes Photography/Alex Wong/Getty Images)
White House deputy press secretary Andrew Bates told Fox News Digital that, regarding the news of Reade's efforts to obtain Russian citizenship, "I won't attempt to speak for an aspiring Russian citizen, the convicted Russian spy who's sponsoring her, or the foreign government with which she has chosen to align."
Reade told Sputnik that she felt "very good" in Russia as she was "surrounded by protection and safety" after worrying in the U.S. that she could "walk home and walk into a cage or be killed."
President Biden's sexual assault accuser Tara Reade has reportedly defected to Moscow. (Reuters/Evgenia Novozhenina/File Photo)
"From what I could see based on the cases and based on what was happening and sort of the push for them to not want me to testify, I felt that while this election is gearing up and there's so much at stake, I'm almost better off here and just being safe," Reade said, adding it was her dream to live in both the U.S. and Russia.
RUSSIA, KENYA SIGN TRADE PACT IN EFFORT TO OFFSET WORSENING RELATIONS WITH WEST PROMPTED BY UKRAINE INVASION
Koffler warned that Russia is looking to catch American media attention over a "nothing story" ahead of the U.S. election and that covering it extensively could play into Putin's goals.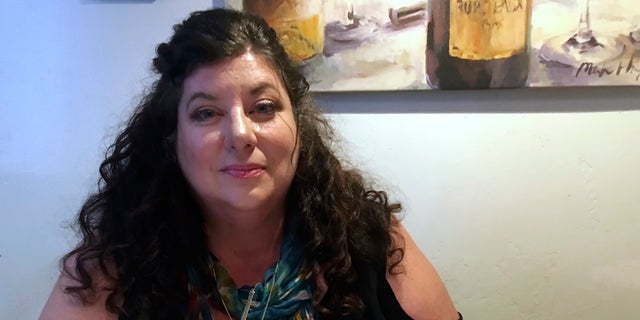 Tara Reade poses for a photo during an interview with The Associated Press in Nevada City, California, April 4, 2019. (AP Photo/Donald Thompson)
"The Russians know what our hot buttons are, i.e. salacious allegations about U.S. politicians, and they know the U.S. media will pick this up," she explained, calling the story "silliness."
"Nothing is 'kosher' when it comes to any Russian media, but it doesn't mean that the whole thing is a lie," she added. "Russian propaganda is very sophisticated: they take something that did happen, such as Tara Reade giving an interview, but then they amplify and twist it."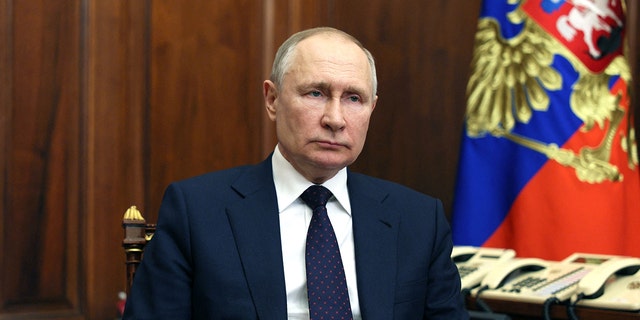 President Vladimir Putin addresses members of the Russian National Guard Troops in Moscow on March 27, 2023. (Gavriil Grigorov/Sputnik/AFP via Getty Images)
During her appearance on Sputnik, Reade also allegedly called for "systemic change" and claimed that U.S. democracy was in "disarray."
CHINA FUELS ANTI-NATO SENTIMENT ALONGSIDE RUSSIA IN SUPPORT OF ETHNIC SERBS FIGHTING IN KOSOVO
"As far as like going to another safe haven, I mean, there are many Americans here, and I don't want to out a bunch of Americans, but there are people here that are coming to Russia – much like back in the day when Soviet Union people defected over to the U.S. – now you have the opposite," Reade said, adding that Americans were "lucky" to have Russian support.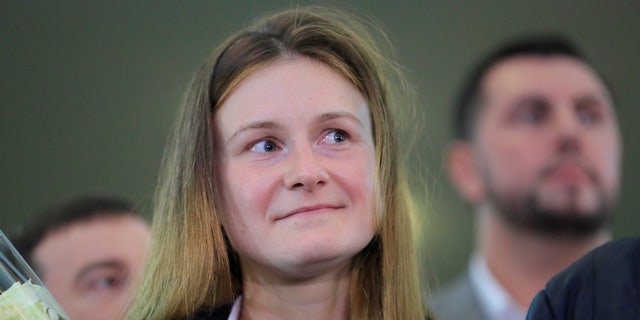 Convicted Russian agent Maria Butina, who was released from a Florida prison and then deported, meets with journalists upon her arrival in Russia Oct. 26, 2019. (Reuters/Tatyana Makeyeva)
Sputnik reported that Maria Butina of the Russian Duma Committee on International Affairs had raised the possibility of granting Reade citizenship, with Russian President Vladimir Putin potentially looking to fast-track the request.
Butina served 18 months in an American prison after authorities outed her as an unregistered Russian agent in 2019. The U.S. then deported her to Moscow, where she gained a position defending Russians imprisoned abroad before taking a seat in the Duma as a member of Putin's political party.
CLICK HERE TO GET THE FOX NEWS APP
The U.S. State Department did not respond to a Fox News Digital request for comment by time of publication.
Fox News Digital's Brooke Singman contributed to this report.
Peter Aitken is a Fox News Digital reporter with a focus on national and global news.