close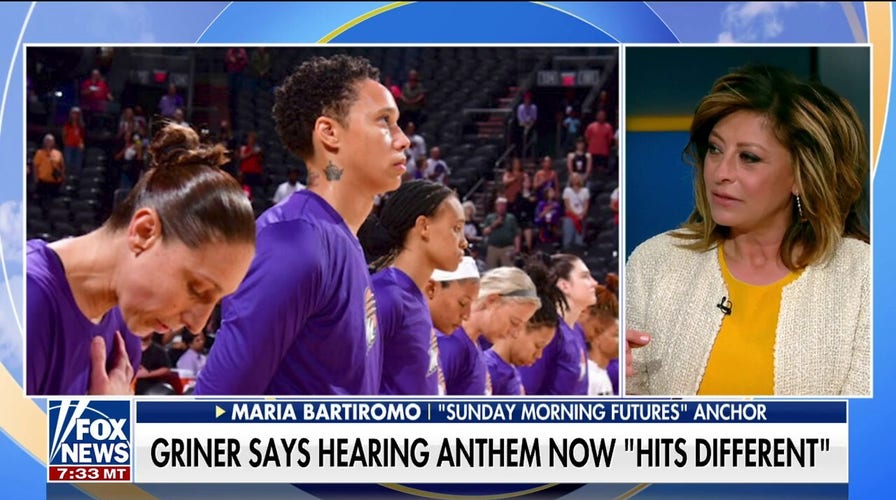 Video
Griner says national anthem 'hits different' after Russian detainment
'Sunday Morning Futures' anchor Maria Bartiromo reacts to WNBA player Brittney Griner's national anthem comments after being detained in Russia.
Belarusian democratic opposition leader Svyatlana Tsikhanouskaya on Monday said the international community and the Belarusian people need to "be well prepared for any scenario" as rumors circulate over the health of President Alexander Lukashenko.
The Belarusian president's marked absence from a major Sunday ceremony commemorating the national flag, the coat of arms and anthem day in the capital city of Minsk sparked renewed speculation after Prime Minister Roman Golovchenko was forced to read a message for Lukashenko.
Questions regarding Lukashenko's health have since circulated as he was last publicly seen nearly a week ago on Tuesday.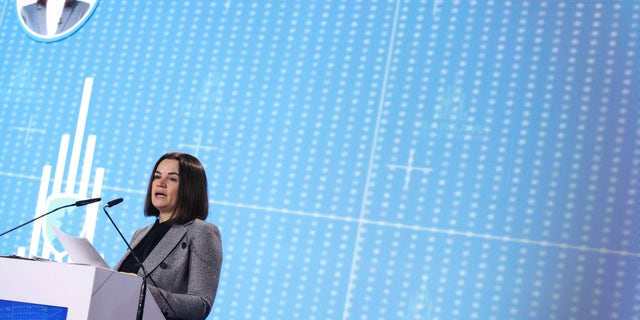 Belarus exiled opposition leader Svyatlana Tsikhanouskaya delivers a speech at the Warsaw Security Forum in Poland, Oct. 5, 2022. (AP Photo/Michal Dyjuk)
OPPOSITION LEADER SVIATLANA TSIKHANOUSKAYA FIGHTS TO KEEP BELARUS ON THE 'RIGHT SIDE' OF THE NEW IRON CURTAIN
"There are many rumors about the dictator Lukashenka's health. For us, it means only one thing: we should be well prepared for every scenario," Tsikhanouskaya said.
The opposition leader, who fled Belarus and has been in self-established exile since 2020, said the international community needs to "be proactive" and work quickly "to turn Belarus on the path to democracy and to prevent Russia from interfering."
It remains unclear why Lukashenko – who is one of Russian President Vladimir Putin's top allies – has not appeared in public for nearly a week.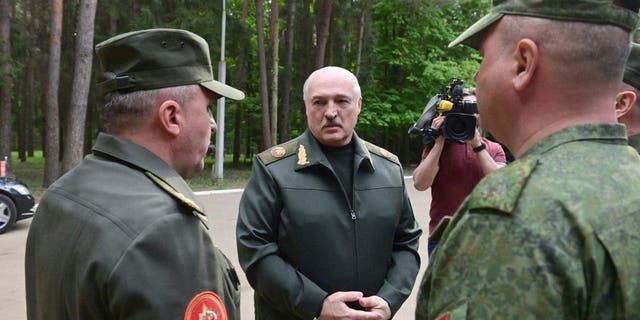 Belarusian President Alexander Lukashenko visits the Central Command Post of the Air Force and Air Defense Forces in Belarus, Monday, May 15, 2023. (Belarus' Presidential Press Office via AP)
BELARUS SEEKS LENGTHY PRISON TERMS FOR OPPOSITION LEADERS
State news agency BelTA and Lukashenko's press service reported Monday that the Belarusian president was visiting the air force central command and a picture of him near a forest was posted.
It is unclear whether the photo was taken Monday as Lukashenko is wearing a bandage on his hand similar to one he donned last week when he attended Russia's Victory Day parade in Moscow, as Radio Free Europe first reported.
Lukashenko was also said to be looking unwell during his trip to Russia and reportedly skipped a luncheon that was hosted by Putin.
But despite the rumors and speculation over Lukashenko's health, there has been no official statement from his administration.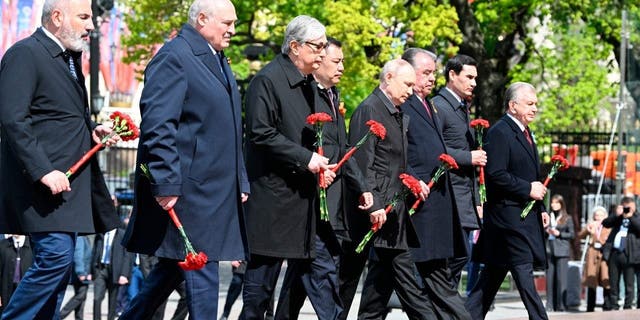 Belarusian President Alexander Lukashenko takes part in a wreath-laying ceremony marking the 78th anniversary of the victory over Nazi Germany in World War II, in Moscow, Russia, May 9, 2023. (Alexey Maishev, Sputnik, Kremlin Pool Photo via AP)
CLICK HERE TO GET THE FOX NEWS APP
State news agencies have also reportedly been avoiding the topic and in lieu of showing an address from the leader on the national holiday Sunday, clips from his Feb. 28 address to the Security Council were played by state TV channel ANT, according to Radio Free Europe.
Non-state run news agencies, however, reported over the weekend that streets around the Republican Clinical Medical Center in Minsk were blocked on May 13 by a motorcade, with security forces lining the area.
Caitlin McFall is a Reporter at Fox News Digital covering Politics, U.S. and World news.