Greta Gerwig's "Barbie" opened to a $155 million debut, but the movie – which received accolades for breaking the first weekend record for a film directed by a woman – has had its fair share of on-screen and off-screen controversies.
Gerwig's tale, which was co-written with husband Noah Baumbach, follows Margot Robbie as the dream doll living in a dream world until she suffers a sudden existential crisis that leads her to question everything about her life. The movie has not been without its controversies though, from Ryan Gosling being deemed too old to play Ken, to the film ignoring its "core audience" to focus on LGBTQ stories, according to one faith-based review site.
While celebrated by others for the variety of tabletop tropes – be it femininity, masculinity, or simply for the love of flashy fashion – the film also highlighted a story which did not align with Ann Ryan's memories growing up as the daughter of late Mattel research and design vice president John "Jack" Ryan.
Jack Ryan created Barbie, not Mattel's founder Ruth Handler, according to Ann Ryan, citing patents with his name next to Barbie drawings to back her up.
'BARBIE' CONTROVERSY: MARGOT ROBBIE AND RYAN GOSLING FILM'S ROCKY ROAD TO THEATERS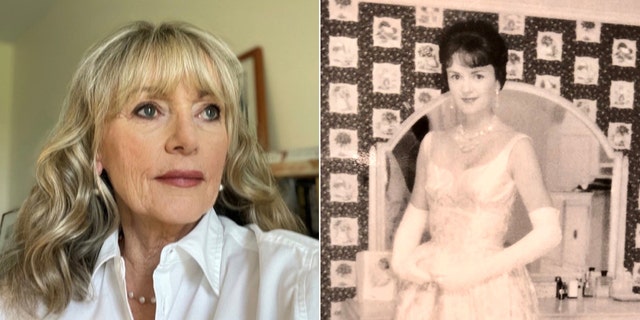 Ann Ryan, left, claims her father, a Mattel designer, created Barbie and named the doll after her mother Barbara, right. (Ann Ryan)
In an exclusive interview with Fox News Digital, Ann shared how her father went from working as an air defense weapons missile designer to becoming one of the most prolific toy inventors of all time, with a brief marriage to Zsa Zsa Gabor in between. Ann claimed her father's fallout with Mattel and Ruth Handler ultimately led to his demise.
Handler is credited as "the mother of Barbie," after coming up with the doll, inspired by watching her daughter, Barbara, play as a little girl.
"I discovered something very important: They were using these dolls to project their dreams of their own futures as adult women.… Wouldn't it be great if we could take that play pattern and three-dimensionalize it?" Handler wrote in her memoir, "Dream Doll: The Ruth Handler" story.
Meanwhile, Ann, who has shared parts of her claims and history as the daughter of Barbie's creator on her podcast, "Dream House: The Real Story of Jack Ryan," says she knows the battle has only just begun to "get justice for my dad."
"From 1959 when Barbie debuted, until 1991 when my father died, Ruth Handler never said anything about how she was the creator of Barbie," Ann claimed before alleging, "She waited until he died."
Jack, a Yale-educated engineer, worked for U.S. defense contractor Raytheon where he designed "low altitude defense missiles for the Pentagon," Ann said, including the Sparrow and Hawk air defense weapons.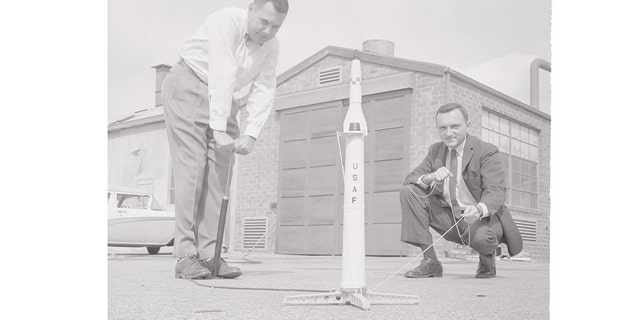 Jack Ryan, right, who designed the toy missile for Mattel, supervises the launch of "Spoutnik," while engineer John Northrop handles the tire pump. (Bettmann)
He traded in rockets for trinkets and began working as the vice president of research and design for Mattel in the '50s, when he designed some of the company's most popular toys, including Hot Wheels and the Chatty Cathy talking doll. Ann, at 4 years old, became the voice of Chatty Cathy.
'BARBIE' STAR MARGOT ROBBIE SAYS SHE ONCE PRETENDED TO BE DEAD AS A CHILD TO GET RID OF HER BABYSITTER
Jack was credited with creating more than 30 of the country's best-selling toys, and had more than 1,000 patents to his name, including the design for Barbie, which Ann said is named after her mother Barbara Harris. Handler has said the doll was named after her daughter, Barbara.
In a 2002 New York Times Magazine interview with Handler's daughter Barbara, she explained that Barbie's origin and design came after a family visit to Europe, where they spotted Bild Lilli dolls, adult novelty dolls that each had different outfits.
"I was going crazy because I wanted different clothes for it, and they didn't sell the clothes separate," Barbara said. "You had to buy a different doll every time you wanted a different outfit. My mother thought, Why is this daughter of mine so crazed about this doll? She bought a couple of them. And when we got back, I never saw them again. They were torn apart and researched, and they got the idea of the separate clothes, and the rest is history."
However, according to Ann, Barbie's design was spawned, in part, by Jack's love of the Radio City Rockettes. Ann's grandfather immigrated to the United States from Ireland when he was 17 years old, and was a famous builder who built homes for the robber barons of the 20th century on Fifth Avenue. He also worked on Radio City Music Hall, and would bring Jack along with him on jobs.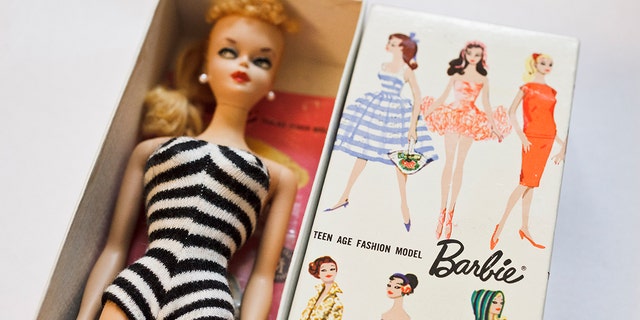 The first Barbie doll was created in March 1959. (James Leynse)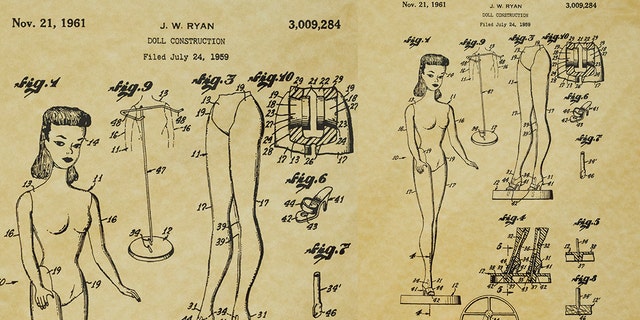 Jack Ryan filed Barbie patents in July 1959. (James Leynse)
"My father would inevitably pull away, run down to the auditorium and hide in the orchestra pit and watch the Rockettes rehearse," Ann remembered. "He said their legs were a mile long, and he never got over that."
In addition, Jack's older brother Jim would bring home Esquire magazines with Alberto Vargas illustrations of pin-ups, and Jack would trace over the "Vargas Girls" to create his own models.
"This image of Barbie was planted in his head when he was about 8 years old," Ann said before joking that later on in life, "All the women he married and dated all looked like Barbie dolls."
Jack certainly had a type, and was married five times. His first wife, Barbara resembled the buxom blonde Barbie prototype. His second wife, Zsa Zsa Gabor, was known just as much for her name as she was for her over-the-top lifestyle.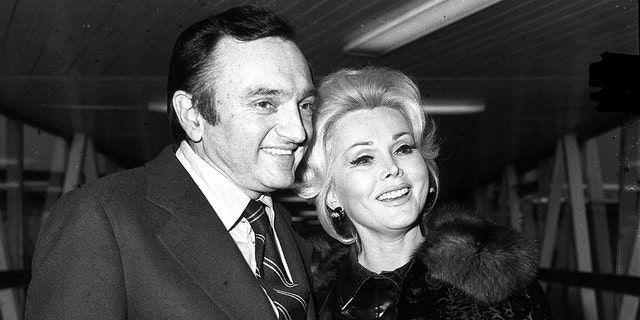 Zsa Zsa Gabor was Jack Ryan's second wife. Ryan was Gabor's sixth husband. (PA Images)
"Zsa Zsa and I got along really well. She was very kind to me," Ann remembered. "I was in film school, and she knew I was interested in the business, so when she would go to do an appearance on a talk show, or she'd go do a commercial, or she'd go do anything, she would take me along."
BARBIE STAR SAYS FILM TESTS 'HETERONORMATIVE' IDEA OF GENDER, OFFERS 'SCATHING CRITIQUES OF ICONIC DOLL
She added, "Then the other fun stuff was, of course, you can imagine what kind of closet she had … And she loved just hanging out in the closet and talking. She would give me stuff all the time, like gowns and jewelry."
Growing up the daughter of one of Mattel's most desired designers had its perks, albeit what felt like living in "a circus" at times. Ann remembered her dad making "millions and millions and millions of dollars" from royalties. Their family lived on a five-and-a-half-acre estate in Bel Air, the second-oldest home in the area which was built by silent film star Warner Baxter.
"When we moved in, my dad set about creating his own play land fantasy there, so he decided he wanted it to look like a castle," Ann said of her dad, who created drawbridges and turrets throughout the property. "When he wasn't doing that, he had an antique fire engine that he would drive through the night with people hanging on for dear life.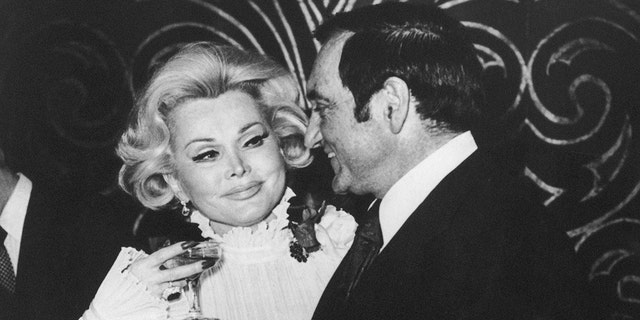 Ann Ryan remembered Zsa Zsa Gabor being a true friend. (Keystone)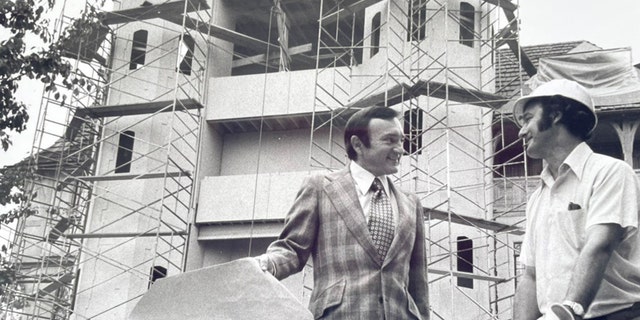 Jack Ryan reviews designs while building his castle in Bel Air. (Ann Ryan)
"And then he would give parties up in the house that had a chandelier in it. And he gave 300 parties a year, some of which were for as many as 1,000 people."
Ann, who is looking to release a memoir about her life with her father in addition to the "Dream House" podcast, also recently shared some of the wilder details from her life with her father in an interview with The New York Post.
She detailed his drinking and drug use, as well as his overall paranoia.
"He thought people were after him, that they were listening to him electronically. He believed that people were eavesdropping on him, and in a particularly delusional moment, claimed that they were 'moving the walls.' He was not in good shape," she told the outlet.
Despite being so closely connected to the famous doll, Ann remembered rarely having any of the toys at home to play with.
"Everybody used to say, 'Oh, my God, you must have had so many Barbies.' We really didn't. I think my parents were worried about spoiling us," she said. "My mother had this stash of Barbies in their boxes and clothes in her dressing room that we weren't supposed to know about. Every so often, I would go in there and steal something because I would go to friends houses, and they would have more Barbies than me."
Jack worked with Mattel for 18 years. Handler was the company's president from its inception in 1945 until 1973.
In 1978, Handler, was indicted for fraud following an investigating by the U.S. Securities and Exchange Commission. She pleaded no contest. Jack sued Mattel in 1980.
CLICK HERE TO SIGN UP FOR THE ENTERTAINMENT NEWSLETTER
"He sued them for nonpayment of royalties during a time when Mattel was going through some financial problems because there had been a warehouse fire that wasn't insured, and they weren't able to ship toys for Christmas," Ann said. "So in order to keep Wall Street happy, Ruth started cooking the books to meet Wall Street's expectations," Ann alleged.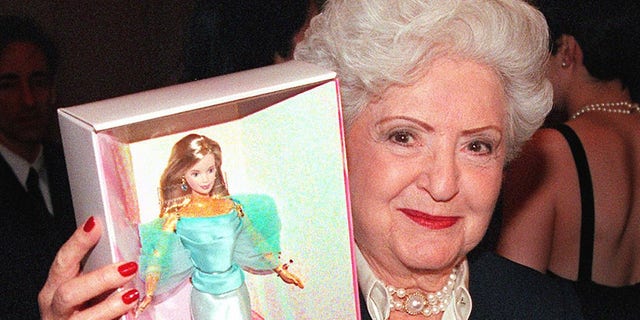 Ruth Handler, Mattel Inc. co-founder, is considered the "mother of Barbie." (Matt Campbell)
Ann claimed that Handler and her husband, Mattel co-founder Elliott Handler, were "booted from the company because there were massive shareholder lawsuits."
Jack suffered a stroke in 1989, and died by suicide two years later. He was 65.
"After my father died, Ruth decided she was going to reinvent herself as a hero of Mattel even though she had left with her tail between her legs and just decided she would, you know, make up the story [about creating Barbie.] And my father wasn't around to defend himself," Ann claimed. "I remember when that came out, I was devastated. Everybody in my family was devastated. But we didn't know what to do, you know?"
She added, "My father did go up against Mattel, and he won in a settlement, but it pretty much killed him."
"They were spending $1 million a year on attorneys just to keep churning the case, hoping that my father would give up because he'd run out of money or whatever. But he kept going. It wasn't really a victory in the end."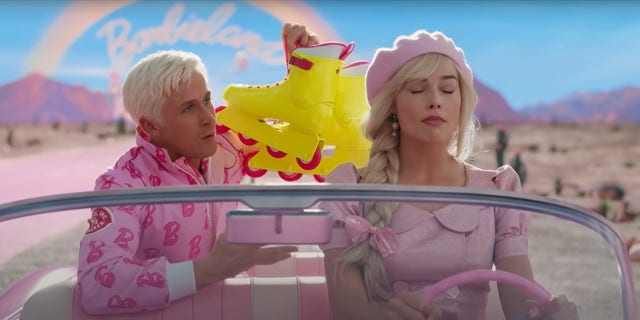 Ryan Gosling plays Ken and shows Barbie the rollerblades he "literally goes nowhere" without. (Warner Bros. Pictures)
Handler suffered her own health issues, undergoing a mastectomy in 1970 for breast cancer. According to her obituary in The Los Angeles Times, her illness led her to be "unfocused" on Mattel's reorganization, leading to her and her husband's exit from the company. However, she was brought back to Mattel in the '90s.
She told USA Today in 1994, that "I was never able to get back in and grab hold of things as I should have."
While Jack is absent from Gerwig's take on "Barbie," Handler makes a cameo and is portrayed by Rhea Perlman. She offered up the line, "Humans only have one ending. Ideas live forever; humans don't."
CLICK HERE TO GET THE FOX NEWS APP
Ann is still seeing the film in theaters, if only for research purposes.
"If my dad were still alive, he would have made the Barbie movie," she said. "I think that he would be really, really pleased to know that I'm doing this and that it's the right thing to do."
Gerwig, Baumbach and Mattel did not respond to Fox News Digital's request for comment. A rep for the late Ruth Handler could not be found.
Fox News Digital's Elizabeth Stanton contributed to this report.