close
Video
Fight breaks out at Texas statehouse over trans activist's viral speech comparing lawmakers to Hitler
A transgender activist is going viral on TikTok after a fiery speech delivered in front of Texas state lawmakers turned into a physical stand-off Thursday.
Two people in Austria are facing criminal charges for allegedly blasting speeches by Adolf Hitler on the intercom of a train.
Per APA, an Austrian news agency, the train was running from the westernmost city of Bregenz to the capital of Vienna.
Authorities said the two suspects, who were not identified, also blasted the "Heil Hitler" Nazi salute via the train's intercom several times on Sunday. The authorities tracked them down by analyzing video from the train cameras.
MUSK BLASTS BBC REPORTER WHO CLAIMS TWITTER HAS RISE IN HATE SPEECH: 'YOU CAN'T NAME A SINGLE EXAMPLE'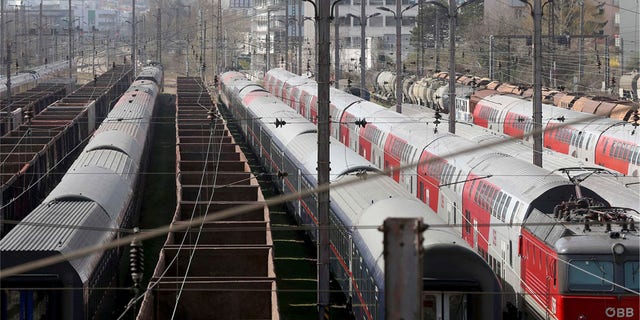 FILE- Trains are parked at a station in Vienna, Austria, Friday, March 27, 2020. Two suspects are facing criminal charges for blasting Hitler speeches on a train heading to Vienna. (AP Photo/Ronald Zak)
The suspects are believed to have opened the train conductors' intercom cabins with a key that all train employees own, and then played the recordings, APA reported. Austrian rail operator OeBB confirmed to Agence France-Presse that the two suspects were not employees.
AUSTRIAN POLICE WARN OF POSSIBLE 'ISLAMIST-MOTIVATED ATTACK' TARGETING VIENNA CHURCHES
The two are also suspected of being involved in two other incidents last week on trains running from St. Poelten to Vienna, in which recordings were played over the train intercom. It was not clear if those recordings also had Nazi connotations.
CLICK HERE TO GET THE FOX NEWS APP
Hitler was born in Austria in 1889 and became Chancellor of Germany in 1933. Both Austria and Germany have some of the strictest laws in the world concerning Holocaust denial and pro-Nazi activities – both of which are considered criminal offenses.
Bradford Betz is a Fox News Digital breaking reporter covering crime, political issues, and much more.