close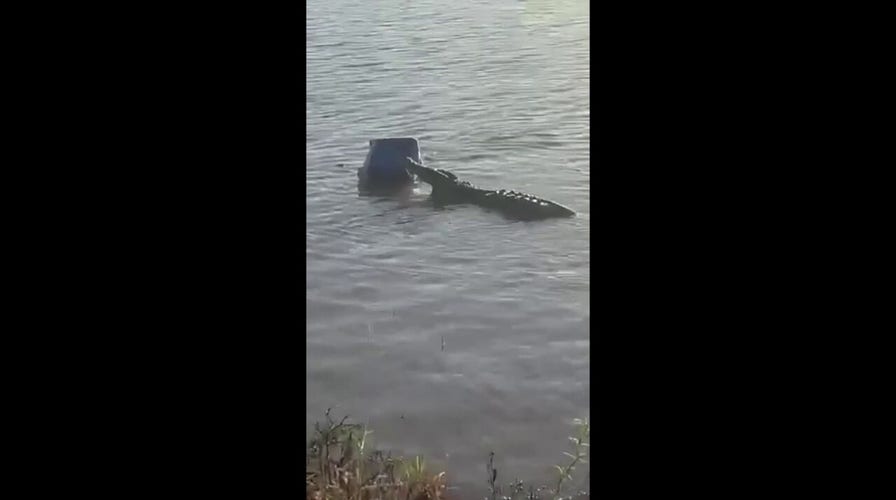 Video
Crocodile crashes picnic, steals cooler full of alcohol in South Africa
Credit: Davout Wolhuter / AMAZING ANIMALS+ /TMX
An Australian man was able to escape multiple attacks from a saltwater crocodile, including having to pry the animal's jaws open to get his head out of its grip.
The man, 51-year-old Marcus McGowan, was snorkeling off the Cape York coast when he was attacked by the crocodile Saturday, finding his head inside the mouth of the dangerous animal, according to a report from the Guardian.
"I realised it was a crocodile. I was able to lever its jaws open just far enough to get my head out," McGowan said in a statement after the harrowing incident, according to the outlet.
AMERICAN TOURISTS IN MEXICO ATTACKED BY CROCODILE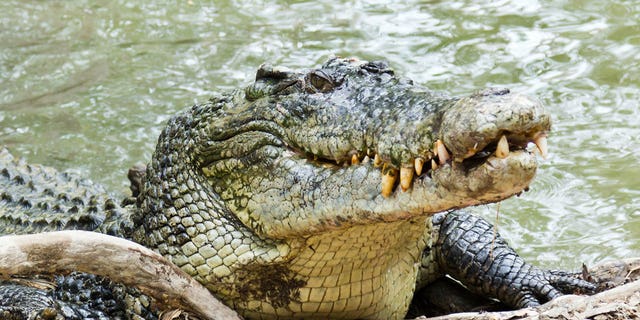 Saltwater crocodile is shown in this stock photo. (iStock)
McGowan, who initially believed he was being attacked by a shark, was forced to fend off a second attempt by the crocodile, suffering an injury to his arm as he fended it off once again.
"The crocodile then attempted to attack me a second time, but I managed to push it away with my right hand, which was then bitten," he said. "I was able to escape the crocodile's grip once again and swim to the safety of the boat which was coming after they heard our screams for help."
McGowan said the crocodile was likely young and measured about 2-3 meters, or about 6-10 feet, a danger he knew he could face in the marine environment.
"When you enter the marine environment, you are entering territory that belongs to potentially dangerous animals, such as sharks and crocodiles," McGowan said. "I was simply in the wrong place, at the wrong time."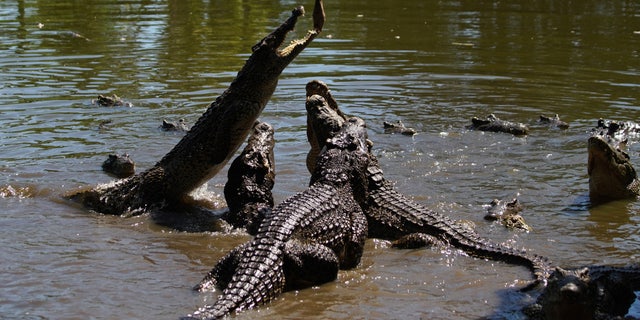 Cuban crocodiles react as a bait hangs over them at a crocodile hatchery at Zapata Swamp, Cienaga de Zapata, Cuba. (REUTERS/Alexandre Meneghini)
CROCODILE CRASHES PICNIC, STEALS COOLER FULL OF ALCOHOL: VIDEO
McGowan was taken by boat to a hospital about 45 minutes away after the attack, eventually transferring to two more hospitals to treat injuries such as scalp lacerations and puncture wounds to his head and hand.
Billy Collett, who works as the operations manager at Australia Reptile Park, told the Guardian crocodiles are often scared off when people fight back against an attack.
"Crocodiles are the hardest-biting animal on the planet," Collett told the outlet. "But when people do fight back, they seem to let go. He probably scared the croc which realised it grabbed something too big to handle."
Meanwhile, the Queensland science department, who is investigating the incident, stressed that it is vital for people to report such attacks as soon as possible.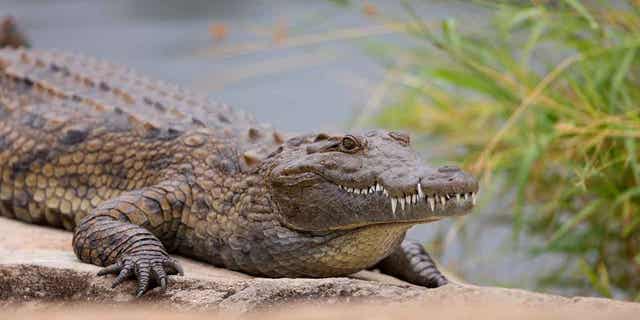 A crocodile is pictured during Day Three of the Alfred Dunhill Championship at Leopard Creek Country Golf Club. (Richard Heathcote/Getty Images)
CLICK HERE TO GET THE FOX NEWS APP
"It is important that crocodile sightings and crocodile incidents are reported in a timely manner," the department said, according to the Guardian. "Crocodiles in the open ocean can be difficult to locate as the animals often travel tens of kilometres per day."
Michael Lee is a writer at Fox News. Follow him on Twitter @UAMichaelLee