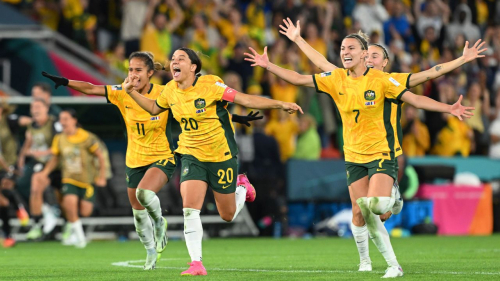 Australia will play either England or Colombia in the semifinals. Bradley Kanaris/Getty Images
Women's World Cup 2023: Live scores, fixtures, results, tables and top scorers
CNN —
Australia reached the Women's World Cup semifinals for the first time, sending a sell-out crowd in Brisbane into ecstasy, with an incredible penalty shootout victory over France.
The co-host had played in the quarterfinals on three previous occasions but had never made it beyond the last eight. On home soil, the Matildas' fortunes changed and history was made in a thrilling conclusion to the match.
Cortnee Vine, the 20th penalty taker in the shootout, sealed victory, securing a 7-6 win on penalties and a tie against either England or Colombia.
France had a goal rightly disallowed in extra-time, and with neither side able to break the deadlock over 120 minutes this entertaining quarterfinal had to be decided on penalties.
Both teams missed from the spot in the shootout – but it was France's four misses which proved the most costly, giving Vine the chance to end a tense shootout and spark wild celebrations among the Australian players in front of nearly 50,000 equally jubilant fans.
As the Matildas did a lap of honor around the pitch, fans danced, waved flags and cheered a team which has captured the imagination in the sport-loving country.
Australia head coach Tony Gustavsson told reporters that he is "so freaking proud" of his team and thanked supporters. "You are part of this win," he said, paying tribute to the crowd. "You belong to this team tonight, every single person in this country."
More to follow.
Hilary Whiteman contributed reporting.