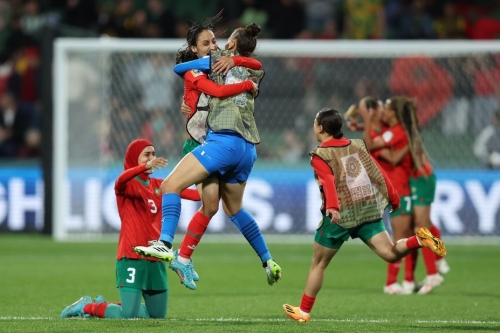 African teams have won hearts — and plenty of points — at the 2023 Women's World Cup. Nigeria, Zambia, South Africa, and Morocco [pictured] have all enjoyed unforgettable moments in Australia and New Zealand, scroll through the gallery to explore their tournaments so far.
Paul Kane / Getty Images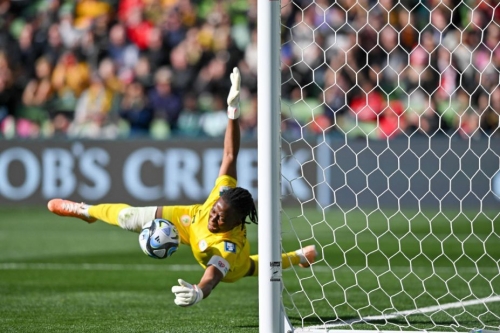 Nigeria made a solid start to its World Cup campaign, holding Olympic champion Canada to a 0-0 draw thanks to some penalty saving heroics from goalkeeper Chiamaka Nnadozie.
Izhar Khan / AFP via Getty Images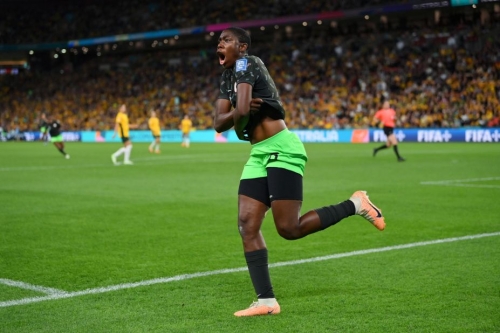 The Super Falcons then stunned co-hosts Australia in their second Group B game, as goals from Uchenna Kanu, Osinachi Ohale, and Asisat Oshoala [pictured] fired Nigeria to a thrilling 3-2 victory.
Justin Setterfield / Getty Images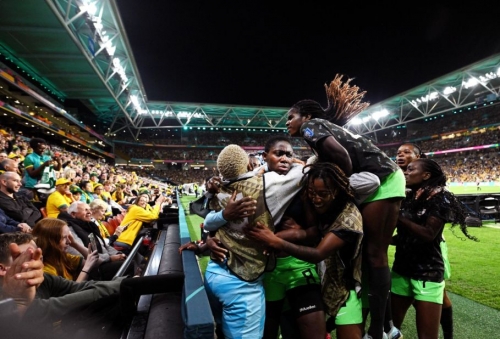 It was a major scalp for Nigeria who, despite being the best FIFA-ranked African team at the tournament in 40th, sat 30 places below Australia in the rankings.
Justin Setterfield / Getty Images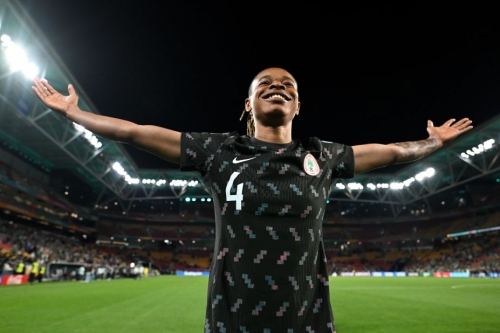 Defender Glory Ogbonna celebrates after a 0-0 draw against the Republic of Ireland in Nigeria's final group game clinched a second consecutive round of 16 appearance and a showdown with reigning European champions England.
Justin Setterfield / Getty Images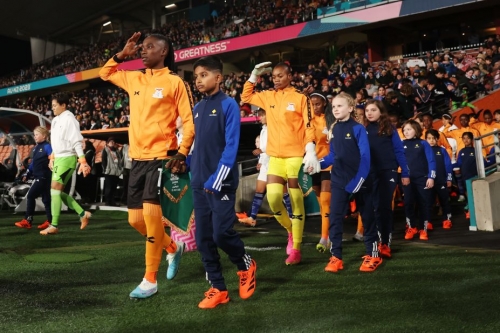 It was a baptism of fire for Zambia on its Women's World Cup debut, suffering back-to-back 5-0 losses against Japan and Spain in their opening Group C matches.
Catherine Ivill / Getty Images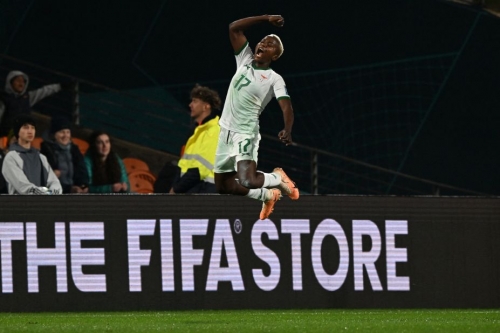 But the tournament's lowest ranked team (77th) bowed out in historic style, an injury-time goal from Racheal Kundananji sealing a 3-1 victory over Costa Rica and the country's first ever Women's World Cup win.
Saeed Khan / AFP via Getty Images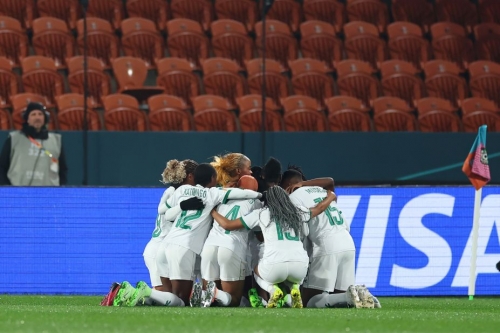 Zambia's elimination was confirmed before kick-off, but that didn't put a dampener on celebrations of Lushomo Mweemba's opening goal — the team's first ever at a Women's World Cup — less than three minutes after kick-off.
Buda Mendes / Getty Images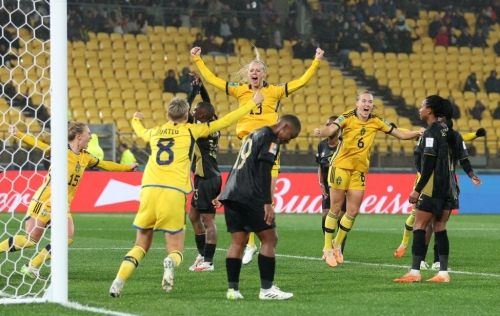 South Africa had been seconds away from a first ever Women's World Cup point in their opening Group G game against Sweden, but suffered late agony when Amanda Ilestedt headed home at the death to steal a 2-1 win.
Catherine Ivill / Getty Images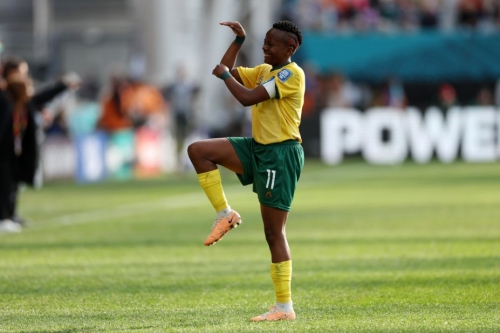 Thembi Kgatlana looked to have put Banyana Banyana on track for a historic first victory when she put her side 2-0 ahead against Argentina, only for the South Americans to score twice in five second-half minutes to inflict more heartbreak.
Lars Baron / Getty Images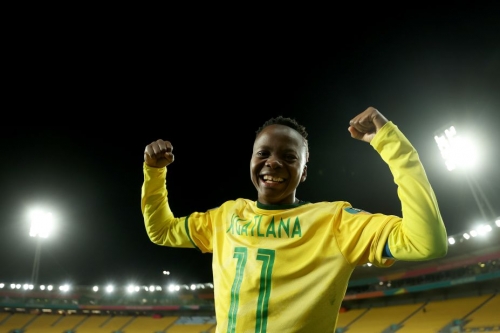 But it would be South Africa's turn to flip the script in its closing match against Italy. Needing to register a first ever World Cup win to stand a chance of qualifying, Kgatlana's injury-time winner clinched a fairytale 3-2 triumph.
Lars Baron / Getty Images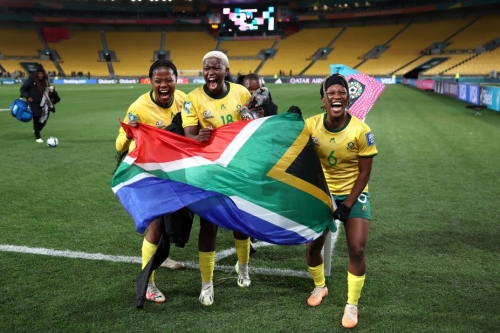 It sparked euphoric scenes among South African players and staff. Having lost every group match in 2019, the reigning Women's Africa Cup of Nations champion (WAFCON) progressed into uncharted waters to face the Netherlands in the knockout stages.
Catherine Ivill / Getty Images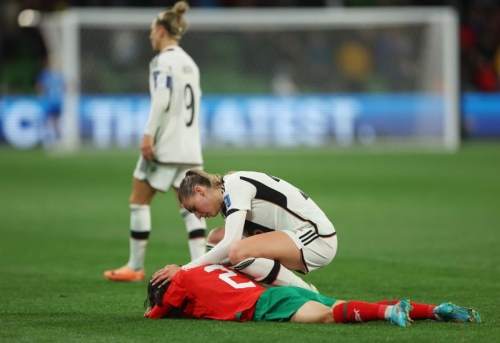 A 6-0 mauling at the hands of Germany marked a devastating start for defender Zineb Redouani and a Moroccan side making its Women's World Cup debut in Group H.
Robert Cianflone / Getty Images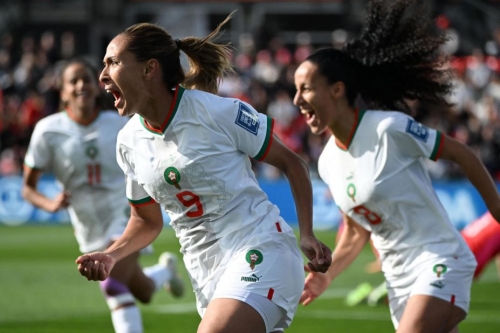 But the tournament's second lowest-ranked team (72nd) rebounded in stunning fashion to shock South Korea, striker Ibtissam Jraidi converting the game's only goal after just six minutes.
Brenton Edwards / AFP via Getty Images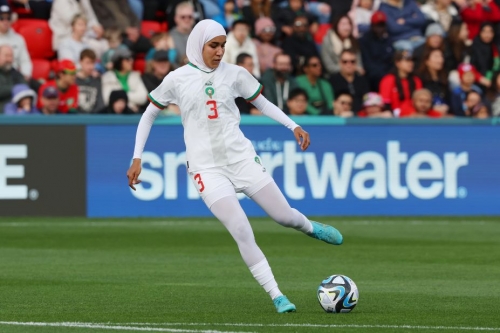 It sealed Morocco's first ever goal and win at the tournament, and more history was made by Nouhaila Benzina, as the defender became the first player to wear a hijab at a senior-level Women's World Cup.
Sarah Reed / Getty Images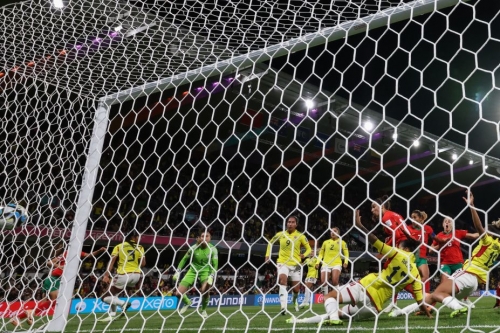 And the Atlas Lionesses weren't done there, as Anissa Lahmari's goal saw Morocco edge past Colombia 1-0. Yet if Germany — one of the tournament favorites — beat South Korea, the North Africans would be out on goal difference.
Colin Murty / AFP via Getty Images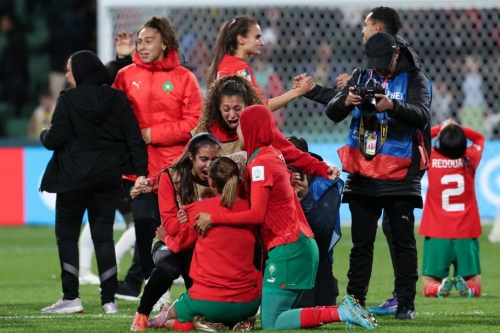 The Moroccan squad bundled around mobile phones before news of Germany's 1-1 draw filtered through, confirming a round of 16 clash with France and sparking tears of joy across the pitch.
Colin Murty / AFP via Getty Images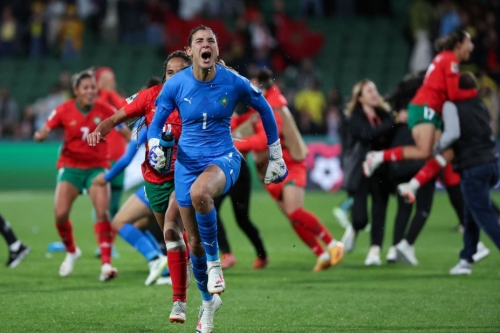 It made Morocco [pictured, goalkeeper Khadija Er-Rmichi] the only one of eight tournament debutants to make the knockout stages, and marked the first time ever that three African nations have reached the last 16.
Colin Murty / AFP via Getty Images
African sides make history at the 2023 Women's World Cup
Prev
Next

CNN
—
Ghizlane Chebbak was shocked when she picked up the phone and was greeted by Mohammed VI, the King of Morocco.
When the call came it was just hours after Morocco's defeat by South Africa in the 2022 Women's Africa Cup of Nations (WAFCON) final. Captain of the Morocco women's national team, Chebbak had had to watch her opposing captain lift the trophy and then had to be taken to the stage to be given the player of the tournament award.
The last thing she was expecting was congratulations – never mind from royalty.
But there, in the bowels of the Prince Moulay Abdallah stadium, King Mohammed VI was on the other end of the line, speaking of the pride he had in the team's achievement and comforting its captain. Not only had Morocco reached a WAFCON final for the first time, King Mohammed VI reminded Cheebak, but they had also qualified for the World Cup.
"He [King Mohammed VI] said he was so proud of the team, don't cry, we're happy for you," Khadija Illa, who is president of the National Women's Football League, told CNN after the match.
"Our king does not call everyone. It gives us a big push knowing that the king watches the women's football."
It was a high point of Chebbak's winding career, one that now inspires countless girls across the Arab and Muslim worlds.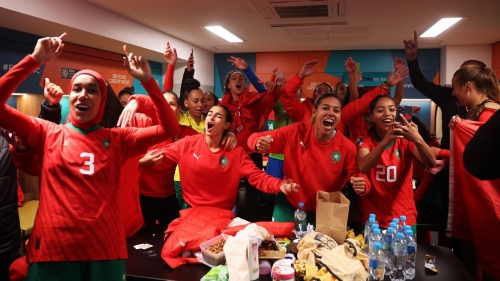 Morocco players celebrate after advancing to the knock out stage of the Women's World Cup.
Alex Grimm/FIFA/Getty Images
Captain, daughter and icon

The daughter of former Moroccan men's international soccer player Larbi Chebbak, Ghizlane grew up playing predominantly with boys – like many women playing the sport – and didn't join a girl's team until she was a teenager.
It would not take long for her talent to be realized, as Chebbak made her debut for the national team in 2007 at the age of 17, going on to become the nation's most capped player and top scorer.
In 2010, Chebbak made her first steps as a professional player, moving across the Sahara to Egypt where she signed for Misr El Makasa. However, when the Arab Spring reached Egypt in 2011 and all soccer was cancelled, Chebbak returned to Morocco, signing for Rabat's AS FAR.
Since 2012 she has racked up 10 league titles with AS FAR, topping the scoring charts in six of those years – despite being a midfielder – and led her team to a first ever CAF Champions League title in 2022.
Her impact on the Moroccan women's team has been equally dazzling.
Last summer as the Moroccan team broke African attendance records not once, but twice in the semifinal and final of the WAFCON, cries of "Chebbak! Chebbak!" were repeated throughout matches.
Ghizlane Chebbak (right) is a soccer sensation in Morocco.
Paul Kane/Getty Images
It was particularly meaningful for Chebbak because her father passed away in 2020, two years before his daughter would eclipse him and become a national hero.
"I always think about my father and his advice, because he was always my first supporter," Chebbak said in an interview with the Confederation of African Football (CAF) during the tournament.
"Most people knew my father. So I did my best to pay tribute to him and to make my country proud. I am living a dream," said Chebbak.
She certainly did that. A stroll through any of Morocco's major cities reveals the ubiquity of Chebbak's image. Her visage is plastered on billboards, the face of various advertising campaigns along with male soccer superstars like Achraf Hakimi and Hakim Ziyech.
Chebbak's legend has only grown this summer in leading the Atlas Lionesses at their first ever World Cup. Morocco's Women's World Cup appearance is also a first for an Arab or Muslim nation.
Despite the baptism of fire that Germany handed Morocco in the first game of the tournament in a 6-0 defeat, Chebbak the led the team to wins against South Korea and Colombia, sending Morocco through to the knockout stage of the tournament. Morocco now plays France on Tuesday.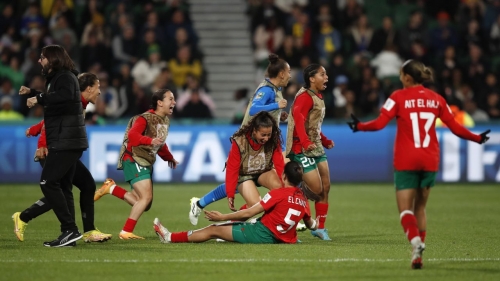 Morocco's head coach Reynald Pedros (left) and his players celebrate after advancing to the round of 16.
Gary Day/AP
A fight for recognition

When Chebbak first stepped out in an Atlas Lionesses shirt, an appearance at the World Cup would have been unimaginable.
The team had only qualified for two WAFCONS, in 1998 and 2000, where they conceded 25 goals in six games and AS FAR, the team Chebbak would go on to dominate club soccer with, had not even founded their women's side yet.
One of those fighting for change was Illa, who is now president of a club in her home city of Laâyoune, which is more than 1,000 kilometers south of Rabat in the Sahara.
Like Chebbak, Illa grew up predominantly playing with boys. Frustrated with the lack of women's soccer, Illa and a few friends set up a team of their own.
"We fought for everything. For stadiums, for training facilities, for financial support, to travel to other cities to have matches there," remembers Illa.
After retiring from playing, Illa became AMFF Laayoune's club president, helping make them the leaders in women's soccer in Morocco and the last team to win a league title before Chebbak and AS FAR began to dominate.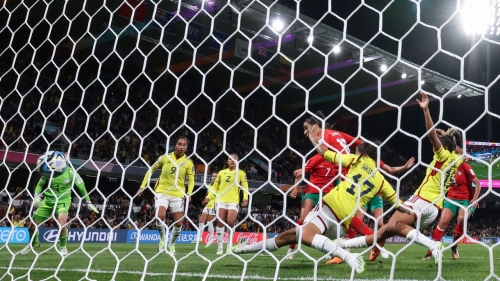 As seen at this summer's tournament, women's soccer in Morocco has developed enormously.
Colin Murty/AFP/Getty Images
In 2014 when Fouzi Lekjaa was appointed president of the Royal Moroccan Football Federation (FRMF), Illa began meeting with him, lobbying him to invest in women's soccer like they had in the men's game.
That investment finally came in 2017, while the FRMF also organized friendlies for the team, as well as creating Under-17 and Under-20 teams and scouting the diaspora for Moroccan talent abroad.
The National Women's Football League launched for the 2020/21 season. There is a national top division and a regional second tier, both of which are fully funded by the government and federation who pay the salaries of players, coaches and staff of the clubs.
As of now, Morocco is the only country in the world with two professional tiers of women's soccer.
Inspiring a generation in Morocco and beyond

Despite that professionalization, no one in Morocco could have expected to see the success on the pitch so quickly – both at club and international level.
Chebbak and AS FAR won the 2022 CAF Women's Champions League final in the same stadium where Morocco lost the WAFCON final, while the profile of women's soccer has only grown at the World Cup, following the Moroccan men's team's success when they became the first African and Arab nation to reach the semifinals of a World Cup.
One of the breakout stars of the team at the 2023 Women's World Cup has been Nouhaila Benzina. Not only is she the defender who came into the side after the 6-0 defeat by Germany and helped the team then keep two clean sheets, but she also became the first woman to wear a hijab at the World Cup.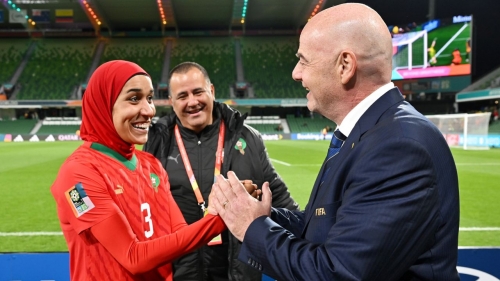 Nouhaila Benzina, pictured alongside FIFA President Gianni Infantino, has become a history maker during the Women's World Cup.
Harold Cunningham/FIFA/Getty Images
For the first time in history, millions of girls and women saw someone wearing the same clothes as them, playing at a World Cup.
"I want every girl to be able to dream of being famous," said Illa after the WAFCON. "It is my dream to make an Arabic girl win the Ballon d'Or."
It may be too late for Chebbak to win a Ballon d'Or, but thanks to her and the barriers being broken down by the Atlas Lionesses, Illa's dream could one day become reality.