close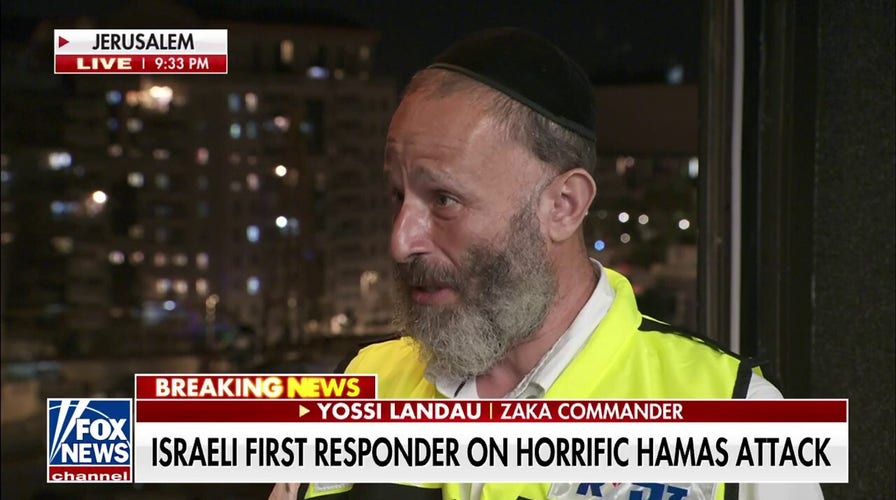 Video
Israeli first responder shares eyewitness account of horrific Hamas attack
ZAKA commander Yossi Landau describes how Hamas tortured Israeli women and children on 'America Reports.'
Warning: This article contains graphic details that may be disturbing to some readers.
SHURA ARMY BASE, Israel – Three weeks after Hamas' deadly massacre on multiple Israeli army bases, civilian communities and a music festival, Israel is still struggling to identify its dead, not only because of the size and scope of the surprise, multi-pronged terrorist attack, but also due to the sheer brutality carried out by thousands of Palestinian terrorists, say those working to identify the dead.
At the Shura Army Base, on the outskirts of the central Israeli city of Ramle, dead bodies and hacked-up body parts continued to pile up this week, still arriving from the country's south in refrigerated trucks.
At the base, army personnel and volunteers, as well as religious authorities officiating the delicate process, described seeing atrocities reminiscent of the Holocaust – imagery not often invoked in a country whose foundations grew out of the Nazi genocide against the Jews in World War II.
VIDEOS OF HAMAS BRUTALITY TOWARD ISRAELIS EERILY REMINISCENT OF ISIS TACTICS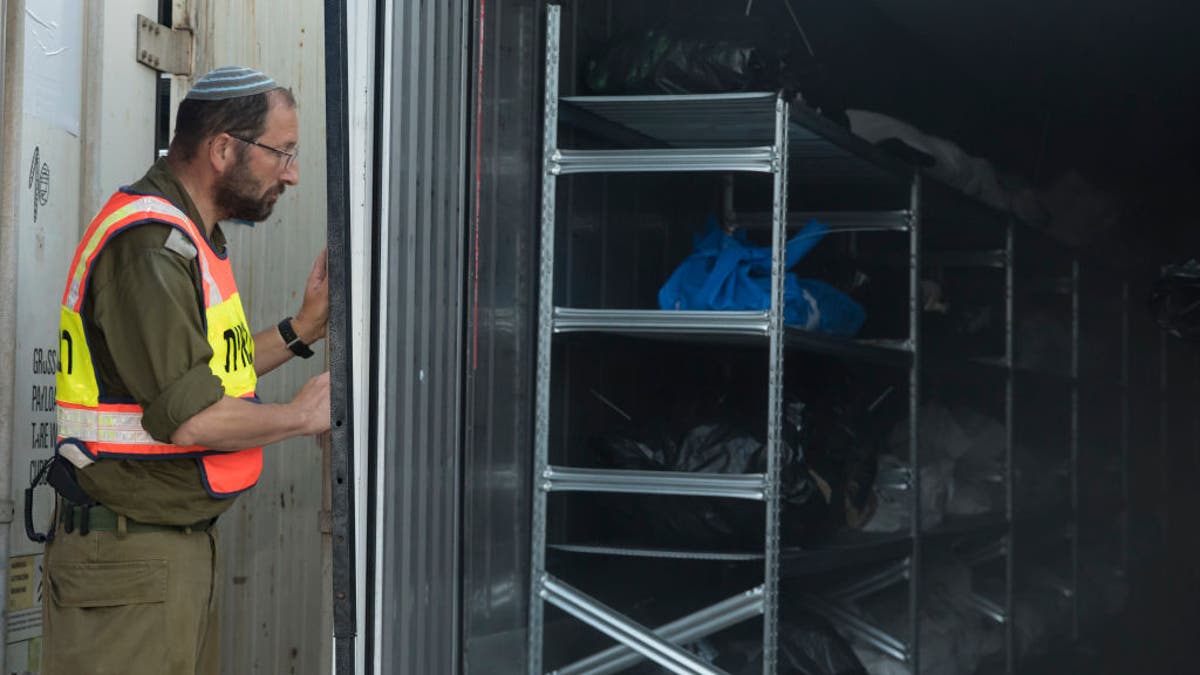 A soldier of the Military Rabbinate unit opens a container filled with bodies killed during at the Hamas attack on the Israeli southern border as the process of identifying deceased individuals continues in the Shura Army Base on Oct. 24, 2023, in Ramle, Israel. (Amir Levy/Getty Images)
"During a war, each side tries to make a convincing argument that they are right but these kinds of atrocities we have not seen since the days of the Nazis," Col. Rabbi Haim Weisberg, head of the army's rabbinic division, said in an interview.
"They went from house to house burning family after family," he said. "We are seeing trucks still arriving filled with body bags that contain whole families – grandparents, mothers, fathers, and even little children are being brought down from the trucks."
"In normal times, the rabbis on this base deal with dead soldiers, but this time it is abnormal," said Weisberg of the base that is just one among several involved in the identification process.
"Here we have identified hundreds of bodies and there are still many more waiting to be examined," he said.
Weisberg described how some of the bodies were so badly burned that regular DNA testing was useless. In many cases, dental forensic teams were called in and forced to track down the personal dental records of the victims. In some extreme cases, even those methods have not been effective.
Along with the more than 1,400 people murdered in the attack and an additional 239 now confirmed by the Israeli army as being held captive in the Palestinian enclave, a further 100 people still remain missing.
ISRAEL'S HUNT FOR HAMAS TERROR GROUP LEADER YAHYA SINWAR: 'DEAD MAN WALKING'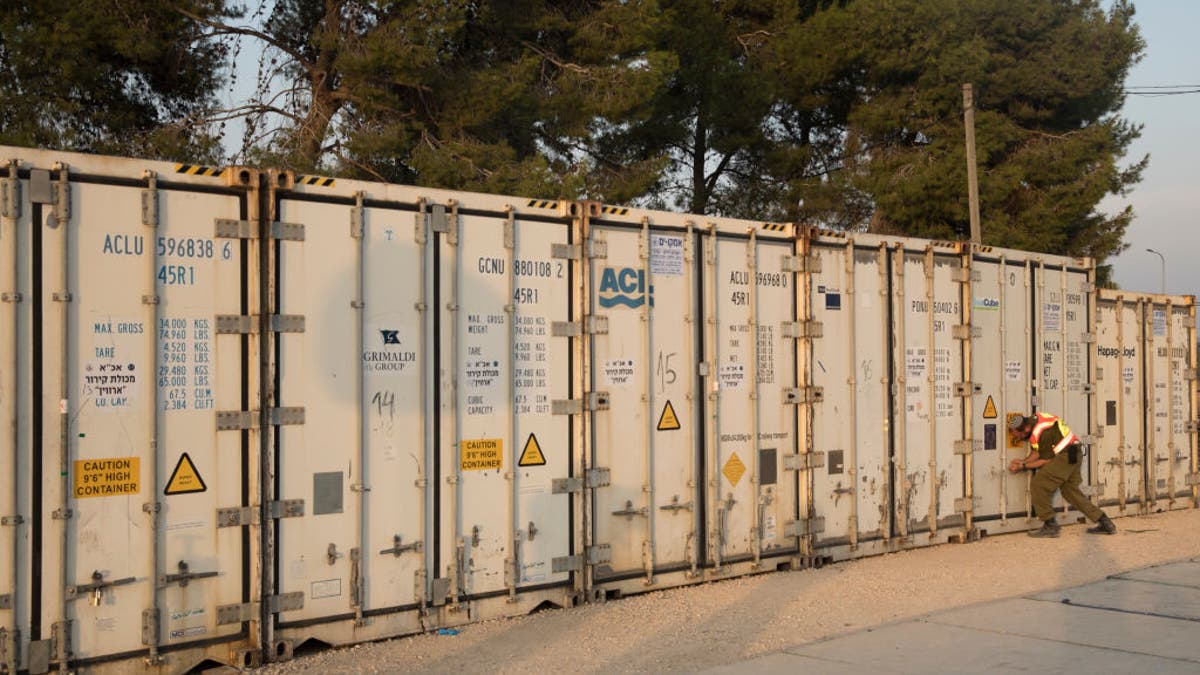 Soldiers of the Military Rabbinate unit open a container filled with bodies killed during at the Hamas attack on the Israeli southern border as the process of identifying deceased individuals continues in the Shura Army Base on Oct. 24, 2023, in Ramle, Israel. (Amir Levy/Getty Images)
Since the Oct. 7 attack, the IDF's special forces have been engaged in localized raids inside the Gaza Strip in order to retrieve dead bodies and body parts. Inside the devastated communities that sit along the border with Gaza, forensic archeologists have been called in to search for human remains. Earlier this week, a human jaw was found in a burnt-safe room.
Families, including those who had hoped their loved ones might be still alive even if they were being held hostage by Hamas, are being informed all the time that their relatives are, in fact, among the dead.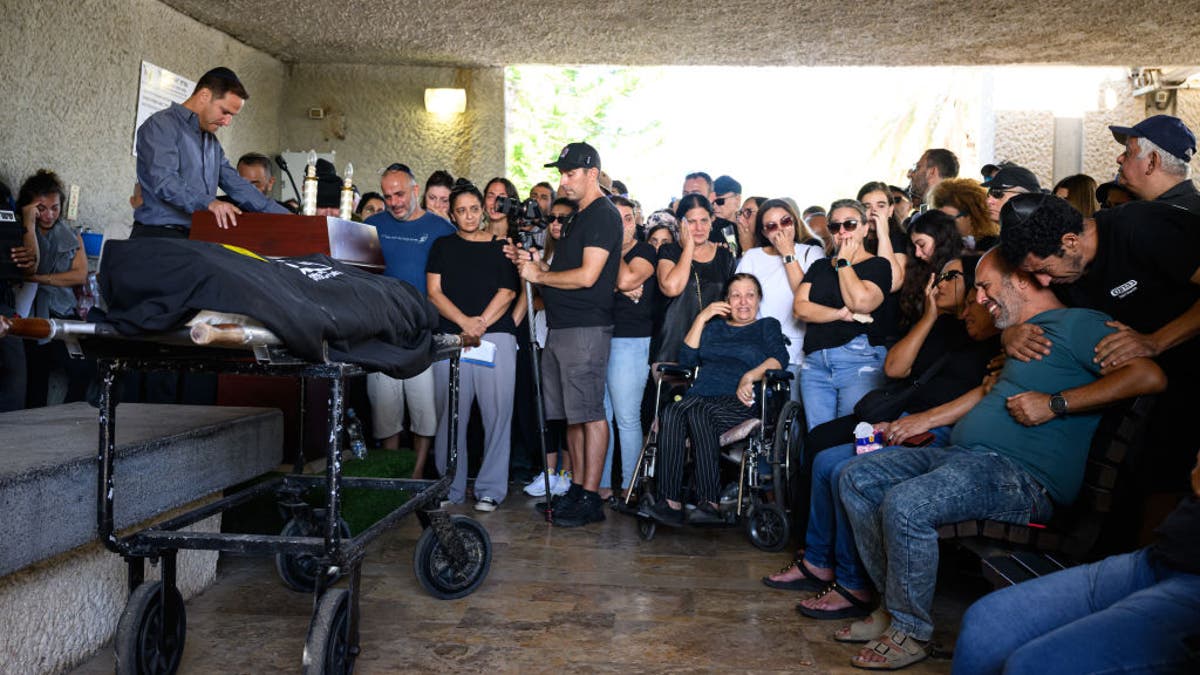 Friends and family members attend the funeral of Shiraz Tamam, who was killed by Hamas during its terrorist attack on revelers at the Nova music festival, at Holon cemetery on Oct. 17, 2023, in Holon, Israel. (Leon Neal/Getty Images)
Speaking at Shura, Weisberg described in graphic detail how one badly charred body turned out to be two victims – a mother and a baby bound together in a deep embrace. Another victim, he said, was a pregnant woman, her stomach cut open, her fetus pulled out and beheaded. The umbilical cord was still attached.
"When you think about evil, you realize it is beyond comprehension when you see what this terror organization did," the rabbi said.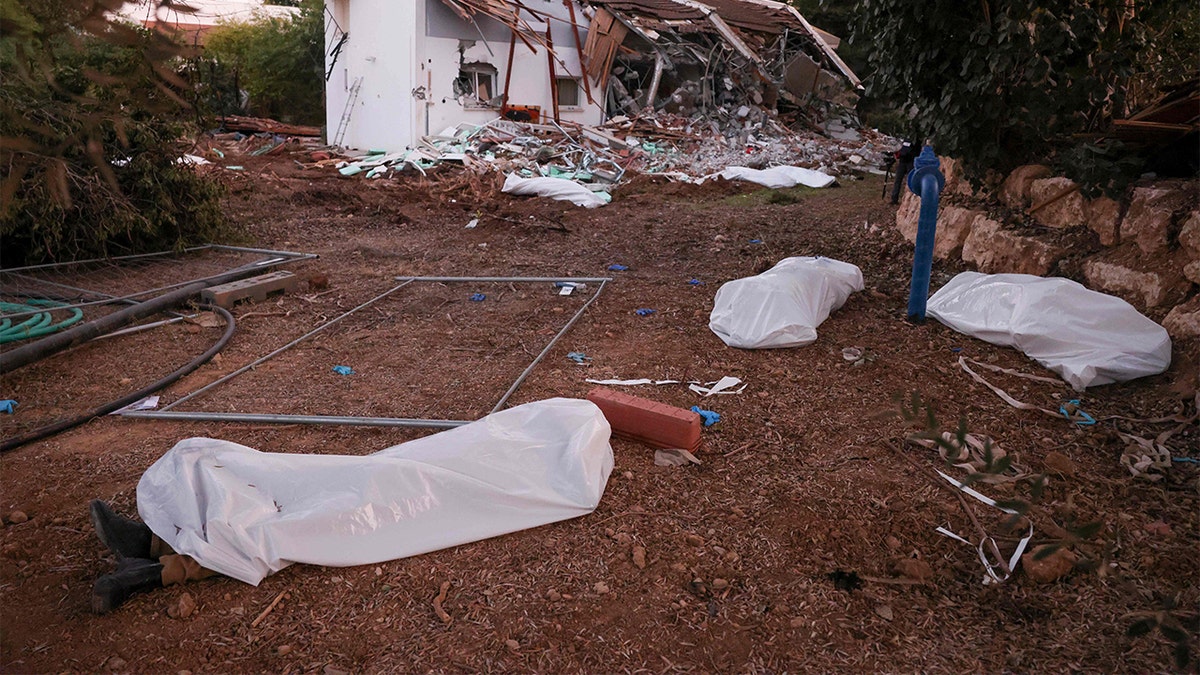 A picture taken on Oct. 11, 2023, shows covered bodies at kibbutz Beeri near the border with Gaza, the site of an infiltration by Hamas terrorists on the weekend. (Menahem Kahana/AFP via Getty Images)
ISRAELI SURVIVORS OF HAMAS TERROR ATTACK RECOUNT HARROWING BRUTALITY, HEROISM
The grisly work at Shura takes place in a large white tent surrounded by rows of refrigerated containers. Inside each dusty box are dozens of carefully wrapped bodies and smaller bags containing either babies and small children or body parts. The smell is overwhelming.
In addition to the army personnel and the religious figures on site, there is also a team of female volunteers tasked with cleaning the bodies of murdered women. The group is part of a unique military reserve set up over a decade ago to deal with female combat soldiers who might be killed in action.
"They wanted to have women who could deal with the burial and the identification procedure so that it wouldn't fall on young male soldiers and in order to protect the privacy of young women," said Shari, one of the volunteers who could not be named due to military guidelines.
Shari said the group was specially trained by the army for a mass casualty event, but it was not until Oct. 7 that they were called up for service. Since then, she said, the unit has been working around the clock.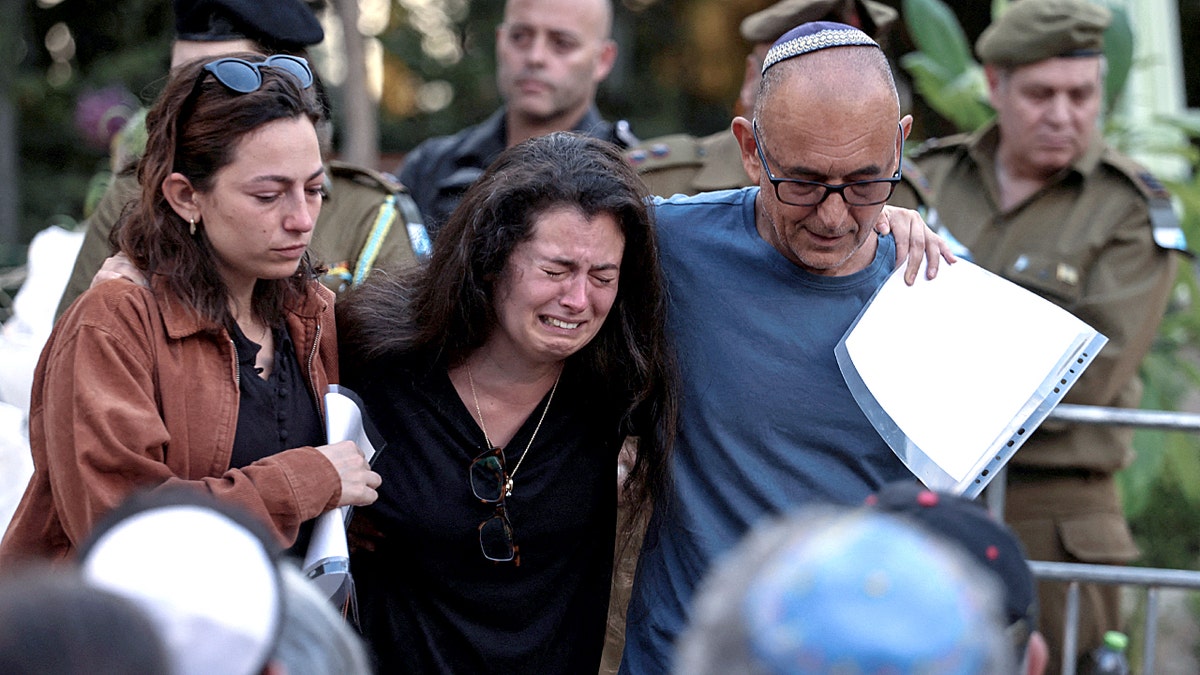 Israelis mourn Ili Bar Sade, a soldier who was killed in an attack by Hamas terrorists, at his funeral in Tel Aviv, Israel, Oct. 9, 2023. (Reuters/Hadas Parush)
CLICK HERE TO GET THE FOX NEWS APP
"I've seen things that no one should ever see," said Shari, describing how many of the dead women arrived still wearing their pajamas, their heads blown off and some booby-trapped with grenades.
"We saw evidence of rape," Shari stated. "Pelvises were broken, and it probably takes a lot to break a pelvis… and this was also among grandmothers down to small children. These are things we saw with our own eyes."
Ruth Marks Eglash is a veteran journalist based in Jerusalem, Israel. She reports and covers the Middle East and Europe. Originally from the U.K, she has also freelanced for numerous news outlets. Ruth can be followed on Twitter @reglash