close
Video
Fox News Flash top headlines for September 7
Fox News Flash top headlines are here. Check out what's clicking on Foxnews.com.
At least six people have been killed by flooding in central Greece, with another six still unaccounted for.
Floodwaters have reportedly reached depths of over six feet in some areas.
18 people in total have been found dead in Greece, Bulgaria and Turkey since the devastating rainstorms began on Tuesday.
Widespread flooding in central Greece left at least six people dead, six missing and dozens trapped, with severe rainstorms feeding raging torrents that burst dams, washed away roads and bridges, hurled cars into the sea and left large areas without power or drinking water.
Flooding triggered by rainstorms also hit neighboring Bulgaria and Turkey, with rescue teams in Turkey on Thursday recovering the body of a 53-year-old man who had been missing since floods gushed through a campsite near the border with Bulgaria, sweeping away bungalows. The recovery brought the death toll in Turkey to eight, and to a total of 18 in all three countries since the rains began Tuesday.
In Greece, authorities deployed divers and swift water rescue specialists as residents in some villages took refuge on the roofs of their homes to escape floodwaters that rose to more than 6 feet.
DEATH TOLL REACHES 14 AFTER FIERCE STORMS, FLOODING RAVAGE GREECE, TURKEY, BULGARIA
The fire service said 110 people — including a baby — and one dog were airlifted to safety in an operation involving ten helicopters. Some of those evacuated by air told local media they had spent the night and most of Thursday on roofs without food or water. The helicopters, which were continuing with rescue operations in the wider Karditsa area, had been unable to fly earlier due to frequent lightning, authorities said.
At least three villages in Karditsa and the neighboring Trikala area were completely cut off by floodwaters, with residents dialing in to radio stations to report homes collapsing and to appeal for rescue.
Further east, about 200 people, including several foreign tourists, were evacuated by sea from areas under Mount Pilion rendered inaccessible by land after roads were washed away or blocked by rockfalls.
The body of one man missing for a day was recovered from a stream on Thursday, and hours later the fire service said it discovered the bodies of two women in a village in the Karditsa area. The three deaths brought the country's overall toll from the floods to six since Tuesday.
Vassilis Kikilias, Greece's minister for climate crisis and civil protection, said the rescue effort would continue all night.
"Rescuers with boats and all available means … will continue going house by house to evacuate and rescue trapped people in the villages that have been cut off," he said late Thursday.
He added that army and civil protection personnel would distribute more than 3,000 meals and bottled water in 24 villages in the Karditsa and Trikala regions.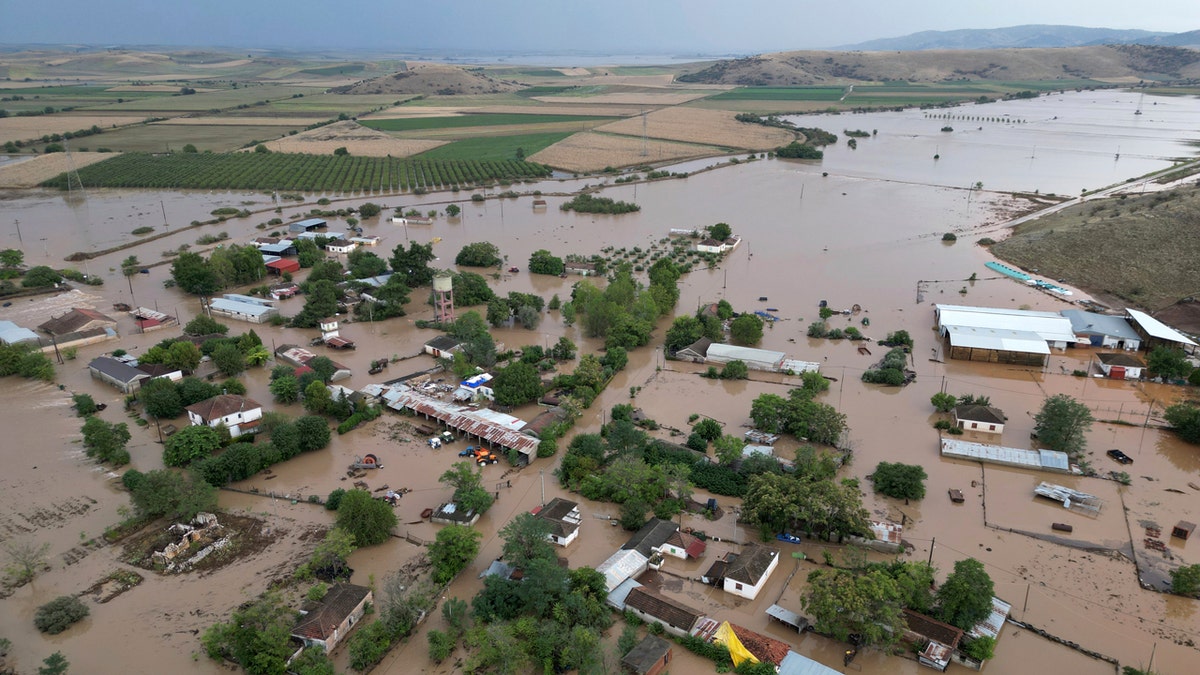 Residences and farms are seen submerged by floodwaters, Kastro, Greece, Thursday, Sept. 7, 2023. (AP Photo/Vaggelis Kousioras)
The fire service said nearly 1,800 people had been rescued so far and six were reported missing. The military said it had deployed more than 25 boats to rescue people trapped by floodwaters.
"Our country finds itself, for the third day, dealing with a phenomenon the likes of which we have not seen in the past," Greek government spokesman Pavlos Marinakis said, noting that some areas received more than twice the average annual rainfall of Athens in the space of 12 hours.
"The state's absolute priority at the moment is the rescue … of people from the areas hit by the bad weather and the protection of critical infrastructure," Marinakis said.
Fire department spokesperson Vasilis Vathrakogiannis said swift water rescue specialists and divers from the department's disaster response units, as well as the army, were participating in rescue efforts and trying to reach remote areas.
The flooding followed on the heels of devastating wildfires that destroyed vast tracts of forest and farmland, burned homes and left more than 20 people dead. While much of central Greece was inundated, the fire department said a new forest fire had broken out Thursday afternoon in the northeastern region of Evros. It was in an area where just last week the largest wildfire recorded in the European Union burned through a nature reserve. It said 36 firefighters backed by two helicopters and four planes were battling the blaze in the Soufli area of Evros.
Defense Minister Nikos Dendias announced he was cutting short a trip to Dubai to return to Greece so he could "oversee the greatest contribution of the Armed Forces in dealing with the consequences of the severe weather."
FLOODING IN SOUTHERN BRAZIL LEAVES AT LEAST 31 DEAD AND 1,600 DISPLACED
Greek Prime Minister Kyriakos Mitsotakis postponed his annual state of the economy speech and a news conference scheduled for the weekend in the northern city of Thessaloniki in order to visit the flooded areas.
Police have banned traffic from three regions, including on the island of Skiathos, and have sent numerous emergency phone alerts to people in several parts of the country to avoid venturing outdoors and to move away from basement and ground floor areas of buildings.
The storm, dubbed Daniel, was forecast to begin easing gradually Thursday evening.
On Wednesday, repeated rainstorms also hit the Greek capital, flooding streets and turning part of a major avenue in central Athens into a river of mud that swept people off their feet.
CLICK HERE TO GET THE FOX NEWS APP
The National Art Gallery in the city center also suffered flooding but none of the paintings on display were damaged, the Culture Ministry said Thursday.