close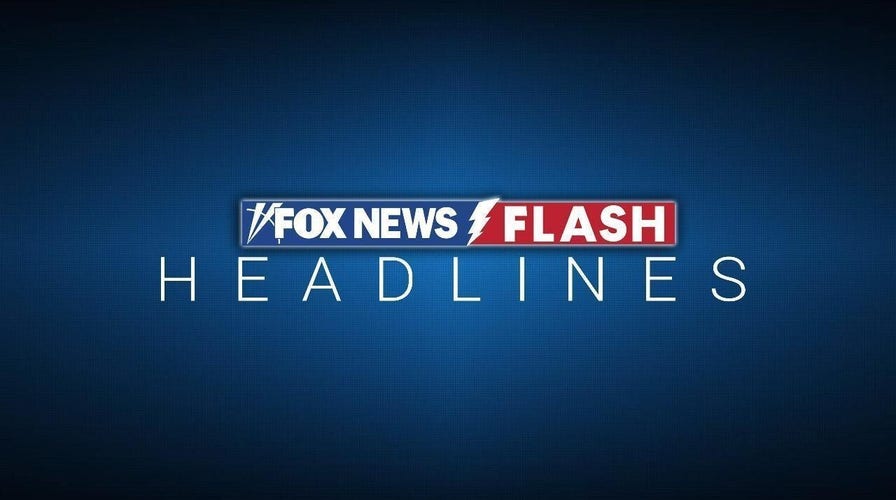 Video
Fox News Flash top headlines for March 23
Fox News Flash top headlines are here. Check out what's clicking on Foxnews.com.
European Union leaders endorsed a plan Thursday for sending Ukraine 1 million rounds of artillery ammunition within the next 12 months to help the country counter Russia's invasion forces.
EU foreign and defense ministers approved the plan for a fast-track purchasing procedure earlier this week, and the leaders of the bloc's 27 member nations gave it their political blessing at a summit in Brussels Thursday.
"Taking into account the security and defense interests of all member states, the European Council welcomes the agreement … to deliver ground-to-ground and artillery ammunition to Ukraine and, if requested, missiles," the meeting's conclusions on Ukraine read.
TOP EU DIPLOMAT ENDORSES DEAL FAST-TRACKING ARTILLERY SHELLS TO UKRAINE
Ukrainian President Volodymyr Zelenskyy thanked leaders for the initiative earlier during a video call.
Zelenskyy, who spoke from a moving train as he visited front-line areas, said: "Not only months and weeks, but also days are important. The faster we act together, the more lives we save." according to video posted on the presidential website.
"But, dear colleagues, don't you feel that we have fewer new successes than new protractions in our joint efforts? Unfortunately, this is the case. And the Kremlin sees this. This moves us further away from achieving peace," he said.
Zelenskyy also asked leaders to deliver modern aircraft and long-range missiles to help Ukraine's resistance.
With Ukraine facing ammunition shortages after more than a year of fighting, Estonian Prime Minister Kaja Kallas brought to the table last month the idea of the EU setting up a joint purchasing plan similar to the one devised during the coronavirus pandemic to buy vaccines.
"What is critical is sending ammunition to Ukraine fast, because that might bring a change in this war," Kallas said as she arrived at the summit.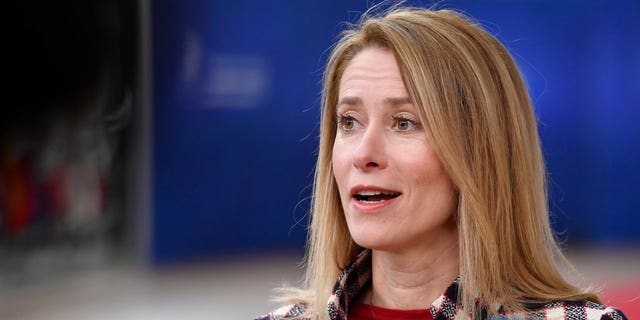 Center-right Estonian Prime Minister Kaja Kallas is among multiple European leaders to endorse the swift armament of Ukrainian forces at a Thursday summit in Brussels. (AP Photo/Geert Vanden Wijngaert)
Under the plan, the European Defense Agency will — in parallel with deliveries — aggregate requests from member states to restock, and lead a fast-track procedure for direct negotiations with industrial providers of ammunition in Europe.
According to various estimates, Ukraine is firing 6,000-7,000 artillery shells a day, around a third of Russia's total.
"The EU supports Ukraine in its relentless quest for freedom," European Council President Charles Michel said. "We stand with Ukraine for as long as it takes."
EU foreign policy chief Josep Borrell said this week that he secured approval for earmarking 1 billion euros ($1.1 billion) to encourage member nations to provide artillery shells from their existing stocks and any pending orders. Another 1 billion euros would go toward accelerating new orders and encouraging countries to work together on making purchases through the European Defense Agency or in groups of at least three nations.
Hungary has said it will not take part in getting ammunition to Ukraine, citing its commitment to peace, but said it wouldn't prevent other members from doing so by blocking the deal.
Last month, Hungarian Prime Minister Viktor Orbán said the EU was partly to blame for prolonging Russia's war in Ukraine by sanctioning Russia and supplying Ukraine with money and weapons, rather than seeking to negotiate peace with Moscow.
Bulgaria's president, Rumen Radev, also ruled out the delivery of shells as long as a caretaker government remains in charge in the country.
"This is our sovereign decision," he said. "Bulgaria will support European diplomatic efforts to restore peace."
US IMPOSES SANCTIONS ON FIRMS, PEOPLE PROCURING EQUIPMENT FOR IRANIAN DRONES
Leaders also discussed the possibility of topping up with an extra 3.5 billion euros the European Peace Facility — a fund being used to reimburse member countries that provide weapons, ammunition and military support to Ukraine.
U.N. Secretary General António Guterres joined the EU leaders for lunch on Thursday. Guterres described a grim global situation, with the world facing a "perfect storm" in many parts of the world.
"More hunger, more poverty, less education, less health services," he said. "And it is clear that our international financial system is not fit for purpose to deal with such a huge challenge."
CLICK HERE TO GET THE FOX NEWS APP
The EU leaders also are set to discuss the bloc's competitiveness and its response to the $369 billion U.S. Inflation Reduction Act. Friday's discussions will focus on economic and financial issues.