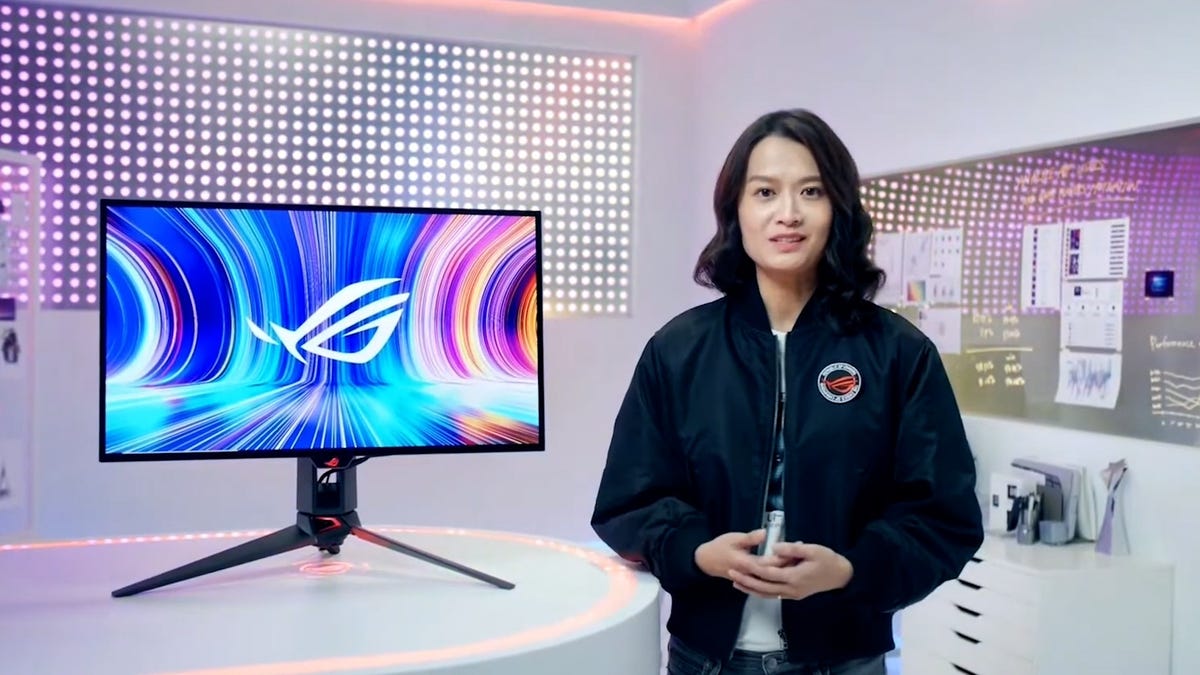 Asus/Screenshot by CNET
Asus was first to hit the big 5-0(-0) in May when it introduced the 500Hz refresh-rate ROG Swift. Just as Dell followed Tuesday with its own 500Hz model, Asus once again bests itself with the new 540Hz ROG Swift PG248QP, a 24-incher unveiled at CES that uses the same E-TN (the "E" is for "esports") technology as the slower model. 
TN — twisted nematic — is a veteran LCD technology that's known for its ability to hit very high refresh rates but lacks the color, viewing angle and brightness of IPS or OLED. That makes it important for esports players who need smooth, fast, low-latency performance more than other monitor qualities, but not great for the majority of gamers.

Now playing:
Watch this:

Asus Launches New ROG OLED Gaming Monitors at CES 2023
4:17

The 1080p monitor incorporates Nvidia G-Sync with Reflex Latency Analyzer support and has a built in ESS DAC for improving clarity of important audio cues, like weapons fire, when you've got a headset plugged in.
Asus says it's expected to be available by the end of June, but frequently these high-profile monitor announcements never result in a shipping product. As far as I can tell, the 500Hz model hasn't become available yet. The company didn't provide pricing.
On the other hand, OLED desktop models are finally hitting their stride — most major monitor companies have new ones for 2023, many for gaming. Asus's newest offering is the ROG Swift OLED (PG27AQDM) and a 1440p 240Hz model with a peak brightness of 1,000 nits (though only for a window 3% of the screen at a time). That resolution and screen refresh is a nice change from the 4K 120/144Hz models, in part because 1440p is well suited to gaming at 27 inches.
It's not Asus' first gaming OLED — the company launched a 48-inch model last year — and the new model incorporates some of the same technology, including burn-in protection and a head sink-plus-airflow cooling system. It's the cooling that makes the back of the monitor so thick, which we tend not to expect from ultrathin OLED TVs, but is essential for high-brightness desktop monitors.
The OLED is slated to ship before the end of March. Asus hasn't yet provided pricing.